•
•
•
•

Strike ballot opens at Queen Mary University over 'brutal' attempt to withhold 100% of staff pay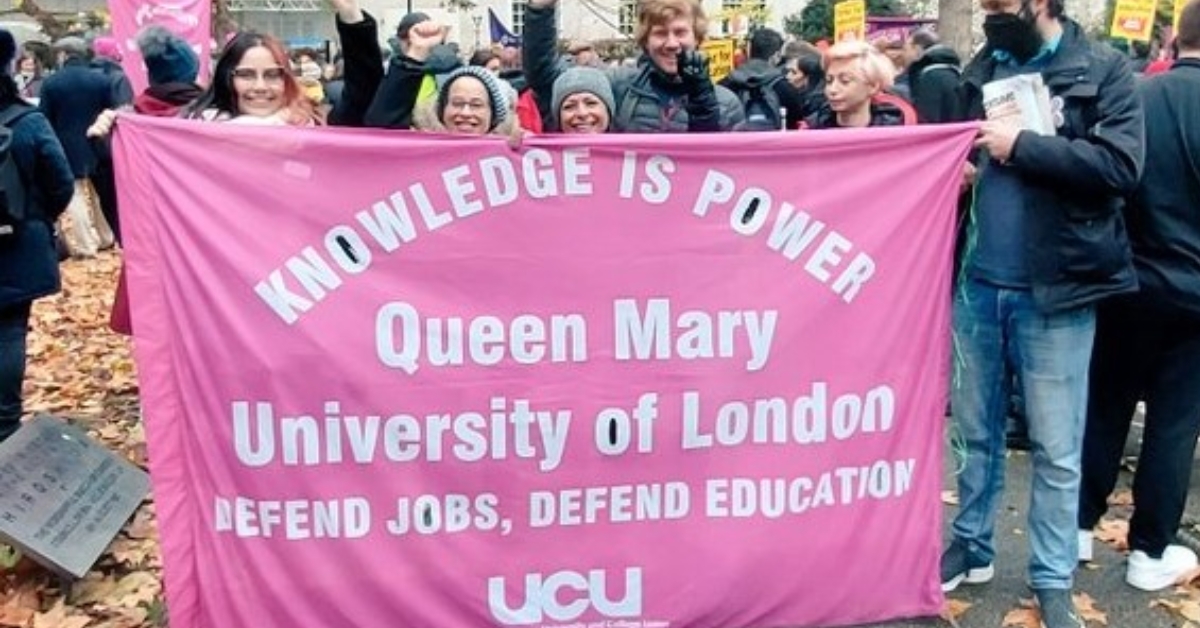 Strike ballot opens at Queen Mary University over 'brutal' attempt to withhold 100% of staff pay
3 March 2022

UCU has warned university vice-chancellors they will face further strike ballots if they dock 100% of pay from staff who have returned to work.
The warning came after a strike ballot opened at Queen Mary, University of London (QMUL) this week over management's decision to withhold 100% of pay for staff undertaking lawful action short of strike (ASOS), such as not rescheduling classes lost to strike action and removing uploaded materials related to those classes.
Staff at QMUL returned to work today after taking 10 days of strike action over three weeks in national disputes over pension cuts, pay and working conditions. But senior managers at QMUL say that staff will continue to be docked 100% of pay even though they will be back at work and carrying out most of their contracted duties. The university says it will dock 100% of pay until classes cancelled due to strike action are rescheduled and their related materials are put online.
The ballot opened earlier this week (Monday 28 February) and closes on Monday 21st March, and if successful QMUL could face strike action as soon as April.
UCU said that rescheduling 10 days of classes is not possible within the university timetable and accused management of using financial deductions to force staff to effectively break their own strikes.
Staff at 68 universities UK-wide have walked out during the past three weeks and also have a mandate to take ASOS. It was reported that employer representative, the Universities and Colleges Employers Association, said university bosses are "compelled" to dock 100% of the pay of staff taking ASOS.
Other universities have threatened to dock 100% of pay, including City, University of London; Manchester Metropolitan University; Newcastle University; and the University of Bristol. But so far none, other than QMUL, have confirmed they are going ahead with this punitive attack. UCU said that any other employer that follows QMUL's lead will face strike ballots and even more disruption.
UCU general secretary Jo Grady said: 'Management at Queen Mary are deducting 100% of pay for staff who have returned to work in an effort to effectively starve them into submission. It is a brutal, heavy-handed way to treat staff and the university's leadership should be ashamed.
'It would be impossible to reschedule all the classes lost to lawful strike action and the university knows this. This attack has nothing to do with helping students and everything to do with intimidating staff. Given the strength of feeling, this ballot will be successful and strike action will follow.
'Rather than punish staff whilst they try to work, management should be seeking to address the longstanding and modest demands of staff, including proper pay rises, an end to insecure work and for devastating pension cuts to be withdrawn.
'Let this ballot be a warning to university bosses across the UK: try to emulate Queen Mary and you too will face strike ballots and further disruption.'
Last updated: 7 March 2022