•
•
•
•

Staff at 24 UK universities back further strike action in ballot over USS pension cuts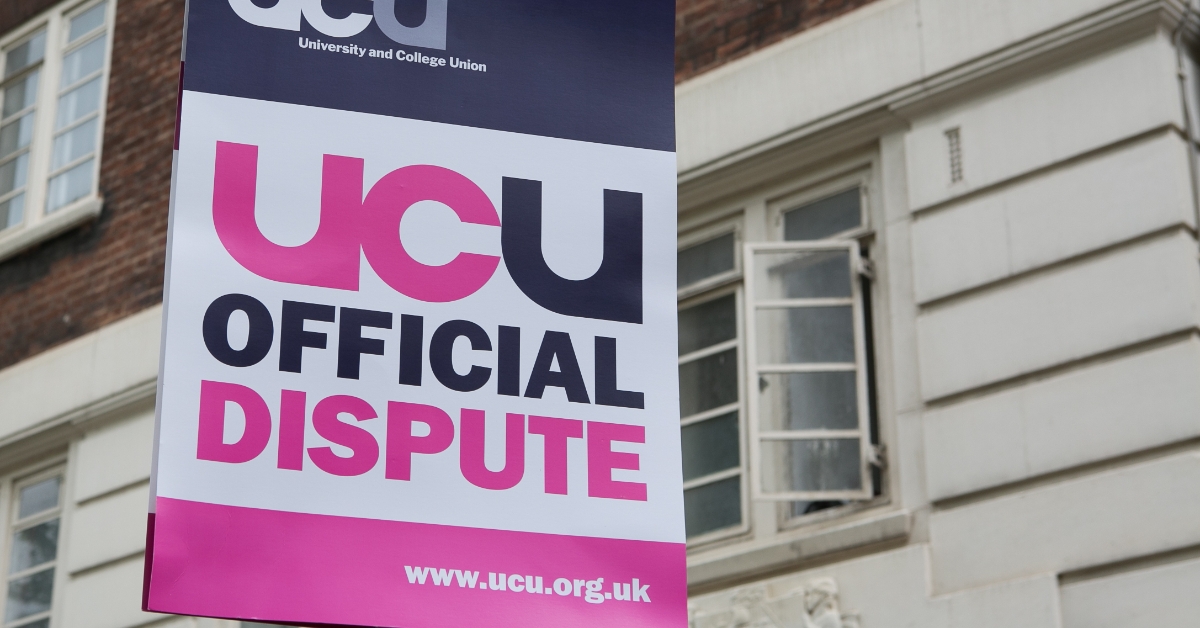 Staff at 24 UK universities back further strike action in ballot over USS pension cuts
12 April 2022

Almost eight in ten (79.5%) back strikes
Dispute over cuts of 35% to guaranteed retirement incomes of staff
UCU calls for new valuation of USS scheme as value of assets soars
Union's members holding meeting later this month to decide next steps in pension dispute
Staff at 24 UK universities have secured a mandate to take further strike action in a dispute over cuts to pensions which could see disruption continue throughout the rest of the academic year.
Overall, eight in ten (79.5%) backed strike action with almost nine in ten (88.1%) voting for action short of strike (ASOS). The vote in favour of strike action is higher than it was during the ballots that concluded in November last year, where 76% backed strike action.
Today's results mean that staff at 27 universities have a mandate to take strike action over pensions which will last until October 2022. Staff at Queen's University Belfast and Ulster University did not take part in the ballots but will join any possible action as their mandate remains live. Queen Mary University of London has a live mandate until July.
In April, cuts drawn up by Universities UK were implemented and will see the typical lecturer lose 35% from the future guaranteed retirement income they will build up. The cuts are premised on a valuation of the Universities Superannuation Scheme (USS) which was conducted in March 2020 as markets crashed due to the pandemic. Since, assets have rebounded to £88bn with the trustee which manages the scheme confirming that a new valuation at this point could result in benefits being increased, rather than cut. UCU says a new valuation must now be carried out which can see benefits restored.
Today's results follow those from the pay and working conditions ballot which concluded yesterday and in which staff at 36 UK universities secured a mandate to take further strike action.
Now, across both the pensions and pay and working conditions disputes a total of 37 universities have secured new mandates to take strike action which extend to October 2022.
In the pensions ballots, the same 24 universities that secured a mandate for strike action, did so when also asked about ASOS. Including yesterday's results from the pay and working conditions ballots, a total of 42 have a live mandate for ASOS. Queen's University Belfast, Ulster University and Queen Mary University of London are included in this action.
In the pensions dispute, staff have taken 15 days of strike action this academic year alongside ASOS consisting of working to contract and not taking on additional duties. However, university employers represented by Universities UK have refused to make improved offers or even enter negotiations with UCU.
On 27 April, UCU will be holding a special higher education sector conference on the USS dispute. Members and branches are being invited to discuss and vote on how the new mandate for action might be used.
In a recent survey of UK higher education staff, two thirds said they were considering leaving the sector over cuts to pensions and attacks on pay and working conditions.
The most recently published vice chancellor salaries show university bosses earn around £278k, almost ten times more than entry level academic or academic related professional staff.
UCU general secretary Jo Grady said: 'University vice chancellors should be under no illusion at how disgusted staff are at the attacks on their pensions. The cuts are unjust, unnecessary and with eight in ten staff voting in favour of strike action it is clear the anger has not gone away.
'Whilst staff were keeping universities running during the pandemic, vice chancellors were using a once in a lifetime valuation of a pension scheme as an excuse to slash and burn. Our members are now set to lose tens of thousands from their retirement incomes. Sadly, despite 18 days of strike action, those that lead our universities - themselves on eye watering salaries - have demonstrated they simply do not care.
'Our union will now be taking these latest ballot results to a special meeting of its higher education sector where members will discuss how they wish to use this new mandate for action.'
Full results are available here.
---
The 24 universities which voted in favour of strike action and ASOS over pensions and passed the legal 50% threshold required are:
Birkbeck, University of London
Cardiff University
Courtauld Institute of Art
Dundee, The University of
Durham University
Edinburgh, University of
Essex, University of
Exeter, University of
Glasgow, University of
Goldsmiths, University of London
Heriot-Watt University
Institute of Development Studies (IDS)
Keele University
King's College London
Leeds, The University of
Liverpool, University of
Loughborough University
Newcastle University
Nottingham, The University of
Sheffield, The University of
SOAS, University of London
Southampton, University of
St Andrews, University of
Sussex, University of
* Queens University Belfast, University of Ulster and Queen Mary University of London have existing mandates, bringing the total to 27.
Last updated: 6 May 2022