•
•
•
•

UCU members back marking boycott in pension dispute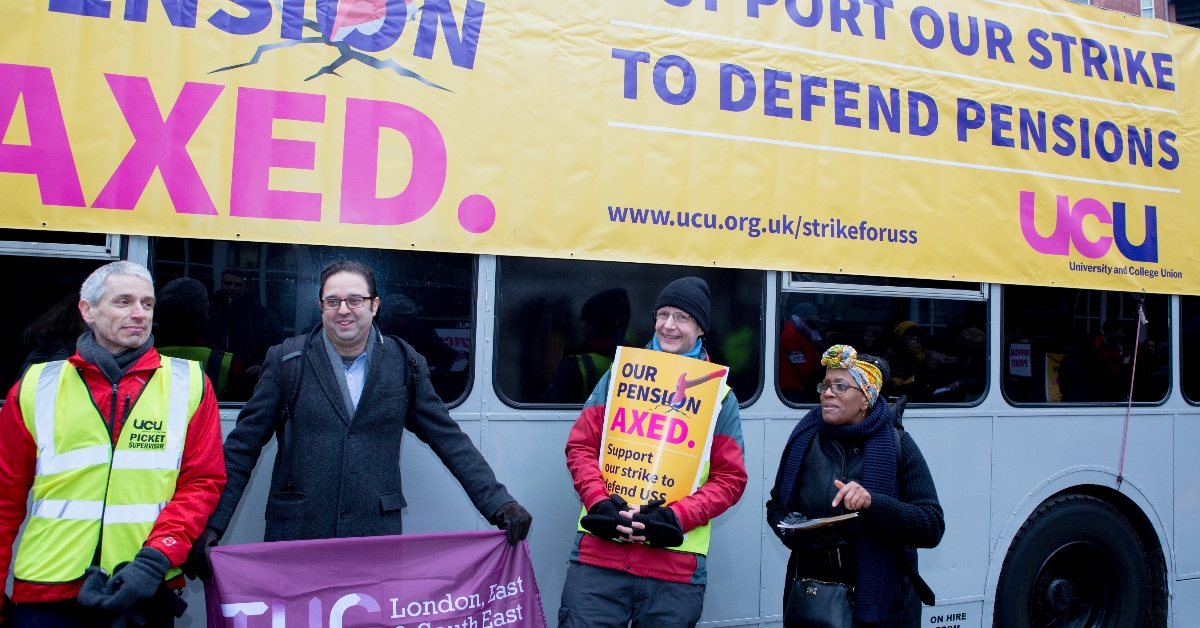 UCU members back marking boycott in pension dispute
4 May 2022

UCU confirmed that a boycott of marking and assessments will take place in the Universities Superannuation Scheme (USS) pension dispute.
The decision to also escalate the pension dispute to a marking boycott was made by delegates at a meeting of UCU's special higher education sector conference (SHESC) on Wednesday 26 April. It follows a decision made by delegates in the pay and working conditions dispute, who also backed a marking boycott and to keep both disputes coupled.
UCU's higher education officers have met to formalise the timetable for the marking and assessment boycott in both the pensions and pay and working conditions disputes which will be communicated with members on Friday 6 May.
44 universities now face a marking boycott. Of the 43 universities facing a boycott over pay and conditions, 26 now also face a boycott over pensions. The Institute of Development Studies is the only institution to face a boycott just over pensions. Delegates have also voted to hit 40 of the universities with ten days of strike action.
In the pensions SHESC, delegates also voted in favour of returning to aggregated ballots in the future, which could see around 70 branches take industrial action if the overall turnout in the disputes hits 50% or above.
UCU branches meet on Tuesday 10 May and will inform the union when the best time is for them to take strike action locally. This is following motions that passed at the pay and working conditions SHESC, which called for branches to be consulted before further action is called.
The union's higher education committee then meets on Thursday 12 May to formalise the next steps in the action in both disputes based on branch responses.
Last month almost nine in ten (88.1%) of university staff who voted backed taking industrial action which would include a marking boycott in the dispute over pensions. The boycott will see staff refusing to complete any marking and assessment of students' work, meaning students could be left without grades with some unable to graduate.
Staff have taken up to 15 days of strike action this academic year in the pension dispute, alongside action short of strike consisting of working to contract and not taking on additional duties. Despite this, university employers have cut staff's guaranteed retirement income by 35%.
In a recent survey of UK higher education staff, two thirds said they were considering leaving the sector over cuts to pensions and attacks on pay and working conditions.
UCU general secretary Jo Grady said: 'UCU members have had enough of senseless and vindictive attacks on their pensions. Vice chancellors could resolve these disputes tomorrow and prevent any more disruption for staff and students. Until then the union's full weight is behind every member who is taking this action as it is the only way to secure the long term future of the sector.
'Our members choose to work in higher education because they are passionate about working with students. They don't want special treatment, but fair treatment. Sadly vice chancellors remain intent on stealing from the retirement funds of their own workforce.'
Last updated: 6 May 2022