•
•
•

The Friday email: 13 May 2022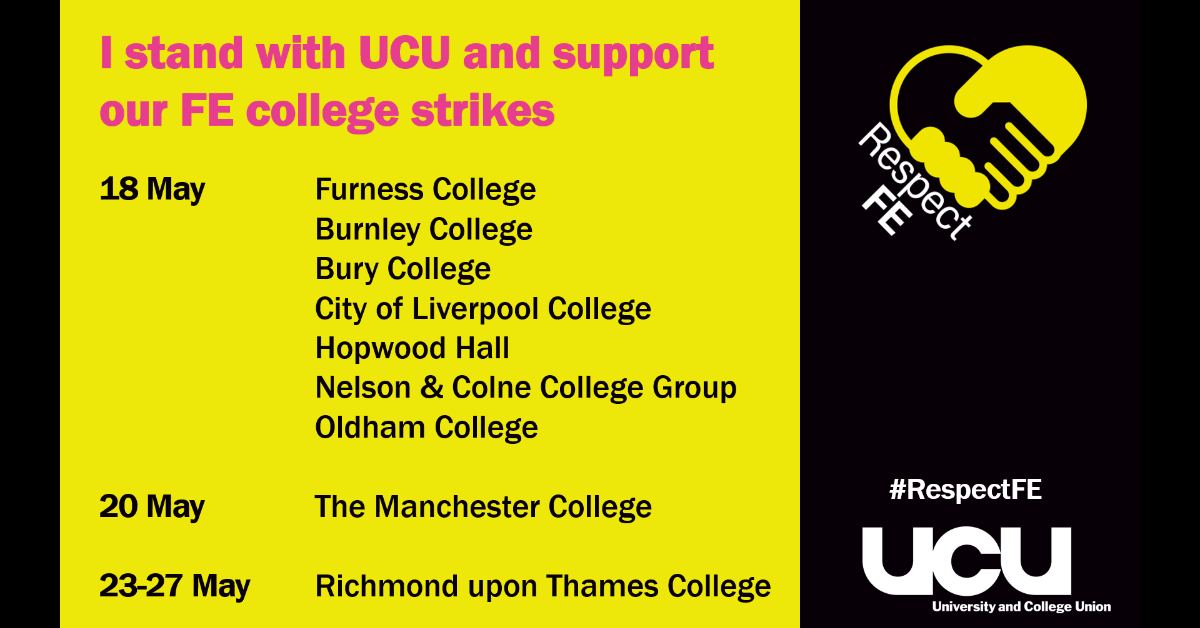 The Friday email: 13 May 2022
13 May 2022

Four Fights and USS pensions disputes
The elected representatives on UCU's higher education committee (HEC) met yesterday (Thursday 12 May) to make decisions about the two disputes and an update will be published as soon as possible.
Debate in the Scottish Parliament on higher education disputes
In the meeting of the Scottish Parliament on Thursday 12 May, Maggie Chapman MSP for North East Scotland spoke to the chamber about supporting striking university staff. You can watch a video of that members' business debate here (start from 12:51:00).
Furness College: industrial action over pay
UCU members at Furness College in Cumbria will be on strike on Wednesday 18 May, having rejected management's pay offer of 1%. This comes after an industrial ballot where 92.5% of voters backed strike action on a 59% turnout. Messages of support can be sent to Furness UCU's branch secretary Amanda Rotherham.
Further education: fighting back in North West England
UCU told the bosses of FE colleges in North West England to raise staff pay urgently, if they want to avoid strike action set to take place on Wednesday 18 May at Burnley College, Bury College, City of Liverpool College, Hopwood Hall, and Nelson and Colne College Group, and on Friday 20 May at The Manchester College. UCU members are encouraged to send messages of support and donate to the fighting fund clearly marked 'NW FE pay disputes'. Here is Bury College UCU branch chair Salma Bhuta receiving a cheque for £5,000 from NW Unison in a fantastic demonstration of solidarity.
Richmond upon Thames College: strike over plan to 'fire and rehire' over 100 teachers
Staff at Richmond upon Thames College (RUTC) are set to strike for five days (Monday 23 to Friday 27 May) over plans by management to sack all 127 teachers at the college and force them to reapply for their jobs on worse terms and conditions if they want to stay. 97% of UCU members backed strike action in the industrial ballot on a 88% turnout. Dismissal meetings are being arranged right now, and we need you to share this tweet and write to RUTC management using this tool telling them to withdraw this disgusting attack on our members.
Royal College of Art: UCU wins recognition deal
UCU members at the Royal College of Art (RCA) announced that they voted to accept recognition from the employer as part of a resolution to a long-running dispute, which had seen 41 days of strike action take place since 2020. RCA UCU branch overwhelmingly voted to adopt a deal negotiated with college management which includes:
full employment rights for all
no more zero-hour contracts
new routes to permanent contracts
caps on teaching workloads for staff.
University of Winchester: Workload Allocation Model dispute
University of Winchester is seeking to impose changes to the Workload Allocation Model (WAM) and has ignored the established system of collective bargaining. An industrial ballot for strike action and action short of a strike (ASOS) opened on Thursday 5 May and will close on Wednesday 25 May. Click on this page for more on this dispute.
Ten days of strike action at Queen Mary, University of London
UCU members at Queen Mary, University of London (QMUL) started ten days of industrial action on Thursday 5 May. This action is being taken because QMUL management has refused to provide a commitment not to deduct 100% of pay for action short of a strike (ASOS) in the Four Fights and USS pension disputes. Click here for more information and donate to QMUL's local strike fund if you can.
Protecting staff and students after Child Q, Tuesday 31 May
In 2020 Child Q, a Black female child, was strip searched by police at her secondary school. The subsequent safeguarding report found the search on Child Q was unjustified and racism was 'likely' to have been a factor. This UCU equality fringe will take an intersectional look at the steps that UCU members can take to protect their students and themselves in a discussion set around Child Q's experiences. The online event will take place on Tuesday 31 May, 17:00-18:00 and you can click here to register.
UCU responses to the Queen's Speech, REF, and BTEC cuts
UCU says the Queen's Speech shows that the government cares little about real threats to academic freedom, and it is 'utterly hypocritical' for university vice-chancellors to celebrate their Research Excellence Framework (REF) results while almost three in four researchers are set to leave higher education over pay and working conditions. The UK government has decided to withdraw formally 160 level 3 courses as part of T-level reforms, and you can read UCU's response here.
Build the TUC demonstration, Saturday 18 June
Please help build the TUC demonstration on Saturday 18 June demanding action on the cost of living and a pay rise for all. UCU is supporting the demonstration and will be highlighting our own campaigns on pay for education workers. Assemble: 11:00, Portland Place W1, march at 12 noon, rally at 13:00 in Parliament Square in London.
Abortion Rights 'Bans Off Our Bodies' marches
Pro-choice organisations across the US are calling on supporters everywhere to march on Saturday 14 May. Join the Abortion Rights 'Bans Off Our Bodies' marches in London or Edinburgh!
Edinburgh: Gather outside US Consulate at 3 Regent Terrace at 14:00
London: Assemble in Parliament Square at 16:00 to march to the US Embassy (Nine Elms).
Last updated: 20 May 2022