•
•
•
•

MP joins protest at University of Cambridge over 'gig economy' working conditions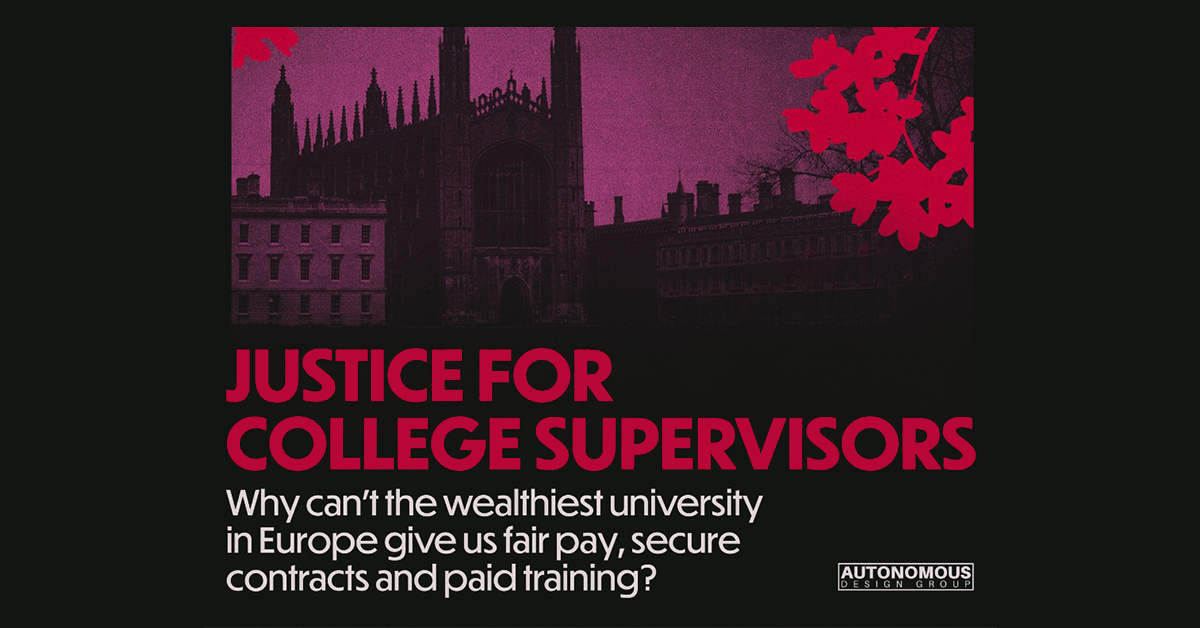 MP joins protest at University of Cambridge over 'gig economy' working conditions
27 May 2022

Undergraduate supervisors who deliver the University of Cambridge's tutorials are protesting today to demand an end to their 'gig economy' working conditions and for fair pay, secure contracts and paid training.
The rally, organised by the 'Justice4CollegeSupervisors' campaign, will take place at 2pm outside Great St Mary's Church. Speakers include Cambridge MP Daniel Zeichner, chair of the All Party Parliamentary University Group, and local councillors Dr Alex Bulat and Alice Gilderdale.
Research by UCU showed around half of undergraduate supervisions are delivered by staff forced into self-employed status or on zero-hours contracts. Around four in ten do not earn a living wage. Accounts show the University of Cambridge and its colleges have combined assets of well over £11bn.
The rally aims to put pressure on the senior tutors committee of Cambridge's 31 colleges, who will be meeting as the same time as the rally. The 31 senior tutors are the leaders of each of Cambridge's colleges and have the power to meet the supervisors' demands. The rally was originally due to take place outside of the meeting venue, but the meeting was subsequently moved online.
Three representatives from the campaign are due to speak at the committee meeting, demanding that undergraduate supervisors working for the colleges are paid properly for the full number of hours spent on marking and class preparation, paid to undertake mandatory training, and provided with secure employment contracts.
Due to years of campaigning by UCU, earlier this month the University of Cambridge belatedly agreed to draft guidance asking departments and faculties to pay for all mandatory training they require supervisors to undertake, but the university's own colleges have so far refused to follow suit.
UCU general secretary Jo Grady said: 'It is a scandal that workers who deliver the University of Cambridge's famed small group supervisions are often on poverty pay without any job security - conditions akin to the gig economy.'
'After years of campaigning, the university has made a first step towards paid training. Its colleges now need to do so and meet our demands to pay supervisors for the full amount of time they spend preparing for classes and provide them with secure contracts.'
Last updated: 27 May 2022