•
•
•
•

Richmond upon Thames College to face 14 days more strike action over fire & rehire plans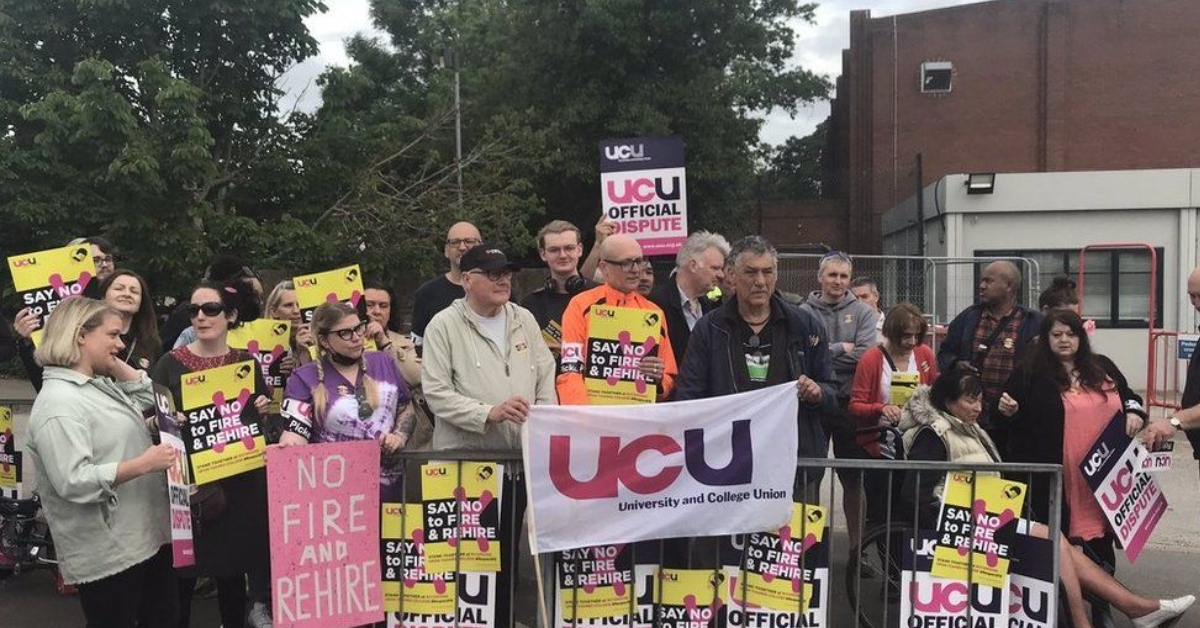 Richmond upon Thames College to face 14 days more strike action over fire & rehire plans
28 June 2022

Staff at Richmond upon Thames College are set to down tools for 14 consecutive days over a three-week period in August and September over plans by management to sack every teacher at the college and force them to reapply for their jobs on worse terms and conditions if they want to stay.
The announcement comes as staff take a further day of strike action today (Tuesday) aimed at disrupting an open day taking place at the college.
Striking staff will be picketing and holding a rally at the Marsh Farm Lane entrance to the college at 4pm today as prospective students and their parents visit the college. The protests will include a mobile billboard outlining the college's plans to sack over 100 members of teaching staff.
Strike action in the summer will hit enrolment, induction and first week of teaching and take place on the following days:
Monday 22 August
Tuesday 23 August
Wednesday 24 August
Thursday 25 August
Friday 26 August
Tuesday 30 August
Wednesday 31 August
Thursday 1 September
Friday 2 September
Monday 5 September
Tuesday 6 September
Wednesday 7 September
Thursday 8 September
Friday 9 September
Staff will be picketing the college on every morning of the strike action.
The college wants to sack all 127 members of its teaching staff and make them reapply for their jobs on new contracts that would see them lose 10 days' holiday. Management began the deeply controversial process, widely known as 'fire and rehire', without any prior engagement or consultation with staff. The college claims that 'trust', 'integrity' and 'excellence' are the values that 'underpin everything' it does.
Holiday entitlement is one of the few perks in a college that pays qualified teachers as little as £26k. Teachers with over 13 years' experience only earn around £37k. This is lower than at most colleges in the surrounding area and teachers at local schools can earn up to £51k.
Richmond upon Thames College has already faced 5 days of strike action with the local MP calling on management to withdraw the threat of fire and rehire.
UCU regional official Adam Lincoln said: 'Today's walkout and protest at the Richmond upon Thames College open day, plus the announcement of 14 days further strikes shows that staff will not allow management to use fire and rehire to threaten 127 members of staff.
'Staff now fighting to save their jobs have dedicated themselves to supporting their students and the fact that management are trying to slash 10 days from their holiday entitlement is a mark of shame for the entire college, and one which will rightly shock current and prospective students as well as the wider community in the area.
'The announcement of further strike action shows staff are going absolutely nowhere and it is in the interests of college management to immediately remove the threat to people's jobs, ditch these plans and treat staff properly.'
Last updated: 27 June 2022