•
•
•
•

Staff strike at Havant and South Downs College over low pay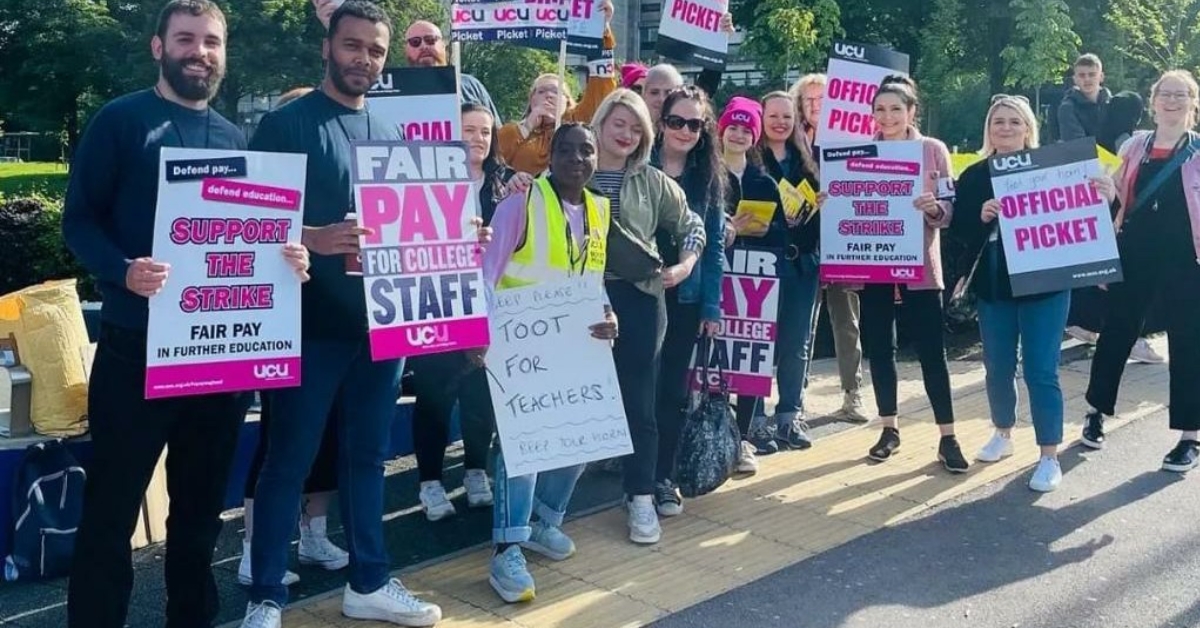 Staff strike at Havant and South Downs College over low pay
21 February 2023

Staff at Havant and South Downs College will strike for two consecutive days tomorrow and Thursday in a dispute over low pay amid the cost-of-living crisis.
The strike comes after 76% of UCU members who voted said yes to strike action. The turnout was 53%, surpassing the 50% threshold imposed by Tory anti-trade union laws, despite the ballot only being open for two weeks.
The National Education Union (NEU) also balloted members at the college with a similar result. 79% of NEU members voted for strike action with a 58% turnout and will be joining both days of strikes.
The college claims "we're strong believers that the best type of employees are happy and healthy." Its final consolidated pay award is worth just 3% for most college lecturers, who earn between £30k -£40k. It also made a one off payment, which was only £400 for most staff. is 13.4%, making this a huge real terms pay cut for college lecturers.
Over the summer, UCU produced a report that shows the vast majority of college staff are financially insecure, impacting the mental health of more than eight in 10 with many being forced to skip meals and restrict hot water use to save money. Seven in 10 said they will leave the sector unless pay and working conditions improve.
UCU branch chair Steve Pattenden said: 'It is frankly insulting that Havant and South Downs College thinks it can get away with offering staff just 3% when inflation is soaring and our members are being pushed into poverty. We are determined to get a pay award that helps us meet the cost-of-living crisis and management urgently needs to come to the table with a fair offer.'
NEU rep John Rogers said: 'This year's pay offer, coming during a time of high inflation and a cost-of-living crisis, represents a huge real terms pay cut. This continues what has been a relentless year-on-year attack on teaching and support staff pay and conditions. Throughout this time we have constantly been told a pay rise which would match inflation is unaffordable. The situation is unsustainable and for this reason NEU members at Havant and South Downs have voted to take action at this time. Enough is enough.'
Last updated: 23 February 2023