•
•
•
•

Bradford College staff to strike tomorrow over low pay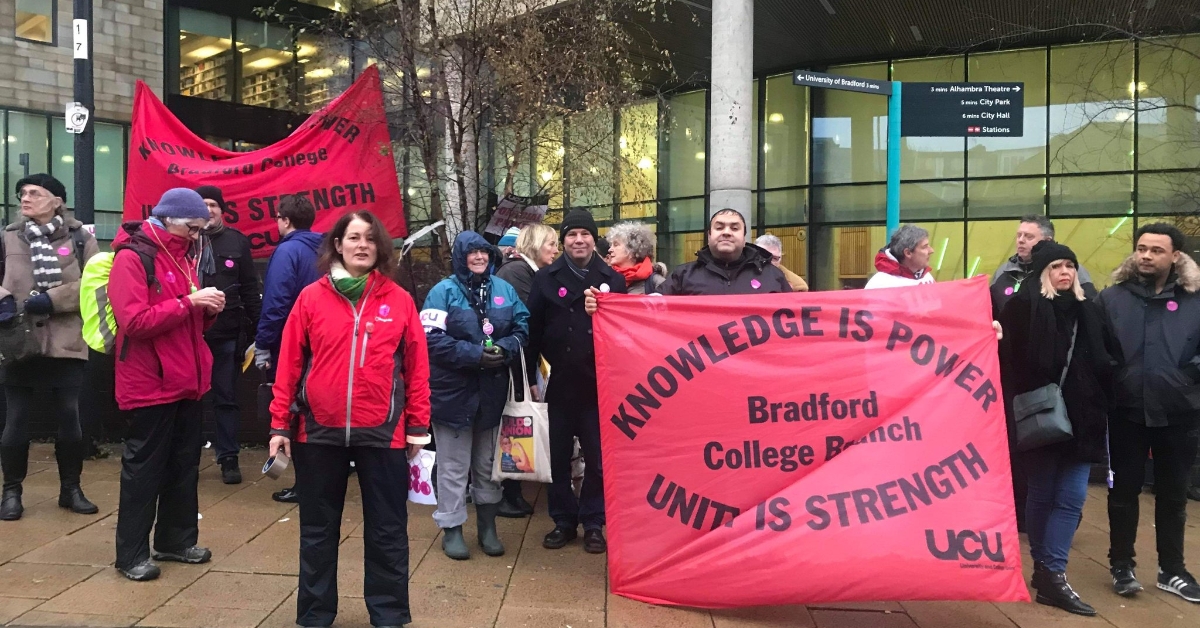 Bradford College staff to strike tomorrow over low pay
3 May 2023

Staff at Bradford College will strike tomorrow in a dispute over low pay and working conditions.
Staff will be on picket lines outside college entrances from 7am, UCU confirmed. The strike will be the first of 14 days of action unless staff get an improved pay offer and movement from management on unmanageable workloads.
The full strike dates are:
Week 1: Tomorrow (Thursday 4 May)
Week 2: Tuesday 16 and Friday 19 May
Week 3: Wednesday 24 and Thursday 25 May
Week 4: Monday 5 and Wednesday 7 June
Week 5: Monday 12, Tuesday 13, Wednesday 14 June
Week 6: Monday 19, Tuesday 20, Wednesday 21, Thursday 22 June
An overwhelming 90% of UCU members who voted backed strike action on a turnout of 58%. The strikes are set to hit GCSE examinations taking place in May and June. UCU said the college has time to make an improved offer on pay and working conditions so that strikes can be called off before exams are disrupted.
The dispute centres on a pay award for 2022/23 of only £1,160, which is worth just 3.2% for many lecturers. Inflation is currently 13.5% and UCU is demanding a pay award that meaningfully addresses the cost-of-living crisis its members are facing. In addition, UCU wants to see meaningful action on dealing with excessive workloads and treating its teaching and learning workforce with greater levels of professional respect.
The college claims it wants to "attract and retain knowledgeable, passionate and focused" staff. College accounts show it has over £9m in the bank. Meanwhile UCU has heard reports from some members who say they can no longer afford to drive to work and others who are skipping meals to make ends meet. College chief executive Chris Webb's total pay package is five times the average salary of college staff.

UCU regional official Julie Kelley said: 'Staff at Bradford College will down tools tomorrow because their take home pay has systematically declined in value over the last 10 years and the current pay award simply embeds years of pay stagnation. Our members have had enough, they want a salary that keeps up with inflation and working conditions that treat them with the professional respect they deserve.

'We urge chief executive Chris Webb to do the right thing and improve the current offer so further strikes can be avoided. The college has had over a year to address our demands and avoid the risk of strike action, yet it has come to this. Our members take huge pride in educating and supporting students, and striking during exam and assessment periods is a last resort but as household budgets continue to soar members feel they have been left with no option but to strike. Mr Webb needs to meet with us urgently and agree a deal so we can avoid further disruption in the coming weeks.'
Last updated: 3 May 2023