•
•
•
•

Trade unions to stage rally against mass redundancies at University of Brighton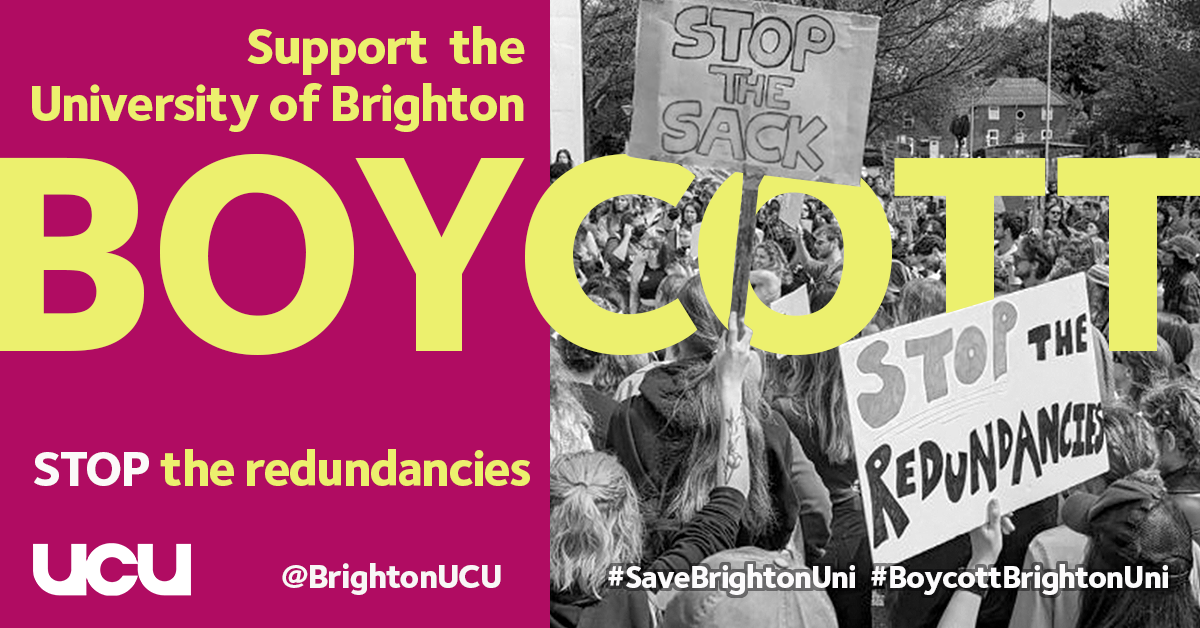 Trade unions to stage rally against mass redundancies at University of Brighton
20 July 2023

Staff at the University of Brighton today (Thursday 20 July 2023) announced a rally against cruel redundancies being imposed by the institution's management.
23 academic staff at University of Brighton were issued with compulsory redundancy notices earlier today [Thursday 20 July 2023]. This comes on top of 80 staff having reluctantly accepted voluntary redundancy rather than face being sacked. UCU members at Brighton are on indefinite strike, fighting to stop the cuts.
On Monday 24 July at 12.30pm, the Brighton University and College Union (UCU) branch will be joined by the union's general secretary Jo Grady and trade union branches bringing solidarity from across the region [OPS NOTE].
The job cuts will decimate subjects including art, literature, education, acute care and nursing, engineering, and sport science at Brighton. Of the 36 professors at the university, 10 are to be made redundant. University senior managers claim they need to make £17.9m in savings, yet have splashed more than £50m on building projects in the last two years. UCU said that the employer invoking financial difficulties as a pretext for the redundancies therefore strains credulity.
Last week, with Brighton management doubling down on their plan to slash jobs, UCU announced a global boycott of the university, in which the union's members, labour movement organisations, and the international academic community are expected to partake [NOTE 1].
UCU regional official Michael Moran said: 'Brighton University management are not only cruelly attacking the livelihoods of our members, but committing a monumental act of self-harm. If these brutal job cuts are not revoked, they will do irreparable damage to the university's educational provision and indeed its reputation.
'These redundancies have been pursued in an especially shameful manner, with the employer refusing to open the books or entertain any meaningful consultation with their hard-working staff through the union. We do know, however, that the university leadership are happy to waste tens of millions on flashy new buildings while taking an axe to jobs. Pleading poverty in this context really strains credulity.
'It is not too late for the university to change course, withdraw the compulsory redundancy notices, and prevent their reputation sinking any further.'
ENDS
Media Contacts
Quinn Roache m: 0779 596 8073; e: qroache@ucu.org.uk
OPS NOTE
The rally will take place on Monday 24 July 2023, 12.30pm at Grand Parade Main Building. Grand Parade Campus, University of Brighton, 58-76 Grand Parade, Brighton, BN2 0JY.
Press welcome. UCU General Secretary Jo Grady and Brighton UCU members will be available for interview. Contact: press@ucu.org.uk
[NOTE 1]
The global boycott of the University of Brighton means UCU is asking its members, other trade unions, labour movement organisations and the international academic community to support its members at Brighton in any way possible, including by:
not applying for any advertised jobs at Brighton
not speaking at or organising academic or other conferences at Brighton which are outside of contract
not accepting new invitations to give lectures at Brighton
not accepting new positions as visiting professors or researchers at Brighton
not accepting invitations outside of contract to write for any academic journal which is edited at or produced by Brighton
not accepting new contracts as external examiners for taught courses at Brighton
refusing to collaborate on new outside of contract research projects with Brighton.
Last updated: 21 July 2023