•
•
•
•

UCU slams University of Huddersfield for putting over 100 staff at risk of redundancy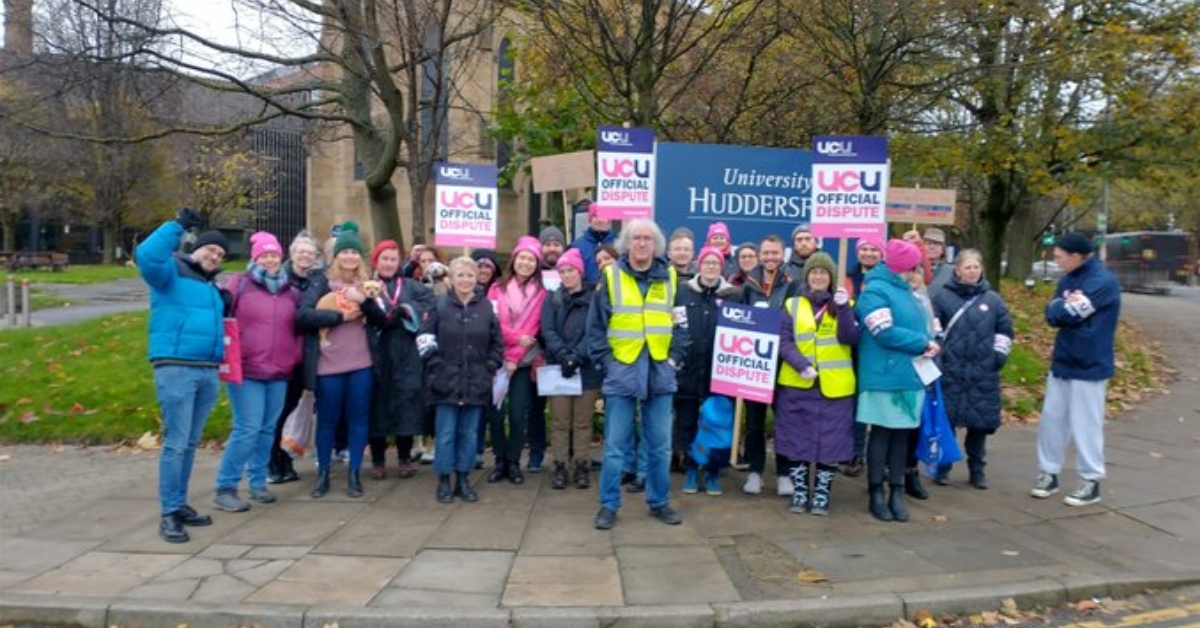 UCU slams University of Huddersfield for putting over 100 staff at risk of redundancy
27 July 2023

UCU has slammed the University of Huddersfield for large-scale redundancy proposals that could see staff lose their jobs by the end of September. The university announced the cuts just before the summer leave period making meaningful consultation practically impossible.
The 105 staff at risk of redundancy include 39 in the school of applied sciences, 15 in the school of arts and humanities and 43 across the Huddersfield business school and the school of education & professional development. UCU estimates that around 50 of the 105 staff at risk of redundancy could lose their jobs.
If the cuts go ahead it will be the fifth round of redundancies the university has forced through in the past four years and the third year in a row that the arts and humanities department has been cut. The university kick-started the redundancy process this month meaning many of the impacted staff are on holiday.
UCU has written to the university to call out its cynical attempt to rush through major restructures at the end of the year and to urge it to halt proposals so that proper consultation can take place next year. UCU has also threatened the university with possible legal action for not complying with its statutory obligations to meaningfully consult over the redundancies. Meanwhile, the university instructed UCU's representatives not to share essential data on student recruitment trends and projections with staff at risk of redundancy because of its apparent "concerns that some staff may not understand the detailed information and [this] may cause more worry". The university also attempted not to minute the first collective consultation meeting. UCU said these acts show management has a lack of respect for its staff.
The university has spent tens of millions of pounds on new buildings in recent years, ran a £9m surplus last year and has £179m in the bank. Its vice-chancellor takes home a total pay packet worth £408k.
UCU regional support official Max Beckmann said: 'University of Huddersfield vice-chancellor Bob Cryan is putting over 100 livelihoods at risk by trying to force through these cuts. It is completely unacceptable that staff who should be enjoying their summer break after working incredibly hard all year now have the threat of redundancy hanging over them. Some staff have had to go through redundancy rounds for three successive years, this will take a huge toll on their mental health.
'Once again, the vice-chancellor has absented himself from the whole sorry process and has delegated the hatchet job to other staff, who have then attempted not to minute crucial consultation meetings and to stop those who face redundancy from seeing information that directly impacts them. This speaks volumes about the level of respect and concern senior managers have for their employees.
'Mr Cryan is wasting millions on shiny new buildings whilst destroying his own employees' livelihoods, and is being paid over £400k to do so. This is an obscene amount of money for someone who is presiding over failure.'
Last updated: 27 July 2023