•
•
•
•

Strike on tomorrow at University of the Highlands and Islands in dispute over cuts and job losses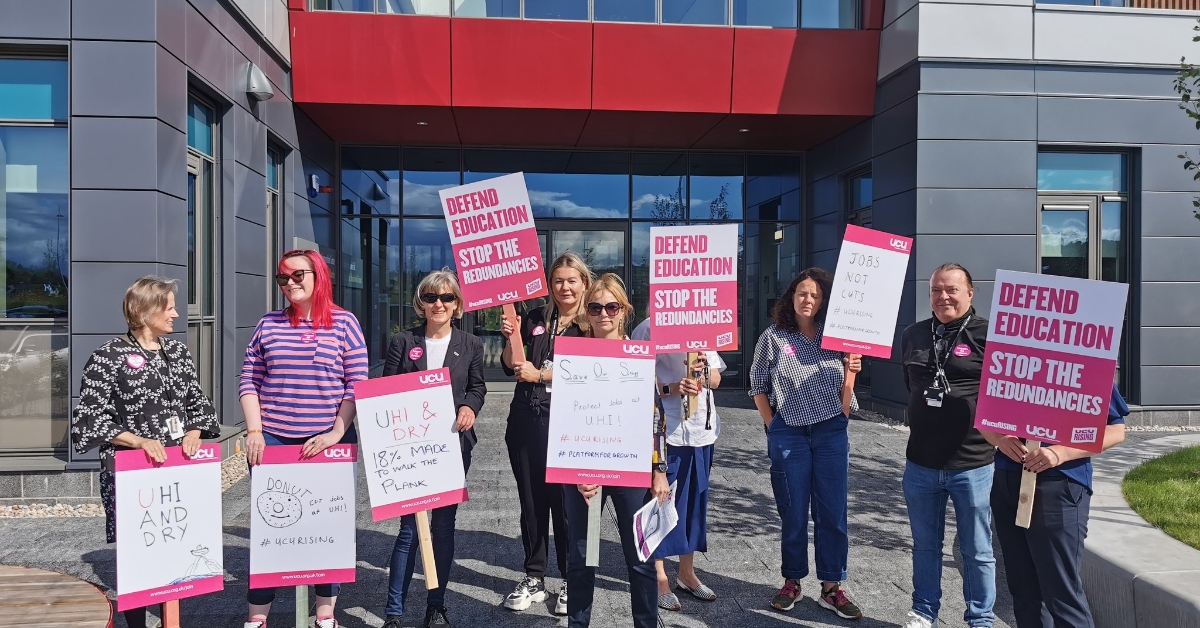 Strike on tomorrow at University of the Highlands and Islands in dispute over cuts and job losses
16 October 2023

UCU members at the University of the Highlands and Islands (UHI) will begin the first of six days of strikes tomorrow. The strike is over £4 million cuts the university is making, including £3 million from the staffing budget meaning that up to 44 roles are being made redundant.
In the ballot approving strike action, turnout was 86% with 77% of UCU members backing going on strike to defend jobs and oppose cuts. The union said the high turnout showed the strength of feeling against the cuts and redundancies.
The job losses hit staff in the university's executive office and include staff working across the university in teaching, research, management and administration, and in ensuring academic quality as well as essential services like student support. Employees of UHI are losing their jobs in Inverness and across UHI campuses throughout the Highlands and Islands area.
A survey carried out by the union found that staff had reservations about the way university management were proceeding with the redundancy process, with 87% not assured that management were acting transparently and thoroughly in relation to staff concerns and 93% 'unconfident' that the redundancy process was being carried our fairly and transparently across departments.
The university began sending out redundancy letters to affected staff two weeks ago after a consultation process that the union said was unnecessarily rushed and flawed. The union said that senior managers at the university had not been open to talks to prevent tomorrow's strike going ahead and that the disruption and impact on students was the fault of management.
Sorcha Kirker, UHI UCU branch officer, said: 'This is the first time in the thirty-year history of the university that there has been strike action taken by the university's employees. The very last thing we want to do is to go on strike, but the scale of these job losses, the lack of consultation and the rushed process has left us no choice. Even at this late stage, we call on the university's principal to listen to her workforce, listen to students, and to local politicians and engage in talks to find a way forward that doesn't involve this scale of cuts and job losses.'
Last updated: 16 October 2023