•
•
•
•

Strike ballot threat in fight against Oxford Brookes cuts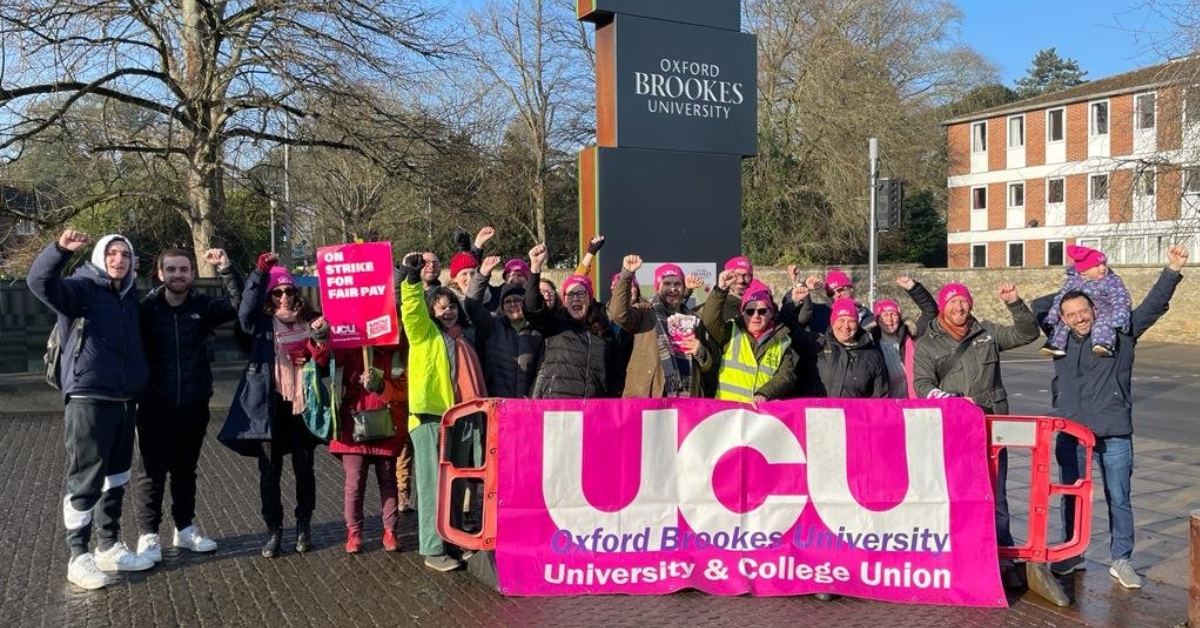 Strike ballot threat in fight against Oxford Brookes cuts
20 November 2023

UCU said a strike ballot could be on the cards as it vowed to fight brutal cuts at Oxford Brookes University.
In a packed emergency branch meeting last Friday, an overwhelming 98% of Oxford Brookes UCU members in attendance voted for a possible strike ballot if the university refuses to rule out compulsory redundancies. It also passed a vote of no confidence in vice-chancellor Alistair Fitt and the vice-chancellor's group.
The union was responding to a threat from the university to axe up to 48 academic staff in mathematics, the arts, humanities, and social sciences as soon as January 2024. The university claims the cuts will allow it to save £2m per year.
In an email to staff, the university threatened to cull academic staff, including the proposed closure of the music and maths departments as well as job losses in the departments of anthropology, English, drama and creative writing, history, film, publishing, and architecture.
UCU said there is no rationale for the cuts, which it says are based on spurious financial grounds, and that there has been no meaningful consultation. Oxford Brookes is in excellent financial health, with an income of £217m, a £3.7m surplus, and cash reserves of £127m. Its vice-chancellor takes home a total pay packet worth £253k.
Oxford Brookes UCU branch chair Dr Alan Reeve said: 'We can see no financial need whatsoever for these brutal cuts and are willing to ballot for industrial action, including strikes if management refuses to change course.
'It is frankly appalling that senior managers at the university, with pay packets of up to £253k, want to throw hard-working staff on the scrapheap because of a short-term analysis of student numbers, and challengeable long-term predictions. Only a few weeks ago we were told there were no financial problems in the institution. The university should be using its more than adequate resources to invest in these excellent departments, so students continue to choose to study here.
'The cuts have been announced as a fait accompli. Recognised staff unions and indeed colleagues in the affected departments have thus far had little involvement in the so-called consultation process. And staff facing the sack have been given only a few days to voice suggestions for cost-saving measures to avoid redundancies.
'The university must now work with us to avoid all compulsory redundancies if it wants to avoid potential strike action.'
Last updated: 24 November 2023