•
•
•
UCU calls on government to halt education cuts
27 May 2009
| last updated: 11 December 2015
UCU today called on the government to protect jobs in further and higher education.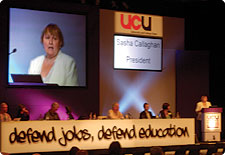 UCU president Sasha Callaghan calls for end to education cuts Kicking off the three-day conference, UCU president, Sasha Callaghan, said: 'The government has charged college and university staff with the huge responsibility of reskilling the country out of recession, yet we are facing huge threats of compulsory redundancies and departmental closures in our universities and colleges.
'We must not condemn people to a life of unemployment, and it is wrong that lecturers and staff find themselves on the job queue. They are the ones who will make the difference in these difficult times and they have a vital role to play.'
Over 400 UCU members from colleges and universities around the UK will debate motions on all aspects their work. The union's general secretary, Sally Hunt, will address the conference on Friday.