•
•
•
High cost of education in tough times rations hope, says UCU general secretary in keynote speech
29 May 2009
| last updated: 11 December 2015
Government and failing financial systems slammed as general secretary sets out union's plans for the next general election.
The government must not make cuts to education as it tries to drag the country out of recession, UCU general secretary, Sally Hunt, will warn today in her keynote speech at the union's annual congress in Bournemouth. Slamming the 'unfettered greed' of a few that is costing so many their jobs, Hunt will urge UCU members to remain focused on a shared main task – defending education.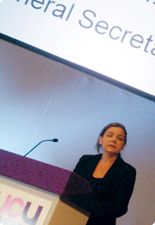 In a wide-ranging speech Hunt will criticise the government for erecting further barriers to education at a time when education is 'central to pulling our country out of recession.' She will list cuts faced by union members around the country as evidence of the damage being inflicted on the ground in UK universities and colleges.
She will say: 'We meet in the midst of the most severe recession in living memory; at a time when the reputation of politicians has never been lower. While Westminster is focused on its internal problems the recession is destroying jobs and communities – a process from which education is far from immune. So while we must learn from both our successes and our failures in recent months, we must remain focused on our main task – to defend education.'
She will list the strengths of the union, now in its fourth year following a merger in 2006, before laying into the failings of the global financial system and the UK government. She will say: 'In the past 12 months we have seen the global financial system begin to fracture and contract. The intricate linkages that held it together were found not to be strong ties, but barefaced lies. And as those lies unravelled, the global economy began to grind to a halt.
'Governments are slashing budgets. In Ireland there has been a concerted attack on public sector pensions, making public sector workers bear the brunt of the bankers' failure. That attack is one we should watch very carefully. Our government certainly is. The biggest tragedy of this recession is that the unfettered greed of a few hundred has caused tens of millions of people to lose their jobs. Our country is no different. Our sector is no different.
'At a time when our country needs more investment in education not less this year's budget slashed £400 million from further and higher education. That is equivalent to 10,000 staff. 80,000 student places when there is huge unmet demand in further and higher education, with more than 30,000 people wanting to study this year but unable to find a place - this beggars belief.
'A member sent me a letter recently to tell me that she had just been told to either accept an increase in class sizes or be made redundant. That's just disgraceful. Education should be central to pulling our country out of the recession, yet the Government is erecting further barriers to study.
'And the biggest barrier of all – exorbitant charges for education – is still in place. Can ministers honestly say that young people are not deterred from attending university or college by the realisation that they will emerge tens of thousands of pounds in debt? I think they'll try, as will the employers but we won't. At every opportunity this union will say that education is a right, the privilege is that of our country, and all of us should take pride in paying for people to learn.
'Charging for education in a recession is nothing more than the rationing of hope.'
Sally Hunt will then go on to outline the union's political strategy ahead of the general election. She will urge members to work with the union locally to get all parliamentary candidates to declare their commitment to education and sign up to specific pledges. She will say:
'With the election just around a corner, all parties will swear that education is a key priority for them. In reality they may do something very different. Let me make it clear, we are serious about bringing the power of our union to bear on the political process, and we are serious about making change happen.
'We have worked with some great MPs – and there are some – on our campaigns in Liverpool, Doncaster and Reading this year. We have to build support and gain influence if we want to offer a credible opposition to the employers. Have no doubt that they are working hard to undermine us.
'In many constituencies across the country the single most decisive factor could be the votes of lecturers and their students. Our influence is not restricted solely to votes, but in our ability to win the arguments, to influence public opinion, and to mobilise students across the country. So we are calling on all general election candidates, of all parties, to sign up to our pledges to defend education.
No limits to learning – a right to flexible funding so you can learn when you need to through your life
No to financial barriers to education – a right for everyone to go to university based on their ability
And to join with us in declaring education a right, not a privilege. To celebrate the right to study for its own sake.
'UCU must make the case for the defence of education. We want to see schools, colleges and universities rooted within their communities, not serving some mythical free market in education. Education leads to hope. Mass unemployment leads to despair - an accelerant for appalling parties like the BNP.
'So today we are calling for a new deal, because what we need now is more educators, not less. There are hundreds of thousands of people who want to learn, whether through necessity or in response to changing circumstance. They need and they deserve direct and local access to education.'