•
•
•
•

Mass Lobby of Stirling University Court
Mass Lobby of Stirling University Court
20 October 2009

Staff sent a strong message to Stirling University as hundreds of trade union members turned up to protest against redundancies and berate management over their lack of consultation.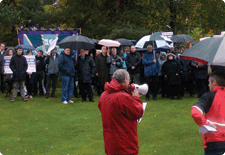 More than 200 protestors assembled in the rain outside the Court Building to hear local and national representatives from UCU, Unite, Unison and the Scottish TUC and to lobby members of the university's court.
Stirling University announced a voluntary severance scheme in June and its intention to lose 140 members of staff; nearly 10% of the workforce. There are fears that, despite almost reaching the 140 target, the university will press ahead with compulsory redundancies, despite predictions of a financial surplus this year.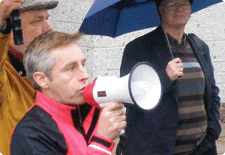 Union members outside the meeting made their feeling about the job cuts quite clear and there were loud protests against the Principal's staggering 60% pay rise since 2004. The unions called on the university to stop hiding behind Court and start meaningful negotiations over the redundancies.
Mary Senior, UCU Scottish Official, said: 'Today's mass lobby sent a strong message to Stirling University Court and management that there is widespread dissatisfaction with the handling of redundancies. The Court should take notice of the large union presence today and tell management to enter into meaningful negotiations.
'We maintain that the 10% cut in jobs is out of all proportion to the 1.6% cut in funding. We believe that, with the so-called voluntary redundancies close to the targeted numbers, the University is now running at surplus. We call on the university management to stop further job losses and start consulting.'
Last updated: 11 December 2015