•
•
•
•

GCSE results day strike action in row over cuts at Ystrad Mynach College
GCSE results day strike action in row over cuts at Ystrad Mynach College
UCU members at Ystrad Mynach College went on strike on Thursday 27 August in protest at college plans to increase the workload of frontline teaching staff and to cut the quality of education for students.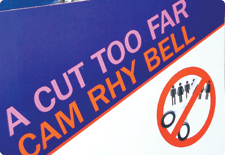 Three quarters (75%) of members, who voted, voted for strike action and 81% voted for action short of a strike.
Members had been left with no alternative but to take the action after the college unveiled plans to drastically increase their workload, which will result in a devastating impact on the quality of education for students. The proposals include a cut in the length of lessons from one hour to 50 minutes and an increase in the number of lessons taught each week by lecturers from 23 to 27. UCU warned today that the increase in the number of sessions taught each week will leave staff with less time for preparation, marking and delivering vital support to students in need of extra help.
Members set up picket lines at the Rhymney and the Ystrad Mynach sites of the college.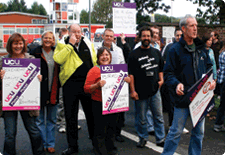 UCU Wales regional official, Margaret Phelan, said: 'Our members took this action as a last resort and regret having to take this action but have been left with no choice by the college. We have to take a stand to protect the quality of education at Ystrad Mynach and to ensure that our students are given the time they deserve with staff.
'These plans would severely reduce the amount of time lecturers have to prepare high-quality, stimulating lessons and make it much harder for them to provide constructive comments on students' work. It would be virtually impossible for us to give extra help to students who are struggling, or to those who need a tougher challenge.
'Lecturers already face high stress levels and exessive workloads and the branch have urged management to get back to the negotiating table. For the sake of students and staff, the college needs to talk to the branch so that we can find a way forward together.'
Paul Ford, the branch chair said: 'We are hopeful that the college will recognise our concerns and the importance of discussing an appropriate resolution to this dispute.'
Last updated: 11 December 2015