•
•
•
London academic wins top trade union award
14 September 2010
| last updated: 11 December 2015
The former head of trade union studies at Southbank and London Metropolitan University, Professor Mary Davis, has been recognised for her service to equal rights.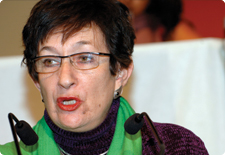 TUC Women's Gold Badge winner Mary Davis
Mary was today presented with the prestigious Women's Gold Badge award at the TUC's annual congress in Manchester.
Mary has been an active trade unionist for many years and has served as a member of the University and College Union's (UCU) national executive committee, as well as chairing UCU's women members' standing committee. She has been a leading figure in the teaching of female labour history and in March this year chaired the TUC women's conference. In 1999 Mary helped found the Sylvia Pankhurst Memorial Committee, and gave the first ever Sylvia Pankhurst Memorial Lecture at Wortley Hall.
Mary has taught in both further and higher education. While working at Tottenham College of Technology she helped to establish courses for women trade unionists. In 2004 she was made Professor of Labour History at London Metropolitan University. Mary wrote and founded 'A Charter For Women' to which many unions and women's organisations have affiliated and continues to play an active role in the equal rights movement.
Commenting on Mary's award, UCU general secretary, Sally Hunt, said: 'Mary has been a dedicated trade unionist all her working life at all levels within the union movement. Her drive and determination to enable women to be equal and vocal representatives with their male comrades has encouraged many women to become involved and take on roles they might otherwise not have done. She has brought women's history to life through her academic and political work.'