•
•
•
Strike on at Chesterfield College in jobs row
5 June 2013
| last updated: 10 December 2015
Members of UCU at Chesterfield College will be on strike tomorrow in row over job losses.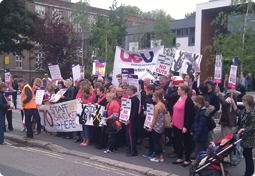 Chesterfield UCU members take to the picket line in the row over job losses Union members will be on picket lines at the Sheffield Road and Infirmary Road entrances to the college from 7am.
Later in the morning members will assemble in the town centre (outside Primark, Market Place) for an event at 11am.
The college has announced plans to make 70 staff redundant, despite the fact that over 100 staff have left the college through voluntary redundancies in the last two years. The union says the college needs to revisit its plans and has called for negotiations around an improved voluntary redundancy scheme.
UCU has not ruled out further disruption if the college does not remove the threat of compulsory redundancies. In last week's ballot of UCU members, 93.6% of people who voted, voted in favour of strike action.
UCU regional official, Anne O'Sullivan, said: 'UCU members are on strike because they have had enough of the way the college treats them. The dedicated staff at Chesterfield College have coped admirably with the loss of more than 100 colleagues in the last two years and plans to make another 70 redundant is no way to reward them.
'Losing more staff will have a negative impact on the students' education and limit opportunities for local people to be able to study, which is senseless in tough economic times. The ball is in the college's court and management needs to sit down with us to discuss a fresh approach if we are to avoid further disruption.'