•
•
•
•

Mental health awareness days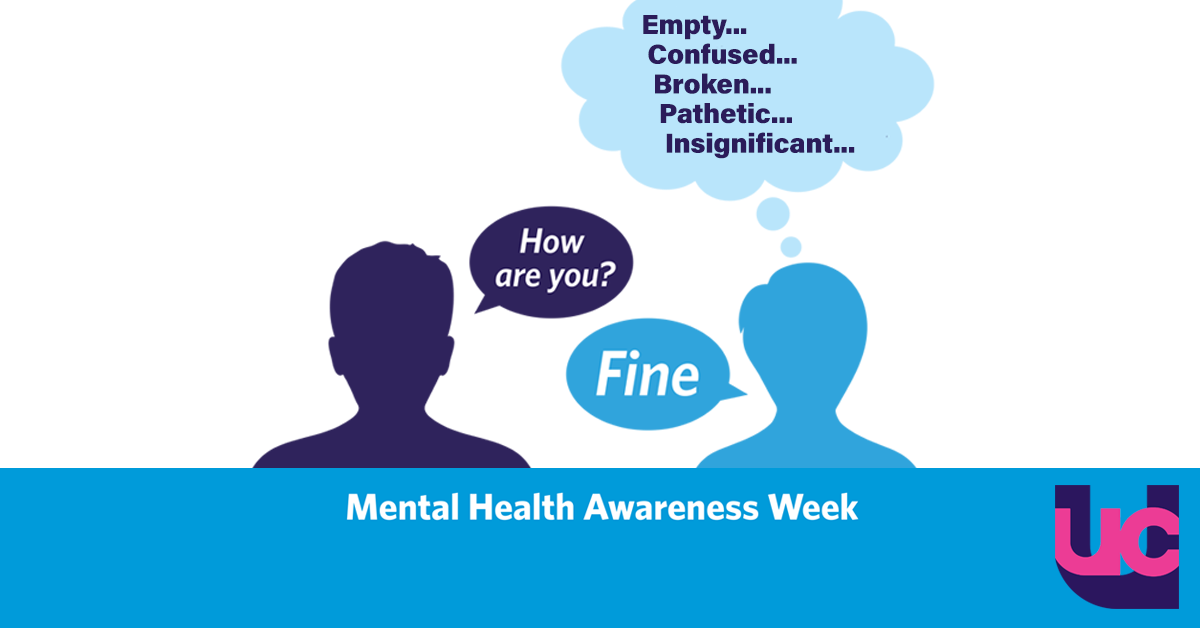 Mental health awareness days
8 May 2018

Mental Health Awareness Week
18-24 May 2021
Mental Health Awareness Week is an opportunity for branch reps and members to address the issue of mental health at work an issue that has become increasingly important by wider society, but far too often, many employers fail to recognize it as a priority by failing to provide adequate support and the current pandemic has exacerbated the mental health of every one ranging from varying levels of anxiety and depression.
The ONS, Opinions and Lifestyle Survey looking at depression and the coronavirus, show that between January and March 2021:
1 in 5 adults experienced some form of depression in early 2021
4 in 10 disabled people were more likely to experience some form of depression than non-disabled people
4 in 10 women aged 16 - 29 years experienced depression compared with 26% of men
adults of mixed ethnicity or 'any other ethnic group' appeared more likely to experience some form of depression (35% and 32% respectively)
than white adults (20%).
Source: Coronavirus and depression in adults, Great Britain - Office for National Statistics (ons.gov.uk)
Branches are encouraged to help remove the stigma and discrimination that people living and working with a mental health condition or issue face daily by raising awareness and campaigning for better mental health support at work.
Resources:
Don't be afraid to ask for help if you need it. If you are feeling overwhelmed, contact:
---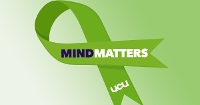 Mind Matters - a space for UCU members to share their experiences and reflections on mental health and wellbeing, as well as being a catalyst for branches to use as conversation starters and for removing the stigma associated with mental health.
---
World Mental Health Day
10 October 2020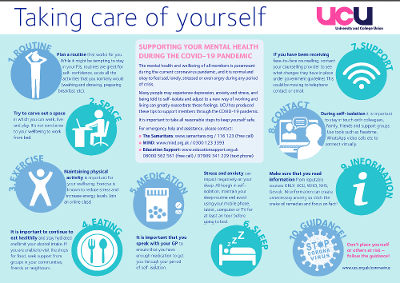 World Mental Health Day is the opportunity for the global community to raise awareness of mental health issues. This year's theme is 'mental health for all'.
During 2020, the Coronavirus pandemic has placed a significant strain on many people's mental health. Download our latest poster for tips on how to support your mental health through the pandemic.

Taking care of yourself - Covid-19 guidance for members [326kb]
This year's World Mental Health Day is a good time for branches to reflect on the challenges which the pandemic has posed for mental health, and how institutions can better support staff and students. UCU has developed a range of resources to assist members and branches in raising and addressing the issue of mental health at work.

Mental Health Charter - providing for a healthy workplace [401kb]

Mental health charter [311kb]

Supporting members with mental health conditions and issues: UCU branch toolkit [265kb]

One in Four - a UCU briefing on mental health at work [103kb]
Last updated: 18 October 2022