•
•
•

The Friday email: 19 October 2018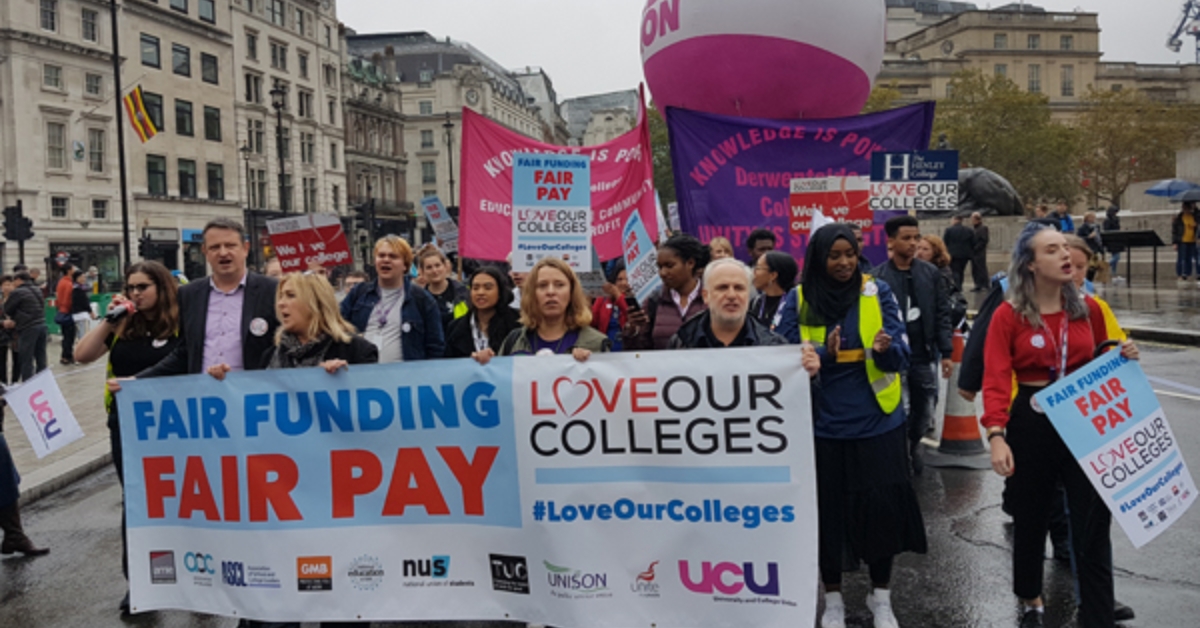 The Friday email: 19 October 2018
We #LoveOurColleges!
Thanks to the thousands of staff, students and supporters who took part in the #LoveOurColleges week of action including a fantastic march, rally and lobby of Parliament on Wednesday. The rally, addressed by Jeremey Corbyn and other MPs and supporters including Angela Rayner, Caroline Lucas and Layla Moran, took our call for investment in FE to the heart of government. Please add your name to the call by signing this petition.

Colleges across the country have also been campaigning locally and the staff and students of Chesterfield College sent their own personal message to the government with this song.
Pay ballots now closed
The ballots of members in further and higher education have now closed and results will be published on Monday. Thanks to everyone who voted and helped to get the vote out in college and university workplaces across the union.

Congress 2018

UCU's special one day Congress took place on Thursday this week and you can read the decisions made here.

Stop Newcastle deportation - please sign the petition

Please sign the petition to stop a Newcastle-based family from being split up following a Home Office decision to deport the husband. UCU has written to Home Secretary Sajid Javid calling on him to reverse the decision and change the rules so that other UK citizens have the right to return to the UK with their long-term spouse.

In the news

UCU led an 'unprecedented show of unity' through central London on Wednesday as staff, students and college principals headed to Westminster to lobby MPs for better funding and fair pay. The USS pension scheme is forced to address claims that it exaggerated the scheme's deficit and was not forthcoming with data. How a family who moved to the north-east in January is facing deportation after a Home Office ruling.
Equality conference 2018
UCU holds its equality conference in Manchester between 29 November and 1 December representing black, LGBT, disabled and women members and you can find out more here.
Last updated: 19 October 2018