•
•
•

The Friday email: 08 February 2019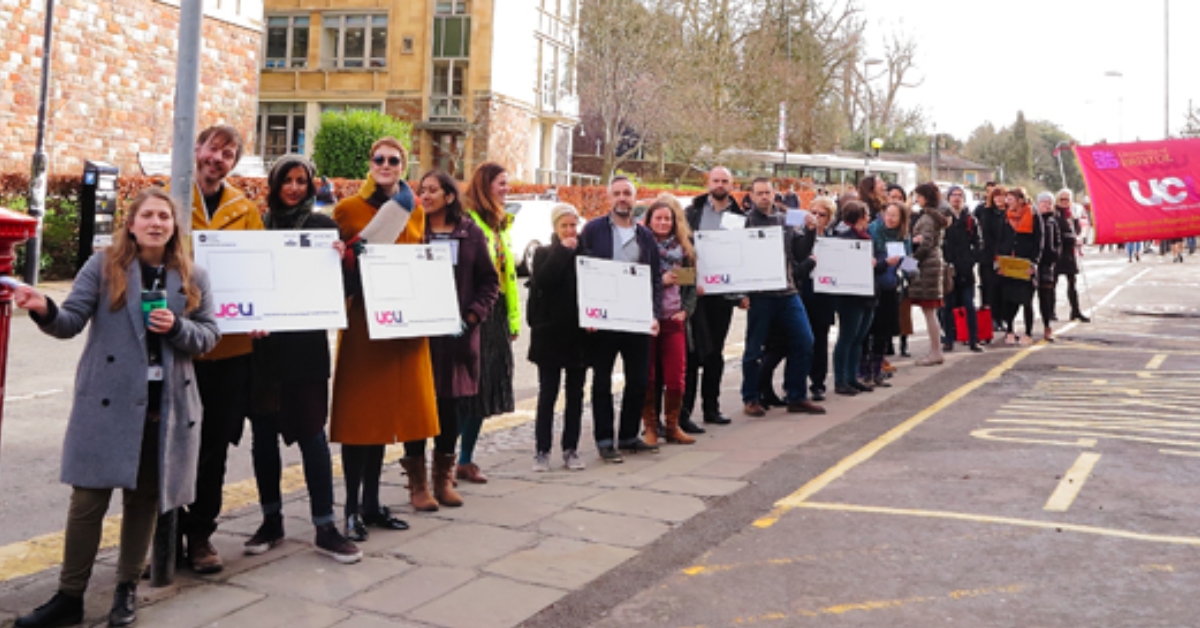 The Friday email: 08 February 2019
Have you voted for fair pay?

With two weeks left of our higher education pay and equality ballot, UCU activists have been out in force to make sure everyone remembers to vote. Bristol UCU staged a mass 'Post Your Vote' event (pictured) and members at other universities being balloted have produced films, held stalls in campus cafes, and generally ensured no-one has any excuse to forget to post their vote.

There's still time to request a replacement ballot paper if you've lost it please do let us know if you've voted already and don't want to receive reminders.
The FE fightback continues...
The next wave of strikes in our FE fights back campaign is 20, 21 and 22 March (12 February for Kendal College) so please keep your messages of support coming in. Find out why college staff are fighting back in this short video.
NEC and officer elections
Ballot material for the election of UCU national officers and executive committee members should now be with you. You can find out more about the process here. Please remember to use your vote and have your say on who is elected to these important roles within the union. All ballots close at 12 noon on Friday 1 March 2019.
Bullying and stereotyping blocking professorial path for black women, says report
A culture of bullying and stereotyping means black academics have to work harder and employ mentally draining strategies to try and get on, said a UCU report released on Monday.
There are only 25 black female professors at UK universities. Dr Nicola Rollock interviewed 20 of them at length about their experiences of higher education to produce a powerful insight into the extra pressures black women have to deal with, and try to manage.
Nicola told the Independent that 'Bullying and stereotyping was commonplace in terms of their experiences.' The Guardian said that the report was the first of its kind and that the Duchess of Sussex had remarked last week about the incredibly low number of black professors at UK universities.
On Woman's Hour (starts at 18:27) Nicola said the professors shared with her their painful and sad accounts of bullying, harassment and discrimination from throughout their careers. One of the interviewees, Professor Gina Higginbottom from the University of Nottingham, spoke of the marginalisation that she had faced and the importance of building strong networks.
UCU urges universities and minister to rule out using work of sacked staff in REF
This week UCU wrote to universities and the universities minister asking them to publicly reject plans to allow institutions to submit the work of staff that had been made redundant.
The union said the controversial move, announced last week, had already provoked significant anger amongst the academic community and that universities who failed to rule out submitting sacked staff's work risked reputational damage and would face pressure from the union nationally and locally.
In its letter to universities minister Chris Skidmore, the union asked him to urge the funding bodies to reverse their decision and to join UCU in asking universities to rule out using sacked staff's work. Birkbeck, University of London, has become the first institution to say it will only take credit for work produced by staff who left on good terms.
The history of USS and where next
The Higher Education Policy Institute (HEPI) produced a report looking at the Universities Superannuation Scheme yesterday. Responding in a blog for the HEPI website, Matt Waddup said that the Hepi analysis makes clear that the ownership of the scheme is an important political issue, which is at the heart of the current dispute.
He says there is a palpable and justifiable sense among staff that USS is "our" scheme: our forebears fought and argued for it, they helped build it, and we are damned if we will stand by and see it destroyed.
He says the report's conclusions are too kind both to universities and USS and takes issue at the idea that the future of USS can only be secured if both sides are prepared to "give as well as take." He says this ignores the fact that the 2017 proposals were the latest and most extreme of a series of proposals which had substantially reduced core pension benefits, while increasing their cost.
The USS dispute represented a howl of outrage from staff fed up with the way things were going and for whom the threatened pension cut really was the last straw. Looking forward, Matt says the JEP report and negotiations which emerged from the dispute provide the opportunity to turn the page and move on to address the underlying issues within USS.
Who is calling for more expensive accelerated degrees?
Having threatened to increase the cost of two-year degrees on numerous occasions, the government has finally got legislation through to increase the annual fee to £11,100. It says the increase will provide a cheaper option for students as it is still less than three years at £9,250.
UCU and others in higher education have argued there has never been any clamour from universities or students for the accelerated degrees and this move is merely a way to allow for-profit companies, some with questionable records, access to public funds through the loan system.
On Wednesday Matt Waddup and the universities minister Chris Skidmore debated the topic on Radio 4's You and Yours (starts at 31:43).
How to deal with the problem of unconditional offers
Responding to a Times leader that said unconditional offers do not do students any favours, Matt Waddup said that the best way to make them redundant was to radically overhaul the university admissions process so students apply after they receive their results.
In his letter to the paper, he said this would remove the opportunity for universities to make unconditional offers and mean students are judged on their actual results rather than predicted grades.
He said it would also relieve any pressure on schools to exaggerate students' likely success and get rid of the problem of inaccurate grade predictions; only half of final A-level results match estimates made by teachers, and almost one in 10 forecasts are out by more than one grade.
More strikes threatened in jobs row at Queen Margaret University
UCU members at Edinburgh's Queen Margaret University (QMU) took strike action on Thursday and threatened more days of disruption if the dispute over job losses cannot be resolved. Staff are due to walk out again on Monday and Wednesday (11 and 13 February).
Staff are angry at the loss of around 35 jobs, which represents a loss of 7% of the university's total workforce. The union says the job losses are unnecessary and will increase the workloads of remaining staff.
QMU UCU spokesperson Oonagh O'Brien said: 'Nobody wants to take strike action, but the way the decisions to make cuts were made has angered staff and risks damaging the university's reputation and the student experience. The level of support for strike action shows the strength of feeling about the cuts. The university needs to recognise how unhappy staff are and work with UCU to sort out a mess they've created.'
UCU LGBT+ research conference
This one-day research conference on bisexual, gay, intersex, lesbian, queer and trans lives takes place on 17 May in Manchester. Deadlines: call for papers 25 February, registration 1 May.
Last updated: 3 June 2019