•
•
•

The Friday email: 15 February 2019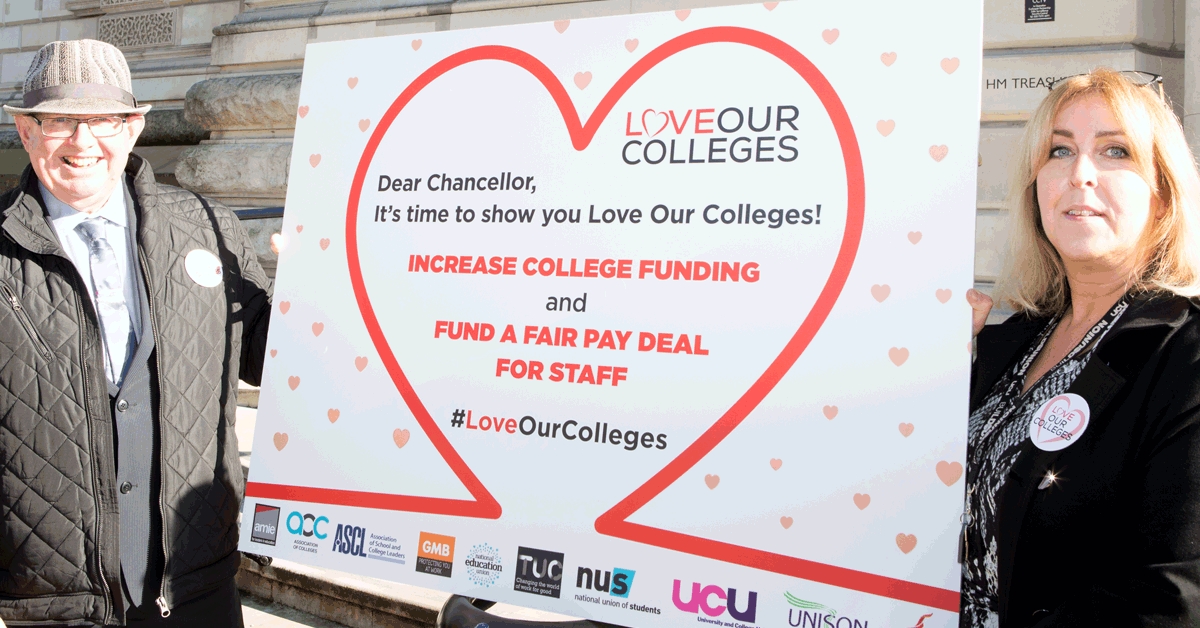 The Friday email: 15 February 2019
15 February 2019

Valentine's message to the Chancellor: Love Our Colleges!

This Valentine's Day we asked the Chancellor to show some love for further education colleges by increasing funding and supporting fair pay. Help us make sure he gets the message by emailing him to ask for fair funding and pay, or tweeting him @philiphammonduk using the hashtag #LoveOurColleges.

Your union, your vote, your voice
Please remember to use your vote in UCU ballots and elections taking place:
In the news
The Teaching Excellence Framework is not fit for purpose, failing students and deeply unpopular said a UCU-commissioned report out this week. UCU branded the Office for Students a paper tiger following a lightweight report on vice-chancellors' pay. An investigation comes to light at De Montfort University as the vice-chancellor finally resigns. UCU takes a Valentine's message to the Treasury. Ballots open in London and Coventry, while a strike in Edinburgh is suspended at the eleventh hour.
Read all about it here.
Tef not fit for purpose says report

This week UCU published a report which found that the Teaching Excellence Framework (Tef) has no support among university staff, is failing students and is not fit for purpose. The report is based on a survey of nearly 6,000 university employees and was conducted for UCU by Professor Matt O'Leary, Dr Vanessa Cui and Dr Amanda French from Birmingham City University.

USS latest position

Read this week's message from UCU on the latest postition on USS. You can also read an important update from the national dispute committee: on year on from the USS strike.

'Counting the costs of casualisation' survey: last chance to take part

There's been a great response to our new survey 'counting the costs of casualisation' and submissions will close on Monday. If you're on an insecure contract, make sure you fill it in now and pass it to colleagues who are precariously employed.
Strikes off at Queen Margaret University as agreement reached

Planned strike action over jobs cuts at Queen Margaret University was called off this week after university management and UCU reached an agreement ruling out redundancies and committing to joint work on other workplace issues.

'Skin Deep' learning week at City and Islington College

This week City and Islington College held a themed learning week entitled 'Skin Deep: #weareallimmigrants' and students and staff have been performing, displaying, reciting, and singing about the positive role multiculturalism plays in society. Iranian ESOL student and film maker, Majid Adin, has produced this moving interpretation of Elton John's 'Rocket Man' to tell a new story of adventure, loneliness and hope.

UCU LGBT+ research conference

This one-day research conference takes place on 17 May in Manchester. Deadlines: call for papers 25 February, registration 1 May.
Last updated: 3 June 2019