•
•
•
•
•

Address by Sally Hunt, General Secretary
Address by Sally Hunt, General Secretary
Address to UCU Congress 2014 by by Sally Hunt, General Secretary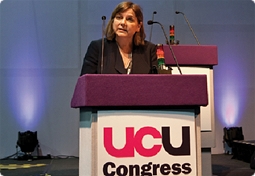 UCU general secretary Sally Hunt addresses UCU Congress Good morning Congress.
Don't worry; my speech today will be short.
I want to focus mainly on the road ahead.
But before I do, I would like to take a few moments to explain my prolonged absence last year.
Those who know me best will know that I am a private person.
However the support I have been given by this union and its members means I owe you an explanation.
__________________
Twelve months ago Congress came to Brighton, my home town.
But I wasn't on the platform.
In fact I had just left hospital a mile up the road following a life changing emergency operation.
__________________
What happened to me is a cautionary tale of sorts I guess.
In the autumn of 2012 I was feeling steadily more poorly as my digestive system gave way.
But frankly, like many of you, I was too busy to be ill.
__________________
We were grappling with a financial crisis.....
Beginning an internal restructure.....
Defending the union in a major tribunal and...
Of course providing a service to our members in the workplace.
__________________
In January 2013, in an attempt to get better, I quit smoking.
A decision - oh the irony - a Registrar later told me had made my condition worse and accelerated the illness.
Smokers, please hold on to that wonderful thought.
__________________
By Easter 2013, I was feeling progressively worse not better.
So after yet another series of "I have to be there" union meetings I finally went back to my doctor.
I found myself immediately admitted to hospital and facing a barrage of tests.
__________________
I was soon diagnosed with chronic ulcerative colitis and told I needed emergency care immediately.
Like a textbook control freak I refused to accept this and refused the operation too.
As I say, I was simply too busy to be ill.
__________________
Only when a doctor told me that without the operation I could die did I finally see sense.
And thank god the operation worked.
Lying in a hospital bed for weeks afterwards forces you to see things in a different way.
__________________
I was grateful of course.
But also felt hugely violated and hopelessly detached.
In hospital you are utterly vulnerable, and utterly dependent upon others.
__________________
You see at first hand the amazing care and skill provided by NHS staff.
The care is innate. The skill of course is taught in our universities and colleges.
__________________
The day I finally left hospital, they gave me a manual about getting your life back.
It had been written by one of our members.
So I knew I was in safe hands.
_______________
Our Phillip Burgess has said being operated on by your former students is a humbling experience.
Is it not also the greatest illustration possible that the benefits of education go far beyond the individual?
__________________
By the way, I also saw things which our NHS and our country can be less proud of.
Like how we treat the people in hospitals who keep us clean and fed.
It is such a vital job.
__________________
So I was appalled when they told me about the conditions they worked in.
Poverty pay.
No job security.
Low status.
__________________
This low pay and no rights culture also shames our universities and colleges of course.
And even MPs, including Labour ones, employ staff on insecure or zero hours contracts.
We have to work to change that.
__________________
Congress when I got home I was stunned at the cards and messages I had received.
Especially the ones that started..."I didn't vote for you but....."

Looking back two cards stand out.
__________________
The first was from Bob Crow, my friend and erstwhile next door neighbour at the TUC general council.
The message instructed me, of course, to take the time to get well.
Bob was the real deal, as kind and considerate in private as he could be steadfast and determined in public.
My last, very fond memory of him is of us bickering over - what else - Europe a few days before his tragic death.
__________________
The second card was from our own John McCormack.
I thought of his good wishes again some six months later when it was my privilege to see him shortly before he died.
He was a wonderful, courageous lion of a man who bore his short illness with immense dignity.
__________________
The union's loss is as nothing to the personal loss of those who loved John.
But Congress, we have lost a fine activist and comrade who would have made a great president.
These untimely deaths remind us again that the work of trade unionists can be stressful, tough and thankless.
__________________
And maybe they should also remind us of what is important in life.
Family and friends are to be treasured.
Making a difference is what matters.
And perhaps we sometimes put too much emphasis on what divides us.
At a time when racism has become part of the mainstream political discourse again, we should remember this.
Our real enemies are ignorance, poverty and underachievement not each other.
__________________
I can imagine the response of both Bob and John to our grief for fallen comrades.
They would remind us of the task ahead.
Of the maxim, don't mourn, organise.
And of the need to embody in our behaviour today, the world we wish to create in the future.
__________________
Now I want to turn to what lies ahead of us.
In three months Scotland votes on whether to become an independent country.
There will be UCU members on both sides of the debate and those who have not yet made their minds up.
__________________
This is Scotland's decision, and we must respect that.
It is not for us to 'defend the union' or otherwise.
But, whatever happens in September, it is for us to defend our union, UCU
__________________
That is because, in my view, whatever decision Scotland takes, our members everywhere will still need us.
They will need us not just because the workforce is highly mobile and without borders.
But also because our managers know no borders either.
__________________
As long as we still have
lousy pay offers
Punitive pay deductions.
Zero hours contracts.
Bullying.
Sky high Principals pay.
Or any of the other evils that permeate our system
We will all still need OUR union.
__________________
We will need the union that in Wales has reached agreement on a new national contract for College staff.
We will need the union that in Northern Ireland is fighting to defend national bargaining.
We will need the union in Scotland that has put university governance at the top of the political agenda.
__________________
And of course we will need the union across all four nations whose local reps win justice for thousands of members every year...
.....and which - through you - stands up for the interests of college and university staff wherever they are and whatever they do.
In short, we will NEED each other.
__________________
And that is why I was delighted to see Congress agree to continue devolution proofing our policies this morning.
Devolution proofing is a dry phrase.
What it really means is ensuring that we have a consistent message.
And that our activists in each nation have the tools to deal with whatever political situation they find themselves in.
__________________
May 2015 of course will see the Westminster General Election.
As our President said this morning, the Coalition government's sustained austerity attack has been a disaster for our members and the communities we serve.
__________________
For one thing we have a government that seems to revel in the creation of insecurity at work.
Zero hours contracts used as a threat against the unemployed.
Fair access to justice destroyed by the introduction of Employment Tribunal fees.
Wages kept low, pensions destroyed while prices rise.
__________________
The low pay, no rights culture I talked about in hospitals is a reality for millions more in our country.
And that includes to their shame far too many of our colleges and universities too.
Yet the truth is clear Congress.
__________________
People cannot commit to their employer when they have no job security.
People cannot plan their lives when they don't know where the next contract comes from.
And Congress, people cannot produce their best work when they are frightened.
__________________
This government is embarking upon a dangerous, untested policy.
It is using England as a laboratory experiment for every whacky right wing idea ever thought of.
Take the scandal of private colleges recently uncovered by The Guardian.
Our members sometimes joke that this would be an easy job without the students.
But some of the for-profit colleges at the centre of this scandal seem to have taken that literally.
Lectures with literally no one in them except the tutor.
Paid for by you and me, the taxpayer.
_________________
UCU has warned again and again that for profit education would lead to the kind of free for all we have seen in the USA.
And now David Willet's American dream has become an English nightmare.
_________________
Congress, the privatisation of our colleges and universities in England is a disaster for education.
But it is also creating massive instability across our system, including in the devolved nations.
Despite the tripling of tuition fees, the actual cost savings to the taxpayer from this folly are now predicted to be negligible.
Meanwhile the FE loans system has been completely abandoned for apprenticeships and is running woefully under target for other adults.
__________________
And that will make funding an issue in the forthcoming election.
UCU owes it to our members to hold the politicians to account for the mess they have made.
And of course for the solutions they now offer to clear up that mess.
__________________
The six tests agreed this morning by Congress are an important foundation for that.
And they bear repeating now.
__________________
Because which parties can honestly say that their policies for colleges and universities:
Will make it easier for people to reach their full potential?
Will increase our academic capacity?
Will make us a more attractive place for staff to work?
Will make it less costly for individuals to study, whether young or old?
Will broaden the range of subjects available for study?
And of course will lead to higher quality and reduced fragmentation of the sector?
__________________
So you will hear me talking a lot about these six tests in the coming months.
Our aim is to lift the smoke and mirrors from policy making.
To put the politicians to the test.
And make sure our members and the wider public have what they need to make an informed choice.
_________________
Finally I want to turn to the union's greatest task, that of engaging our members.
And to talk about our greatest asset - our branches.
It is our branches which are the front line in the fight for the future of education.
__________________
They are fighting privatisation.
They are standing up for fair pay for members.
And they are defending members faced with bullying and intimidation.
__________________
And nowhere have we seen than at that Lambeth College this week.
Mandy and colleagues at Lambeth, the whole union is with you.
__________________
And let us never forget it is from the crucial relationship between branch and member that this union gains its legitimacy and strength.
In my view, we must avoid the false choice between a dynamic, well resourced activist base and a well informed, fully engaged wider membership.
This union needs both.
__________________
Our greatest challenge is to create structures which - yes - allow activists to lead, but also encourage us - all of us - to listen too.
That approach embodies strength not weakness.
It is the foundation of the contract between us and those we represent.
And it is the essence of a member led union.
_________________
And frankly Congress we - you and me - have work to do.
In the HE pay dispute in 2006, the unions secured a 50% turnout of members to take industrial action.
We got the same turnout for the return to work by the way too.
__________________
The result, some will recall was a 15% pay increase.
I remember some people at the time describing it as a sell out.
With hindsight, perhaps those are the kind of sell outs our members could do with a few more of.
__________________
Yet fast forward to 2014 and in the latest pay ballots in FE and HE, we have struggled to secure half that turnout.
How for example, can it be that in the higher education ballot, 50% voted on the return to work, but only just over 30% voted in the original action ballot?
And how can it be that in Lambeth and other local FE ballots the union has secured 60 and 70% plus turnouts but barely half that when it comes to the national talks.
These are not abstract questions. To defend pay and pensions and to win in the workplace we need to boost participation in the union.
And let us be honest. We face a similar malaise in our internal elections, with far too few voting in my election or for the NEC.
__________________
Of course these problems are not unique to us or to the union movement.
But those who despise unions will use every opportunity to portray us as lacking a real mandate.
The Tories are already planning it.
And we have to act to counter this.
I believe arguments about strategy and tactics in this or that dispute, pale when compared to the bigger challenge of increasing participation and encouraging activism.
And I believe that we must all act together to increase our members' engagement in the union.
_________________
Congress, I spoke earlier about John McCormack.
In his memory the union proposed a Student Prize.
Those who knew him best rejected that idea on the grounds that John did not believe in winners or losers in education.
He, like so many of you, believed in the ideal that we do our best for everyone, and that everyone deserves an opportunity.
__________________
What an honour it is to represent such a profession.
Let us put aside our differences.
Let us stand together to defend our members.
Let us stand together to build our union.
Let us stand together to defend education.
Thank you.'
Last updated: 21 August 2015