•
•
•
•
•

International Workers' Memorial Day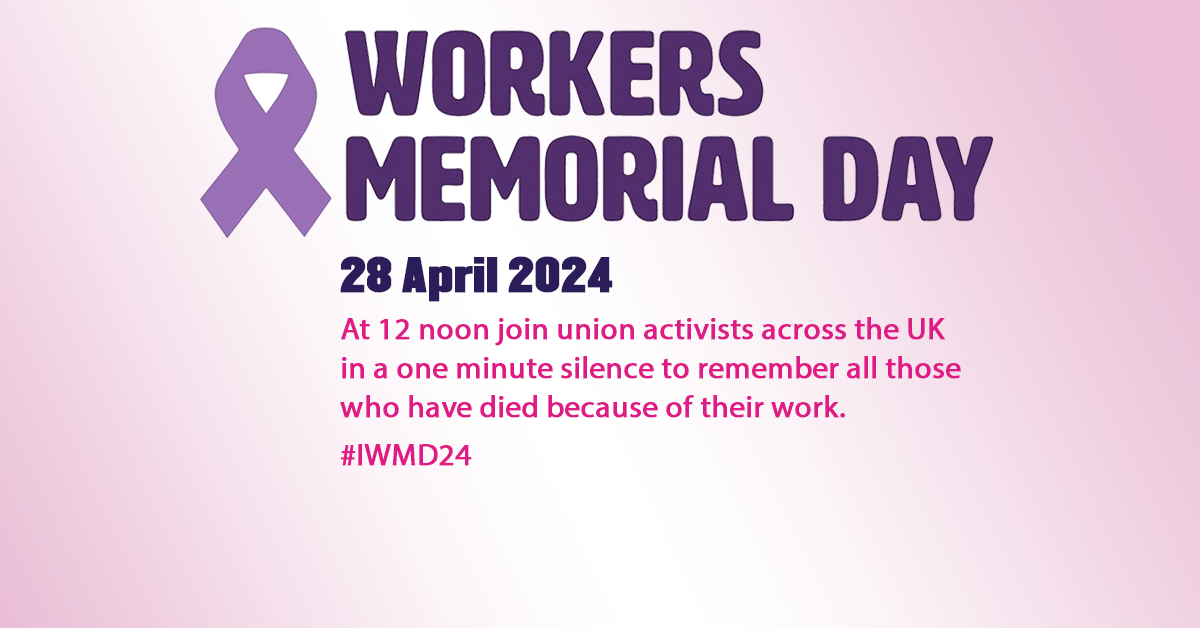 International Workers' Memorial Day
24 April 2020

International Workers' Memorial Day (IWMD) commemorates those workers killed at work.
Every year more people are killed at work than in wars. Most don't die of mystery ailments, or in tragic 'accidents'. They die because an employer decided their safety just wasn't that important a priority.
International Workers' Memorial Day (IWMD) commemorates those workers.
Minute's silence

At 12 noon on Wednesday 28 April, join us in taking part in the minute's silence.

Spread the word by posting this tweet, sharing this Facebook status or asking your contacts on WhatsApp to join you in taking part in the silence.

It will be a moment to pay tribute to the sacrifice made of so many workers during the pandemic, to remember those who've sadly lost their lives because of their work, and to thank all those who continue to do vital work at great risk.

The initiative is supported by the government, and reps may wish to request employers mark it, by asking the workforce to cease work for one minute at 12noon.

Help spread the word about the minute's silence, by encouraging as many friends and colleagues to take part, whether in their workplace of at home.
Use the hashtag #IWMD21 on social media channels to help spread the word about the day and why you're getting involved.

Find out more on the TUC website.
Theme for 2021: Health and Safety is a fundamental workers' right
Each year, the International Trades Union Congress decides on a theme for Workers' Memorial Day:
This year, the Covid-19 pandemic has exposed an occupational health crisis in workplaces worldwide. Workers are routinely denied even basic health and safety protections, including consultation with safety reps and safety committees on 'Covid-safe' policies and practices, free access to personal protective equipment and protection from victimisation for raising health and safety concerns. These same problems existed before the pandemic and resulted in millions of deaths each year from work-related injuries and diseases.
The pandemic demonstrates why health and safety must be a right for everyone who works. Illness anywhere threatens illness everywhere. Unions secured agreement at the International Labour Conference in 2019 that occupational health and safety should be recognised as an International Labour Organisation (ILO) fundamental right at work - the decent, universally accepted and binding rights protecting all workers, everywhere. The ILO Centenary Declaration accepts "safe and healthy working conditions are fundamental to decent work".
On 28 April 2021, unions can send a message that health and safety protection at work must be recognised as a right for all. Whether it is Covid or occupational cancers, or workplace injuries and industrial diseases, every worker should have a right to a voice and a right to protection. No-one should have to die to make a living.
Resources and updates will be posted on the dedicated 28 April webpages: www.28april.org
Last updated: 21 April 2021