•
•
•
•

PeoplePlus prisons branch
UCU PeoplePlus prison education branch
UCU's PeoplePlus prison education branch (formerly A4e) was established in November 2013.
The committee meets regularly with managers to raise issues of concern to members. A network of reps allow the committee to keep in touch with members in just under 30 prisons where PeoplePlus delivers education services.
---
Recognition
In May 2018 UCU and PeoplePlus signed a recognition deal that now allows staff to be represented by the union on key issues: UCU and prison education provider PeoplePlus agree recognition deal
---
Why join UCU?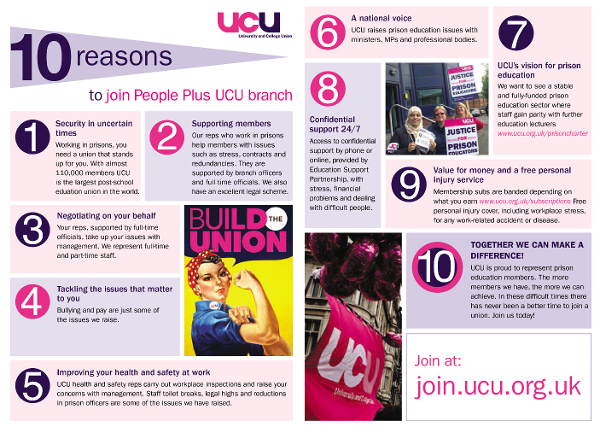 Spread the word - share with your colleagues:


UCU PeoplePlus recruitment flyer [181kb]
---
Latest newsletter



UCU PeoplePlus newsletter, Jun 16 [1Mb]
includes: Government review of prison education
Prison education charter
---
Reps and contacts
These play a vital role - and we are always looking for more members to help out. Reps provide individual support to members (full training and support is provided) whereas contacts distribute information and raise our profile. For further details contact UCU national organiser, Ronnie Kershaw.
Last updated: 30 July 2018