•
•
•
•
•

Your dispute questions answered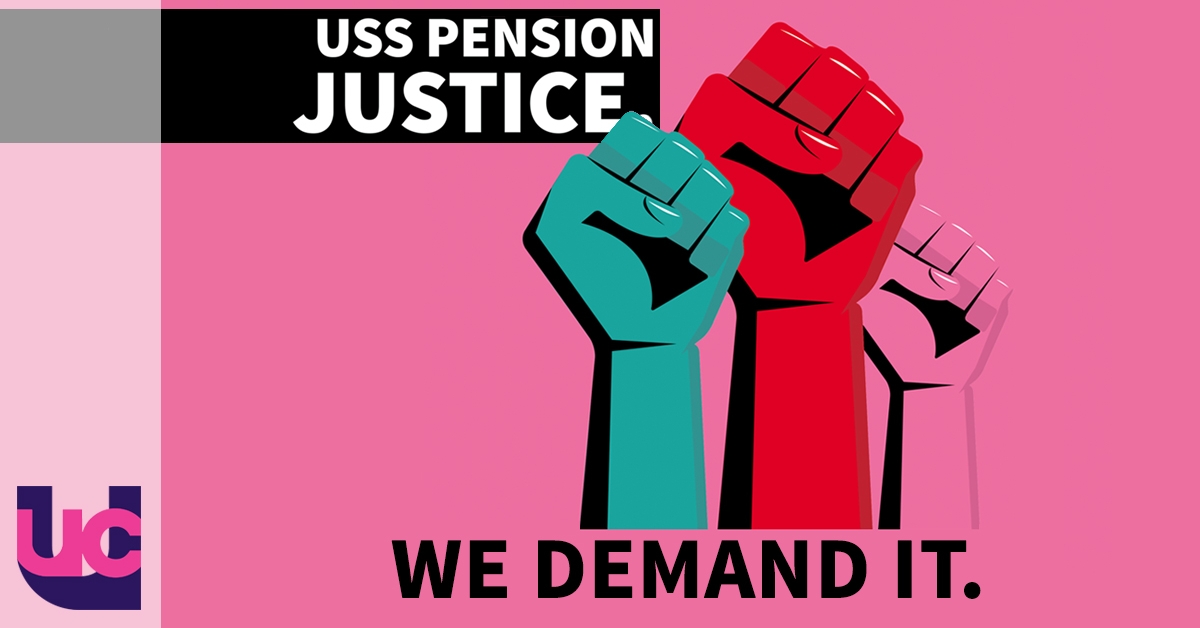 Your dispute questions answered
14 December 2017

Under pressure from UCU, talks with Universities UK are happening today and tomorrow. However the employers still refuse to meet beyond 18 December so please post back your ballot paper if you haven't already done so.
We've also answered the ten questions asked most often about USS.
What is the impact of the employers' proposals on staff?

Taking like for like, the proposal to end guaranteed pension payments would mean a loss more than £200,000 over the course of a retirement for a typical member of staff. While it is impossible to be precise about the impact because your pension would be subject to the performance of the stock market, the independent analysis produced for UCU uses the market predictions made by USS itself. It showed substantial losses for all fourteen different staff profiles that were tested, mostly in the range of between 20 and 40%.

The employers proposed this - have they published any analysis?

UUK have finally published an analysis of the impact of their proposals produced by Aon. Their headline is that for current members, retirement income losses will range between 10 and 20%. However, their analysis includes your state pension and this has the effect of superficially reducing the impact. The analysis also does not use the USS market predictions, preferring a more upbeat assessment from Aon and this also superficially reduces the loss. Even on this very favourable (to the employers) basis, it is worth noting that for a typical new starter there would be a 25% reduction in the estimated annual benefits provided by USS. You can read the employers analysis here.

Whose figures should I trust?

The analysis independently produced for UCU is based on the market estimates made by USS itself. Our analysis does not include aspects which are beyond the scope of USS such as the state pension. While any market estimates are subject to error, it is odd that the employers have chosen not to use USS data for this exercise when they have based their claims that current pensions are unsustainable upon them. One surprising aspect of the recent publication of UUK's is that the employers clearly had not done any modelling of the impact on members of their proposals before they tabled them on 13 November.

Can you explain the significance of 18 December?

The Pensions Regulator (tPR) says that USS must have resolved its issues by 30 June, 2018. USS have said that to achieve this deadline, negotiations need to conclude by 18 December. UUK have also said that they will not negotiate beyond this point. UCU disagrees with this. We believe that this is a serious issues for thousands of staff and that negotiations which will affect people's retirements must not be rushed. We have called for negotiations to be extended and for USS to flex its own internal deadlines to allow this. We have also met tPR and were pleased that in a letter sent to UUK this week tPR said that while they expect adherence to the statutory deadline of 30 June 2018 'we are mindful that in complex and late stage negotiations some slippage in timelines can lead to better outcomes.'
Are there any negotiations at the moment and what is UCU saying to the employers?
UCU is meeting the employers this week. While we have challenged the valuation methodology used by USS, our main current priority is to defend the principle of the guaranteed pension - what is called a 'defined benefit'. We are challenging the employers on their assertion that they will not pay more to support USS, even though their expenditure on staff as a proportion of expenditure has fallen massively in recent years. UCU is modelling a range of outcomes to see which are best for members but we will not be drawn into a public game on the employers' terms which in effect would accept that your pensions have to fall substantially.
Can the employers really afford to pay more?
An analysis carried out for USS in 2017 concluded that 'most employers could afford an increase in contributions from the current 18% of pensionable salary to 21%, albeit not without changes to business plans and/or prioritisation of pension contributions. Many would also be able to afford up to 25%'. UCU believes that in addition to providing financial security for staff, USS is also a powerful recruitment and retention tool and is worth investing in - not least because the rival Teachers Pension Scheme already offers substantially better benefits.
What are the prospects for a breakthrough?
UCU will keep playing a constructive part in negotiations but we must all prepare ourselves for the eventuality that on 18 December the employers will walk away from talks and the current proposal will be imposed.
What happens next if the proposal is imposed?
UCU's current ballot is about your employer's failure to reach an agreement with us to protect your pension benefits. In the event of imposition, we will seek such agreements with each USS employer. We are very determined to achieve justice for you but our ability to achieve this will depend on UCU's ballot result. If we win the ballot we will launch the most sustained campaign of industrial action seen in universities until your employers agree with us how they can make good your pension losses.
Why does the union need a 50% turnout in the ballot?
The 2016 Trade Union Act states that without a 50% turnout, unions cannot take action even if 100% of members who vote, want to strike. It is unfair and designed to make it hard for unions to defend members so whatever your views please use your vote.
I haven't received a ballot paper and have ordered a replacement which hasn't arrived yet. What should I do?
Don't panic - the union is committed to ensuring that everyone who wants to vote, can vote. Electoral Reform Services (ERS) sends out replacement ballots regularly. Because this is a legal ballot, in a few cases where information provided is incomplete, they are not able to send a replacement. On Monday 8 January, we will issue a widely publicised final call to every member who does not have a ballot paper to claim a replacement. If you have not received a ballot paper by then, please order one at that point.
I ordered a replacement ballot paper and then found my original - what should I do?
Use one of the ballot papers to vote. Discard the others. If you vote twice in error, don't worry. Only your first vote received by ERS will be counted.
Can I join the union and get a vote?
Yes. If you join on or up to 12 January, we will ask ERS to send you a ballot paper.
What kind of strike action is UCU proposing in the new year?
UCU believes that only sustained strike action will move the employers significantly. We are proposing nationally coordinated action initially aimed at shutting down lectures and classes, including a refusal to reschedule any lost due to strikes, throughout February. Further action beyond that point may also be needed. The union is trying to be honest with you about what it will take to defend your pension and if you deliver the mandate we will make sure the action takes place.
Last updated: 14 December 2017