•
•

Your support is needed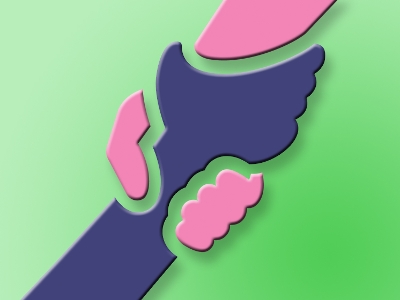 Your support is needed
10 July 2021

Please support these campaigns.
Support striking colleagues: donate to the UCU fighting fund

Colleagues who can afford to do so are asked to consider a donation to the UCU fighting fund. Donations to the fund are spent on supporting members involved in important disputes. As always, members are asked to only contribute whatever their circumstances allow. Any amount will be gratefully received by members taking action.
Current disputes
Winning
---
Aston University UCU fighting department closure
Aston University UCU launched a petition against the closure of the department of history, languages and translation at Aston University after members voted unanimously to resist the department's closure at a branch meeting.
Aston University told staff that at least 24 jobs were at risk of redundancy due to its plans to close the department. Closure would mean over 12 undergraduate courses being cut, including BSc degrees in international business and modern languages, history and politics, and history and English literature. Around 220 students currently study within the department. The university wants to close the department to new students from September 2022, with all courses set to finish by 2026.
The branch was successful in persuading the university in considerably reducing the number of jobs at risk. Talks are still ongoing as of January 2022.
Barnet and Southgate College: local 2021/22 pay and workload claim
At Barnet and Southgate College in London, there is overwhelming support for strike action over the local 2021/22 pay and workload claim. Following months of negotiations with the employer, there has been no meaningful movement on the part of the employer in terms of pay and workload. The employer has only committed to paying a pitiful 1% at some point this year and has not offered any substantial improvements in reducing staff workloads.
Barnet and Southgate UCU members were asked whether they would accept or reject the employer offer, and if they were prepared to take strike action in support of the claim. On a strong turnout of 71%, 90% members voted to reject the offer and 93% voted YES for strike action. The UCU branches at the college are now preparing to move towards a formal dispute and industrial action ballot.
Cardiff University: no unsafe return
Cardiff UCU have declared a dispute over the university's failure to provide a commitment that members will not be compelled into face to face work on campus. The branch are currently planning a ballot to determine if members are willing to take strike action in furtherance of the dispute.
University of Dundee: local pension scheme closure
The University of Dundee proposed to close its local pension scheme (defined benefit), which is currently the pension scheme for the majority of Dundee's support staff. The employer was planning to move its support staff to an inferior defined contribution scheme.
Affected UCU members at the University of Dundee took five days of industrial action with Unison in the first wave of strikes: 29 and 30 September 2021; 1, 4, 5 October 2021. Unite delivered its ballot mandate in mid-October, and so all three unions (Unite, Unison, and UCU) took further action at the end of October. UCU members participated in strikes on 25 and 26 October 2021, and also instigated a work to contract from 29 September 2021. Following protracted discussions with the employer, a proposal has been agreed which sets out a way forward to move on from this dispute.
Key terms:
employer removes the defined contribution pension proposals from the table
employer and unions engage in focused discussions on defined benefit pension scheme alternatives, with a view to presenting proposals/update to the university governing body at its meeting in February 2022.
Members of all three unions are comfortable with this approach, and so strikes have been called off to enable the focused talks on a new DB scheme to take place. As of January 2022, negotiations continue.
University of Exeter performance rights
UCU at the University of Exeter has gone into dispute over a new digital learning resources policy submitted to the university's senate and which is trying to licence their performance rights for five years. The branch also argues it does not comply with the General Data Protection Regulations (GDPR) and is not fit for purpose. At a recent meeting members reported concerns over the policy proposals in their current form, and whether they were even legal. The branch overwhelmingly passed a motion which declared the dispute necessary to improve the policy to protect members interests.
Falmouth University new staff pensions
UCU members at Falmouth University have voted overwhelmingly in support of potential industrial action to protect the pensions of newly employed academic staff. UCU has raised concerns about moves to employ new staff under a subsidiary private company, and remove access to the Teachers' Pension Scheme (TPS), a contractual right that all other academic-related members in post-92 universities have access to.

Management at the university have so far refused to engage in their own disputes procedure and imposed the TPS removal with almost immediate effect. As of 1 September, newly hired staff, who also face precarious contracts and unaffordable house prices in the region, have had their pensions entitlement slashed by half.
Furness College: industrial action over pay
UCU members at Furness College in Cumbria have voted overwhelmingly to take industrial action over a failure from college management to agree a pay rise for 2021/22. 92.5% of voters backed strike action on a 59% turnout.
Update, May 2022: Furness College UCU members will be on strike on Wednesday 18 May at the beginning of their campaign to receive a decent pay award, having rejected a management offer of 1%. Furness UCU branch secretary Amanda Rotherham said, 'The support that we had on the picket line was great--and the sun came out for us! Pay is a crucial issue for our members at this moment in time. We know that we deserve more - and that' what we are fighting for'. You can send messages of support via here and read further updates here from UCU's regional officials.
Goldsmiths, University of London redundancies and global academic boycott
Please show your support for Goldsmiths UCU's campaign to prevent 46 staff being made redundant as part of management's fire-and-rehire 'restructure'. Goldsmiths UCU members took an amazing 15 days of strike action (Tuesday 23 November 2021 to Monday 13 December 2021) in response to the threat of mass redundancies and are determined to fight the plans which would threaten the survival of English, History and Creative Writing courses.
In January 2022, UCU has censured Goldsmiths with the ultimate sanction of a global academic boycott over the university's sacking of up to 46 staff. Click here for more details about #BoycottGoldsmiths.
Goldsmiths UCU members were on strike again from Monday 7 February. Part of the action overlapped with the national USS pensions and Four Fights disputes. They will be on strike until Friday 4 March; click here for the full strike days at Goldsmiths.
Update, April 2022: On Friday 8 April, Goldsmiths' Council approved senior management's plans and issued notification of redundancy to 16 members of staff in History, English and Creative Writing, and Professional Services. Staff who are UCU members have been targeted; the branch co-president, departmental reps, and one of the branch treasurers have all been sent dismissal notices, in some cases before an exit meeting had taken place.
In addition, there are serious concerns that the redundancies disproportionately impact women and part-time staff, including staff with specialisms in Middle Eastern history and postcolonial literature, who teach on modules such as 'Contemporary Arab migrant writing' and 'Contemporary African migrant literature and film'. The foundation year of the integrated degree programme in History - the only course of its kind in London - is also under threat, as senior management plan to make all 4 staff teaching on it redundant. Click here to read more about the lack of a financial rationale for these cuts and the numerous failures of the senior management team.
In response, the branch has escalated its industrial action. Their successful reballot (on a turnout of 57.3%) saw a result of 76.7% voting in favour of strike action and 84.5% voting in favour of action short of a strike (ASOS). A marking and assessment boycott has now begun and, as part of this escalation, the branch asks that all UCU members who are contracted as external examiners at Goldsmiths to resign.
For any members and branches who wish to support Goldsmiths UCU in their fight, please consider donating to Goldsmiths UCU's fighting fund.
University of Hull: job cuts and sacking of branch president
Members at University of Hull are being consulted over potential industrial action on two issues: proposed redundancies in languages and the sacking of University of Hull UCU branch president Keith Butler. Industrial action ballot opened 18 June and closed on Friday 9 July 2021.
Kingston University: Boycott Athena Swan activities
Kingston University UCU have called for all members and colleagues at Kingston University to implement a boycott of all activities related to Athena Swan accreditations with the university. While Kingston UCU branch supports the principles of Athena Swan Programme nationally, it has lost faith in the university management's commitment to pledges made under the Athena Swan banner and in its wider commitment to gender equality and support for parents and carers.
University of Leeds: job cuts
Please sign the petition to stop proposed job cuts in medicine and biological sciences at Leeds. The university refuses to rule out compulsory redundancies, reports an operating surplus of £38 million and has failed to provide any financial rationale for the cuts.
Medicines and Healthcare products Regulatory Agency (MHRA): restructure threat to jobs
UCU is working along with the other staff unions at the MHRA to challenge the devastating cuts to funding and the threat to jobs. The unions have written to Sajid Javid to request a meeting and have now submitted an Early Day Motion to parliament against the cuts. Staffing reductions at the Medicines and Healthcare products Regulatory Agency - Early Day Motions - UK Parliament Already 28 MPs have signed this motion, but the more that sign the greater chance of this issue being discussed in parliament and on the government reversing the cuts. Please contact your local MP and ask them to sign the Early Day Motion.
Find your MP - MPs and Lords - UK Parliament
New City College: local pay, workload, levelling up and respect claim
UCU members at New City College (NCC) have voted overwhelmingly in support for strike action over the local 2021/22 and 2022/23 pay, workload, levelling up and respect claim. The claim and consultative e-ballot was run alongside the national Respect FE campaign and called for a 10% pay rise, reduction in workloads, meaningful bargaining, London Weighting at Epping Forest, and levelling up 5 days additional holiday leave. On a strong turnout of 73%, 86% of members voted 'yes' for strike action. Despite this being a large college group with five constituent colleges (Hackney, Tower Hamlets, Redbridge, Havering, and Epping Forest) turnout was above 50% in all college sites and UCU branches. This is the first time that UCU has achieved such high levels of support for action across the group following the previous college mergers over the past few years. Further negotiations are planned with the employer and if meaningful progress is not made, the UCU branches will prepare to move towards a formal dispute and industrial action ballot. Congratulations to all members at NCC for their continuing support for the campaign.
Northern Ireland further education
Agreement has been reached with the employers for lecturers to receive 2+2% pay increase for years 2019/20 and 2020/21. UCU previously rejected an offer of 7% payable over 4 years which came with a number of unacceptable strings attached in the form of regressive contractual change. This offer equates to 4% over two years with no preconditions. While this is a considerable improvement, there is still a long way to go to close the pay gap with schoolteachers and university lecturers. ASOS will remain in place but the trade unions have given a commitment not to escalate industrial action to allow fresh talks to commence in 2022. Members will continue to work to their contract but no work will be done in excess of it.
Update, March 2022: After delay at government level progressing the Northern Ireland FE pay agreement, UCU wrote to the Minister for the Economy and Minister of Finance threatening an escalation of industrial action if payment was not made in the March salary. The matter has now been resolved and negotiations for the 2021/22 salary round will resume. Members continue in ASOS while negotiators press for pay parity with schoolteachers.
Northumbria University: imposed changes to academic roles, terms and conditions
Northumbria University UCU members were balloted for industrial action to stop university management's plan to unilaterally impose changes to academic roles, terms and conditions. The ballot ran from Thursday 24 February to Wednesday 9 March 2022.
North West England FE colleges: industrial action at seven colleges
Following very successful indicative ballots over taking strike action over the 2021-22 pay claim, full industrial action ballots took place at:
Burnley College
Bury College
City of Liverpool College
Hopwood Hall College
Nelson and Colne College
Oldham College
The Manchester College
The ballot opened on Monday 21 March 2022 (with papers arriving from Wednesday 23 March) and closed on Monday 11 April at noon. The Manchester College ballot followed a different timetable; it opened on Monday 28 March 2022 and closed on Monday 25 April at noon.
Update, 4 May 2022: UCU told the bosses of six colleges in North West England to urgently raise staff pay if they want to avoid strike action set to take place on Wednesday 18 May. Those six colleges include: Burnley College; Bury College; City of Liverpool College; Hopwood Hall; Nelson and Colne College Group; Oldham College. Industrial action will happen at The Manchester College on Friday 20 May. On these days many GCSE students are due to take a crucial English exam. UCU members and branches are encouraged to send messages of support and where possible donate to the fighting fund clearly marked 'NW FE pay disputes'. Here is Bury College UCU branch chair Salma Bhuta receiving a cheque for £5,000 from NW Unison in a fantastic demonstration of solidarity.
Update, 18 May 2022: Strike action scheduled to start on Wednesday 18 May at Bury College was called off after staff overwhelmingly voted to accept an eleventh hour pay offer from management that is worth between 6% and 6.2% overall. The offer is triple management's original offer of only 2%. Industrial action Burnley College, City of Liverpool College, Hopwood Hall College, Nelson and Colne College, Oldham College, and The Manchester College continued.
University of Portsmouth: redundancies
Portsmouth UCU is in a dispute with University of Portsmouth about redundancies in the department of English literature. Portsmouth UCU is determined to seek justice for members in the department and to ensure that the treatment endured by our members does not happen to other UCU members elsewhere at the University of Portsmouth.
Portsmouth UCU branch officers are in negotiations with the university to resolve the dispute, and this has included meeting with the vice-chancellor. Talks with the university are continuing, and Portsmouth UCU branch hopes to be able to reach an agreement with the university:
Update, 18 March 2022: Portsmouth UCU have now reached an agreement in principle with University of Portsmouth to settle this trade dispute. The proposed settlement includes revisions to the Portsmouth Organisational Change and Redundancy (OCR) Policy, which should increase job security for UCU members. UCU members discussed the proposed settlement at the branch AGM on Wednesday 16 March. The proposed settlement will now go to a ballot of all UCU members at University of Portsmouth.
Queen Mary, University of London: strike over attempt to withhold 100% of staff pay
UCU has warned university vice-chancellors they will face further strike ballots if they dock 100% of pay from staff who have returned to work. The warning came after a strike ballot opened at Queen Mary, University of London (QMUL) in February 2022 over management's decision to withhold 100% of pay for staff undertaking lawful action short of strike (ASOS), such as not rescheduling classes lost to strike action and removing uploaded materials related to those classes.
Staff at QMUL returned to work after taking 10 days of strike action over three weeks in national disputes over USS pension cuts, pay and working conditions. But senior managers at QMUL said that staff would continue to be docked 100% of pay even though they would be back at work and carrying out most of their contracted duties. The university said it wpi;d dock 100% of pay until classes cancelled due to strike action were rescheduled and their related materials were put online. The ballot opened on Monday 28 February and will close on Monday 21 March, and if successful QMUL could face strike action as soon as April 2022.
Update, 21 March 2022: QMUL UCU's ballot over punitive deductions was successful. 84% voted for strikes and 87% voted for ASOS on a 54.6% turnout.
Update, 3 May 2022: QMUL UCU's members voted to take ten days of strike action. Strike dates include:
Thursday 5 May - Friday 6 May
Monday 9 May - Friday 13 May
Monday 16 May - Wednesday 18 May
Ravensbourne University London: staff seeking UCU recognition
Ravensbourne University London UCU are asking academic and research staff at Ravensbourne to sign a petition in support of recognition of UCU at the institution. Fran Carter, interim branch membership secretary at Ravensbourne UCU, said: 'Support for recognition of UCU among Ravensbourne staff is strong and our petition for recognition is growing by the day. Like everyone else in the sector, we have faced multiple restructures and loss of staff, and we have worked like Trojans to support our students and the university through the pandemic. Now it is time the university showed real support for its staff by recognising UCU. Ravensbourne staff want to be part of the university sector--not outliers--standing in solidarity beside university and FE colleagues. Please sign the petition and join your UCU branch to show your support'.
Richmond upon Thames College: fire and rehire plans to cut holidays
UCU is in dispute with Richmond upon Thames College due to its plans to dismiss its entire teaching workforce of 127 lecturers and offer re-engagement on inferior contractual terms. The college wants to force through cuts to holidays which would see lecturers lose 13 days holiday leave entitlement.
The use of fire and rehire tactics is unwelcome and unacceptable in the FE sector. UCU members at Richmond upon Thames college unanimously backed moving to an industrial action ballot and strike action to resist the employer plans. The ballot opened on 31 March and closed on Friday 6 May. Please send messages of solidarity to the branch via the local UCU officers Lucy Corr and Caroline King.
Update, 11 May 2022: Staff at Richmond upon Thames College are set to down tools for five consecutive days over plans by management to sack every teacher at the college and force them to reapply for their jobs on worse terms and conditions if they want to stay. The action is set to take place from Monday 23 May to Friday 27 May, and it comes after an overwhelming 97% of UCU members who voted in the industrial ballots said 'Yes' to strike action. The ballot turnout was 88%, smashing the anti-trade union legal threshold of 50%.
Update, 18 May 2022: We need you to share this tweet and write to RUTC management using this tool telling them to withdraw this disgusting attack on our members. RUTC staff will be picketing the college here from 07:00-11:00 on every day of the strike action. There will also be an in-person mass rally at this location in support of the strikers on Monday 23 May 11:00. Speakers include: RUTC strikers; UCU general secretary Jo Grady; UCU incoming president Janet Farrar; Barry Gardiner MP; UCU London regional official Adam Lincoln; and other surprise guests. Please come down and show your support on Monday morning.
University of Sheffield: archaeology closure
The University Executive Board at the University of Sheffield has recommended that the Department of Archaeology be closed, despite an international outcry over the prospect that has been covered by the BBC, the Guardian and many local news organisations. Staff and students at Sheffield held a rally in support of the department on 25 May 2021 and have been in touch with local politicians and heritage partners.
Sheffield UCU and the other campus unions are determined to resist the closure plans, which would affect academic, technical and professional services staff in the department.
On 15 July 2021, a meeting of over 200 members voted to ballot for sustained industrial action during the autumn semester if the university does not reverse its decision to close the archaeology department.
To support the campaign against closure:
Staffordshire University: new subsidiary company plans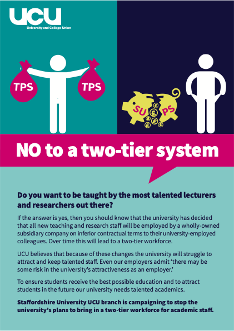 UCU members at Staffordshire University were balloted over industrial action because of plans to recruit all new academic staff into a subsidiary company rather than in the main university with effect from 1 August 2021. This will mean that these staff will no longer have access to the Teachers' Pension Scheme.

The branch are concerned that this will have an adverse impact on the ability of the university to recruit and retain highly-qualified and experienced staff, who will go instead to institutions that offer better pension provision. Over time this will impact on the viability of the university as quality is likely to be a casualty of the proposal.

They are also concerned that academic staff employed by the subsidiary company may not be eligible to be entered into the Research Excellence Framework as they will not be university employees. They may also not count towards the staff/student ratio metric.
These concerns with management who say that financially something needs to be done to avoid even more drastic measures.
The ballot industrial action opened on Friday 18 February and ran until Friday 11 March.
Update, 14 March 2022: Staffordshire University will see strike action from Monday 28 March unless it drops plans to employ new staff via a wholly owned subsidiary company. The announcement comes after Staffordshire University staff voted to strike over management's introduction of a two-tier workforce. 70% of staff who voted in the ballot voted Yes to strike action. 80% of those who voted also voted yes to action short of strike. The turnout beat the Tory anti trade union threshold of 50% and UCU has notified the university that staff will walkout on Monday 28 March.
Update, 22 March 2022: The full strike dates at Staffordshire University are Monday 28 March, Wednesday 30 March, and Thursday 7 April 2022.
Update, 27 April 2022: Staffordshire University faces a fourth day of industrial action on Wednesday 27 April.
To show your support:
University of Sussex compulsory redundancy refusal
The University Executive Group at the University of Sussex refused to rule out compulsory redundancies as part of a widely criticised Size and Shape programme. The branch declared a dispute. Click here for an update from Sussex UCU (January 2022) as Sussex's University Executive Group looks set to confirm no compulsory redundancies.
University for the Creative Arts: campus closure
The University for the Creative Arts (UCA) is planning to close one of its four campuses and scrap its FE provision with the anticipated loss of around 150 jobs. The university says it wants to create 'centres of excellence' which will involve closing the Rochester campus and moving courses to Epsom.
UCA claims £18 million pounds of repairs are needed at the Rochester campus but staff believe there has been chronic underinvestment in the estate for many years while shiny new buildings have gone up on the Farnham and Epsom campuses. UCU argues that, even if the existing Rochester site is unsustainable, UCA has an obligation to the community, which has one of the lowest rates of take-up of post-16 education anywhere in the country, and should investigate a new site in the Medway towns.
University of Winchester: Workload Allocation Model dispute
UCU is in dispute with University of Winchester over the proposed imposition of a new Workload Allocation Model. The vice-chancellor has stated that workload is not a matter for negotiation with UCU and has declined to meet with UCU to resolve the dispute. Winchester UCU branch officers are concerned that university management's approach amounts to an attempt to diminish long standing trade union recognition agreements by seeking to bypass UCU. UCU members at University of Winchester are being asked to take part in a consultative ballot on strike action and action short of a strike (ASOS), which will close on Friday 25 March.
Update, April 2022: UCU Officers have approved a ballot for strike action and ASOS to open on 5 May and close at midday on 25 May. The proposed ASOS includes that UCU members will be requested to withhold cooperation from implementation of the WAM. The branch are proposing up to 15 days of strike action, with the timing of the proposed actions are scheduled to seek to disrupt key times of the employer's business, for example, open days, clearing, induction and key teaching weeks in semester one.
---
Bury College wins big last minute pay offer
Strike action scheduled to start on Wednesday 18 May 2022 at Bury College was called off after staff overwhelmingly voted to accept an eleventh hour pay offer from management that is worth between 6% and 6.2% overall. The offer is triple management's original offer of only 2%.
Royal College of Art wins deal
Mounting frustration of members at the RCA culminated in a resounding call for action to end insecurity and unacceptable terms and conditions at the college. Ill-conceived plans to change all MAs from 2 years to a 12-month rolling programme and to scrap enhanced statutory redundancy procedures for academics are also being resisted. Members overwhelmingly voted for strike action in an industrial action ballot with 82.8% for strike action and 93.1% for action short of a strike on an excellent turnout of 63%. The RCA were served with formal notice of 14 days of strike action in October and November 2021.
In subsequent talks being held under the auspices of Acas, the branch were left stunned by comments from the RCA which confirmed that some academics employed by the college would not be granted dedicated research time because of their part-time status. UCU said this was learly discriminatory. Basic and fundamental employment rights were also not deemed to be compatible with pedagogical imperatives and new academics wpi;d not be sufficiently qualified to undertake summative assessment. UCU believed the RCA's ability to provide a high standard of assessment was under threat and 'the argument that the curriculum is so fluid that it requires no employment rights is disingenuous' adding that 'it's time for the RCA to take these negotiations seriously'.
Update, January 2022: the last round of Acas negotiations was eventually arranged for 13 December 2021. This was almost two months since the previous Acas meeting and the parties broke up without any agreement, with UCU representatives disappointed by the RCA's inability to respond on the day to issues flagged in advance for negotiation. RCA sent responses to outstanding issues just before Christmas 2021 which could only be fully reviewed by branch negotiators on 11 January 2022. From initial readings, the branch are pleased to see movement on two of the three outstanding issues and hope to resolve the dispute to the satisfaction of members as quickly as possible.
Update, February 2022: RCA UCU were on strike as part of the Four Fights campaign on Monday 21 and Tuesday 22 Feburary, and back on strike for the local dispute from Monday 28 February to Wednesday 2 March. RCA senior management failed to meet the agreed deadline for providing a draft agreement. This failure to deliver reneged on the commitment they made in Acas.
Update, March 2022: RCA UCU achieved victory against casualisation and workload following industrial action. The final agreement would be put to a members' vote.
Update, May 2022: UCU members at the Royal College of Art (RCA) today announced that they have voted to accept recognition from the employer as part of a resolution to a long-running dispute, which has seen 41 days of strike action take place since 2020. The UCU RCA branch overwhelmingly voted to adopt a deal negotiated with college management which includes:
full employment rights for all
no more zero-hour contracts
new routes to permanent contracts
caps on teaching workloads for staff.
London South East Colleges (LSEC): pay award agreed
A 2% pay award backdated to September 2021 has been agreed at London South East Colleges (LSEC) for 2021/22 after successful negotiations with management.
University of Kent: marking boycott wins no compulsory redundancies deal
For the third year running University of Kent UCU have defended against all job cuts. Members balloted four months in advance of 'reviews' of Arts and Humanities subjects and launched a successful marking boycott. The willingness of members to take decisive action backed up by an all-women and non-binary lay negotiating team at Kent UCU have secured a significant victory: no compulsory redundancy processes in the calendar year 2022. To learn how they won and share experiences on how to save jobs, email Kent UCU president Claire Hurley.
Sheffield International College: pay and working conditions
UCU members at Sheffield International College called off eight days of planned strike action after the union reached an agreement on the long-standing dispute over pay and holiday entitlements for 2021. Staff at the University of Sheffield International College (USIC), which is part of and run by the private company Study Group, had been in dispute following a breakdown in talks with the employer after it refused to budge from a 0% pay offer. The dispute was also over holiday allowance.
The deal will see staff receive a 3% pay increase, backdated to September 2021, and equalisation of holiday allowance so that all staff get 30 days leave. This will result in an increase of up to 5 days holiday for the college's student experience team. The employer has also committed to commencing pay negotiations for the period 2022 as soon as possible and has tabled an early offer of 3% which the branch will respond to in due course. Strike off at University of Sheffield International College as deal is reached
Newham College: win on pay and conditions
Staff at Newham College have won improved pay and conditions after successful negotiations between management and UCU. The deal includes a commitment by the college to improve academic pay scales, implement a 2% pay rise, review sessional tutor's contracts and to implement a workload working group and a sustainability working group.
West London College: UCU and Unison agree deal
UCU and Unison members at West London College (Ealing, Hammersmith and West London College) have agreed a new deal which delivers the first pay increase staff have had in recent years as well as agreements on workload, holiday and a better deal for support staff.
Sussex International Study Centre: staff won union recognition
Members at our newest branch, Sussex International Study Centre, began a statutory recognition ballot on 6 December 2021. The employer continually resisted our positive approaches and refused a voluntary agreement; they spent £1000s on expensive lawyers and consultants rather than recognise UCU. On 22 December 2021, UCU members won the statutory recognition ballot with a turnout of 74%, and 95% of those voting supported the proposal that UCU be recognised for the purposes of collective bargaining with the employer.
Havant and South Downs College dispute: agreement reached
UCU members at Havant and South Downs College, along with colleagues in NEU, have now settled their trade dispute with college management. HSDC agreed to the demands of UCU to halt the redundancies in summer 2021. UCU and NEU engaged in negotiations with the college, which led to an agreement to full disclosure of financial information, and improvements in college policies and procedures. 74.2% of UCU members supported the agreement in a ballot.
University of Leicester redundancies
Following negotiations between Leicester UCU and the University of Leicester, an agreement has been reached that has ended the local dispute between the university and UCU concerning the Shaping for Excellence Programme.
Leicester UCU members have voted to accept an agreement which can be seen here. Consequently, the Higher Education Committee officers of UCU have, following representations on behalf of the branch, agreed to cease the censure and academic boycott of the University of Leicester.
The agreement commits to no compulsory redundancies as a result of phase 2 of the Shaping for Excellence Programme. The executive board has agreed to rule out beginning any further restructuring leading to collective compulsory redundancies until January 2023. The agreement also sets out a number of joint actions that will be taken forward to achieve an increased focus on partnership working.
Although the national dispute is ongoing, we are pleased to be able to jointly announce that our local dispute has now ended.
Capital City College Group: campaign to defend jobs, pay and conditions
Congratulations to UCU members at Capital City College Group (CCCG) who have agreed a deal on pay, conditions and lesson observations after taking ten days of strike action. UCU London official Adam Lincoln said: 'This deal is a testament to our members' determination to fight for fairer pay, working conditions and against excessive monitoring and surveillance of staff. This agreement also levels up pay and holidays across the group.' CCCG includes City and Islington College, College of Haringey, Enfield and North East London (CONEL) and Westminster Kingsway College.
South Thames Colleges Group wins revised pay offer
UCU members at South Thames Colleges Group (STCG), which includes South Thames, Merton, Kingston and Carshalton Colleges, have voted to accept a revised pay offer.
This adds to STCG's original settlement of 1.25% and guarantees a total 2% consolidated pay increase to all staff earning between £23,000 and £40,000. STCG will also pay a minimum of 2.25% for all those earning below £23,000. This represents in total a welcome investment in staff pay from STCG amounting to nearly £800,000 for the year 2021/22.
Croydon College: UCU win a wide-ranging pay and conditions deal
Following a fantastic ballot result and seven days of strike action, Croydon College members have now voted overwhelmingly to accept a deal negotiated by UCU on pay and other conditions to settle the 2020/21 pay dispute and to formally agree a settlement for 2021/22.
This agreement represents a significant achievement for members - especially for our lower paid members in learning support roles, and is one of the most comprehensive and wide ranging settlements achieved in the national FE pay dispute 2020/21.
The deal includes a backdated 2% pay increase for all staff, 5% pay increase for learning support practitioners, learning and development routes into teaching roles, progress coaches moved onto permanent contracts, restriction on the use of external recruitment agencies to short-term urgent cover (agency staffing not more than 2% of any team and agency placements limited to a 3 months). In addition, removal of the first two spine points for teaching staff - with the starting point for qualified teachers approx.. £30k. There are additional commitments around workload protection, 4-week summer leave period, simplified pay progression, and moving away from spot salaries for support staff over the longer term.
This victory was only made possible by the strong support from members for the strike action and the hard work of the UCU negotiators. Well done to Croydon members and branch officers for what has been achieved as a result of their dispute.
United Colleges Group: contract dispute resolved
Following a fantastic ballot result and the threat of strike action, UCG members have now voted overwhelmingly to approve a new harmonised contract and a Collective Agreement to end the long-running contract dispute.
Members at both UCG colleges - the City of Westminster College and the College of North West London - have been fighting against imposed changes to contractual terms and conditions, including cuts to tutor remission throughout 2021. In April 2021 UCU members voted overwhelmingly for strike action over changes to agreed contracts imposed by management that would have seen workloads increase. 99% of UCU members who voted said they were prepared to take strike action. 100% of members who voted said they were prepared to take action short of strike.
Intensive negotiations took place between UCU negotiators and UCG management over recent months leading to an in principle agreement being reached. UCU members have approved a revised harmonised contract (incorporating CPD remission for all teaching staff and additional remission for tutorials) and a Collective Agreement. This harmonised contract is intended to apply to all full-time and fractional teaching/lecturing staff (except those who choose to remain on legacy contracts). A number of other matters raised during the negotiations with the employer such as TOIL and summer leave periods are included in the Collective Agreement. In relation to hourly-paid lecturers, the employer has agreed to maintain your existing contracts and the historical arrangements around payment for tutor groups and CPD for HPLs. This victory was only made possible by the tremendous support members gave to UCU during the dispute and as a consequence of the industrial action ballot result mandate provided by members. The strength of feeling from members directly contributed to the employer entering into meaningful negotiations with UCU. Special thanks to the branch officers who have worked tirelessly to secure this outcome for members.
Birmingham City University: health and safety concerns
Birmingham City University UCU was in dispute over failure to agree on on-site learning under Covid-19, and in January 2021 won their industrial ballot to take action. The employer scheduled several open days to take place on campus which members had real concerns about being required to attend. The employer announced a three-week extension of the deadline for students to submit end-of-year assessments, but did not similarly extended the marking deadlines for staff. Action short of a strike began on 8 June 2021, and consisted of: refusing to attend on-site and instead moving online all non-essential activity that can be carried out online, including open days; and working to contractual hours only. The dispute had been resolved.
Novus prison education: Covid-19 safety dispute
Following an extended period of industrial action, a deal has been reached to end the dispute over health & safety issues at Novus prisons.
Swindon New College win pay and conditions deal
Congratulations to members at Swindon New College. Following an e-ballot of all members they overwhelmingly (90 % in favour) to settle their dispute with the college after their threat to take strike action led to a deal which includes:
full and immediate harmonisation of pay scales giving many members at the old Swindon college substantial pay increases backdated to August ( this was previously resisted by college management as not affordable )
end to early August return to duties and the right to take off 5 consecutive weeks of leave in the summer ( a demand that members with school age children particularly welcome)
agreement establishing the right to work from home once timetabled duties are completed ( this follows a return to presentism now that F2F is the norm at the college )
reduction in class contact hours.
City of Bristol College UCU accept deal on pay, holiday and working policies
Well done to UCU members at City of Bristol College for securing an impressive deal on pay and other matters as a result of a tremendous ballot result and the threat of strike action. In a consultative ballot, members have voted overwhelmingly to accept that deal to settle the current dispute. The deal includes:
a backdated 2.2% pay increase, when the College's previous position was that such an increase was unaffordable
additional holiday (closure) days
hybrid working policy to be agreed with UCU this term that increases opportunities for teaching staff to work from home (current contracts require 37 hrs a week on site)
to agree additional remission from teaching hours for duties that don't currently attract remission
a reduction in the maximum annual teaching contact hours.
Congratulations to members and officers for what they have achieved!
Weymouth College members secure pay deal
Following a fantastic ballot result and the threat of strike action, Weymouth College members have now voted overwhelmingly to accept a deal negotiated by UCU on pay and other conditions to settle the 2020/21 pay dispute. The deal includes a backdated 2.2% pay increase, improvements to TOIL and flexible working policies, and limits to scheduling and frequency of staff meetings that might otherwise impact on members' health and well-being and their ability to take proper breaks. Well done to Weymouth members and branch officers for what has been achieved as a result of their engagement and willingness to take strike action if necessary.
Royal Holloway, University of London
The senior management team (SMT) at Royal Holloway, University of London (RHUL) recently proposed changes to academic staffing levels as part of a so-called 'academic realignment exercise', which was presented as an element of the college's three-year strategic plan. A number of academics were identified as having their jobs at risk. The branch were successful in getting the college to confirm there were no plans for organisational change and that they would abide by the current policies. The college may still suggest wording for a change to the redundancy policy but this was a successful push-back by UCU members.
City College Plymouth win new deal staff
After two months of hard negotiation and excellent member engagement, newly-elected branch officers at City College Plymouth beat the anti-trade union law turnout threshold to win local deals for members. Members have voted to settle for a pay deal which includes backdated rises of 2.5% for the lowest paid and 1.5% for others. The deal also includes more leave, agreements on workload, flexible working, increased lecturer autonomy and moves to tackle inequalities. Congratulations are due to all involved especially our members at City College Plymouth and their excellent new branch committee.
University of Chester job cuts
Negotiations continue with the university regarding the final four people left on the list of 86 as notified on the section 188 notice in February 2021. No compulsory redundancy notices have been issued and we expect that the remaining four will be redeployed or allowed to leave under a voluntary severance package. In which case the dispute will have been successfully resolved.
Bangor University UCU avoids compulsory redundancies
Bangor University UCU has ended a protracted and difficult restructuring that lasted nine months, and managed to close the consultation without any compulsory redundancies. The branch also got some important concessions out of the university on their future working relationship.
University of Liverpool: striking for jobs and vital Covid-19 research
The long-running dispute at University of Liverpool has ended as UCU won the battle to avoid any compulsory redundancies. The six-month campaign had already resulted in an international academic boycott, 24 days of industrial action, and a marking boycott against plans that would have originally seen 47 jobs lost in Liverpool's faculty of health and life sciences. Five additional days of industrial action were planned, starting on Monday 4 October, but are now cancelled. Congratulations to University of Liverpool UCU branch committee, UCU members, and our regional officials in North West England.
New City College: restructuring redundancies and redeployments
Members at New City College have been in dispute since May 2021 over a restructure of supported learning following the failure of the college to rule out compulsory redundancies and detrimental changes to pay and contracts. UCU ran a consultative e-ballot of members with 95% voting YES for strike action on a 60% turnout. Following collective organising to resist compulsory redundancies, and after many hours of negotiations, the employer has confirmed that there will be zero compulsory redundancies. UCU remains opposed to some aspects of the restructure and will continue to campaign for a better deal for supported learning staff and students.
Northumbria University: safe work win
Congratulations to Northumbria University branch of UCU who have used their successful industrial action ballot as the leverage to secure an agreement with management that anyone who is uncomfortable with returning to the campus can continue to work remotely.
Last updated: 25 May 2022