•
•
•

The Friday email: 12 April 2019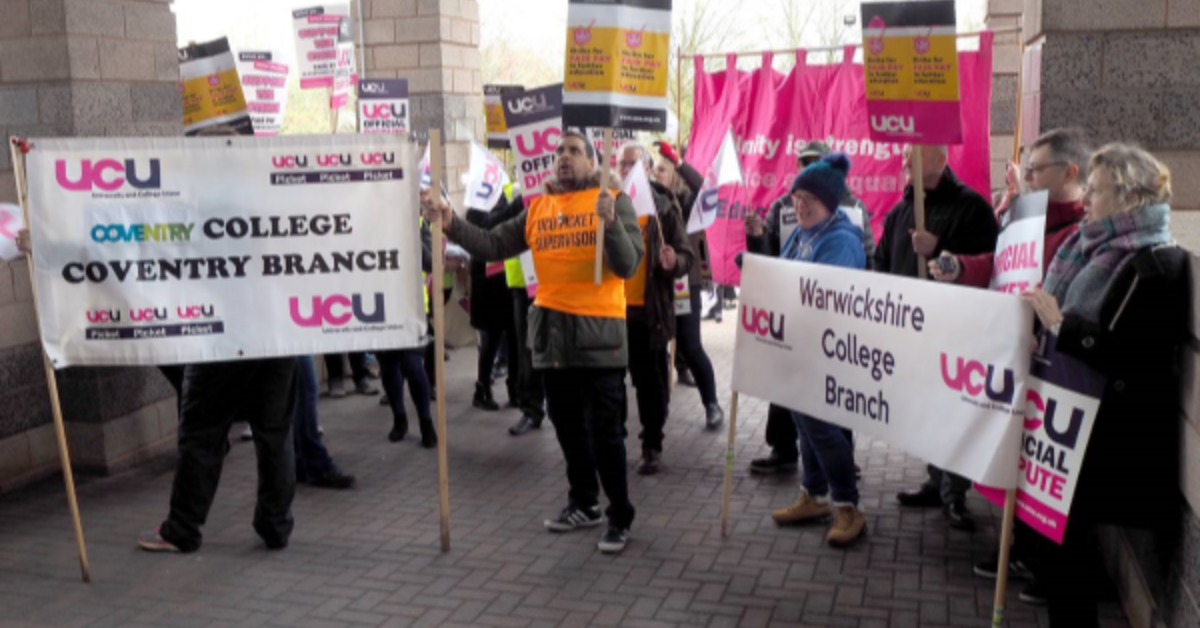 The Friday email: 12 April 2019
UCU members at three colleges in West Midlands strike over pay
UCU members at three West Midlands colleges were the most recent to take strike action over pay this week. Following three waves of strikes in November, January and March, members at Coventry College, City of Wolverhampton College and the Warwickshire College Group walked out.
City of Wolverhampton College members were out on Monday, Tuesday and Wednesday. Members at Warwickshire College Group were out on Monday and Tuesday. On Tuesday they headed to Coventry for protests with members at Coventry College who were out on Tuesday, Wednesday and Thursday.
UCU regional official Anne O'Sullivan said: 'Strike action is always a last resort, but if colleges won't work with us to prioritise staff then we are left with no other choice. Colleges who engage with us on the pay and conditions of their staff will receive a positive hearing, but those who refuse should not be surprised at the anger of their staff. Pay in further education is a problem, and it is time for colleges to get serious and do something about it.'
Government rejects calls to back university pensions
Universities face paying an extra £142m in annual pension contributions from September, after the government rejected calls for additional state support to top up employer contributions for staff. In a consultation response released on Wednesday, the Department for Education recommended that an extra £830m be earmarked by the Treasury to cover increased employers' contributions to the Teachers' Pension Scheme for state-funded primary and secondary schools in 2019-20, and an additional £80m be set aside to cover further education colleges and other publicly funded training organisations. However, it did not provide any extra funding for post-92 universities who face an annual bill of around £140m.
Speaking to the Financial Times (£), UCU acting general secretary Paul Cottrell said: 'It is deeply worrying that the government has decided not to extend support to universities affected by increased Teachers' Pension Scheme costs. The government is wrong to be relaxed about the potential financial problems that its decision will cause. We are seriously concerned about the impact the decision could have on staff and students, especially as many of these institutions are crucial drivers of social mobility.'
Terribly slow pace of change on gender pay
Universities are making slow progress in their bid to close the gender pay gap, latest figures show, with male employees' advantage having widened even further at one in five institutions. Last year, university leaders came under fire after the first official gender pay gap data showed that women in UK universities were paid a mean hourly wage that was, on average, 15.9 per cent lower than their male colleagues.
One year on, analysis by Times Higher Education shows that figure has changed little, with it now standing at 15.1 per cent. The median average gap, which tends to reduce the effect of outliers, was 14.8 per cent for 2018, widening from 14 per cent the previous year. Of the 228 higher education institutions to have published data for the 2018 year, 46 were shown to have widened their gap since the first reporting exercise.

UCU head of equality Helen Carr said: Simply reporting on the gap is not enough. The terribly slow pace of change will only be sped up when universities publish action plans that set out how and when they will reduce the gap. Until everyone is prepared to really tackle the issue, we will remain some way from gender equality. For years we have heard enlightened rhetoric in higher education about the issue of unfair pay for women, what we really need are clear commitments on how institutions will reduce the gap and when.'
Unions say latest offer fails to deliver on pay or equality issues
UCU and the other higher education trade unions met with the employers yesterday to discuss pay. The employers' represented presented a slightly improved pay offer of 1.5% (up from 1.3%) and failed to address the key other elements of the unions' pay claim.
UCU head of higher education Paul Bridge said: 'The pay claim has a keep up and catch up element to addresses the years of wage suppression. This latest offer from Ucea does nothing to address that problem, nor does it commit to meaningful action on the gender pay gap, casualisation and workloads. We are incredibly frustrated that the employers have not come back to us today with a sensible offer that starts to seriously address the pay and equality issues that blight our sector. They need to return at the next set of talks with something that properly addresses members' concerns.'
The final round of talks are scheduled for Tuesday 30 April.
Reinstate Lee Humber
UCU is supporting our Ruskin College branch in the campaign for the reinstatement of our representative Lee Humber. Lee was suspended by management shortly after the UCU branch passed a motion of no confidence in the running of the College. As well as supporting the branch, UCU is also providing legal advice to Lee. Members are encouraged to email the principal and Doug Nicholls, the chair of the Ruskin College Board of Directors calling for Lee to be reinstated immediately. Messages of support can be sent to Ruskin UCU.
NEON and UCU - future of admissions
This summit on the Monday 3rd June 2019 brings together key organisations from across educational sectors together to examine what kind of admissions system we need that can best support students. It will look at recent research re-imagining the admissions system, include updates from sector bodies on their work in improving the system and examine how universities, colleges and schools are delivering admissions work. 10.00am - 4.00pm. More information on the summit is available here.
Academic related, professional staff newsletter
The latest issue of the academic related, professional staff newsletter '...and related' is now available here. The Spring 2019 edition includes a report back on the successful annual meeting in February; the new ARPS committee and the work they hope to undertake in the next year.
UCU LGBT+ research conference
The UCU LGBT+ research conference will be held at the University of Manchester on Friday 17th May.
UCU general secretary election: nominations received
The ballot will take place 29 April - 23 May 2019. The following nominations were received:
Dr Jo Grady (University of Sheffield)
Jo McNeill (University of Liverpool)
Matt Waddup (UCU National Head of Policy and Campaigns)
Further information on the election of the general secretary is available here.
Last updated: 3 June 2019