•
•
•

The Friday email: 03 May 2019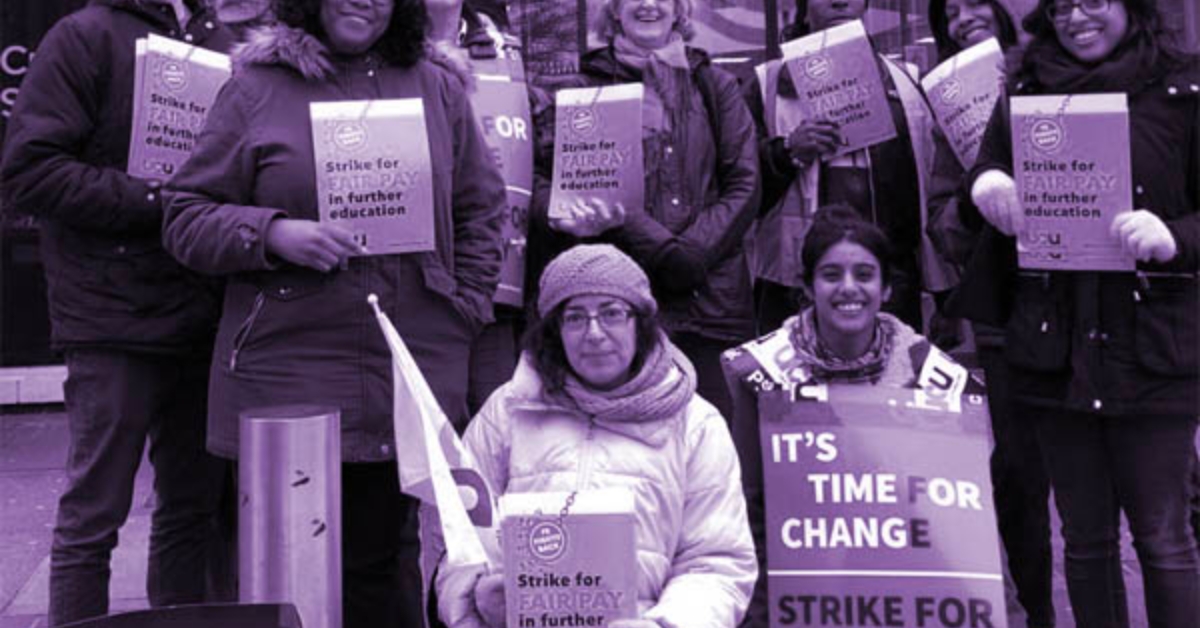 The Friday email: 03 May 2019
As figures reveal falling pay in colleges: fight back for further education!
Data released by Education and Training Foundation today confirms that pay in further education (FE) has dropped with a decrease in median teacher pay across all providers, from £31,800 in 2016-17 to £31,600 in 2017-18. UCU head of further education Andrew Harden said: 'These figures lift the lid on the falling pay and lack of job security staff have to contend with and demonstrate why we have seen waves of action at colleges across England this year. It is not enough for colleges to say they cannot do anything to address poor pay and conditions.

Further education (FE) members in London took strike action at Lambeth College and New City College earlier this week, with industrial action ballots also opening at Croydon and New City College Hackney as part of our fight for fair pay in colleges. West Thames College will join the strike action on Tuesday and Wednesday next week and you can post your support using #FEfightsback and #FEpay on social media. We will collate them on our online 'wall of support' - all of the messages of solidarity can be viewed here.
Higher education (HE) pay negotiations
Pay negotiations with higher education (HE) employers took place this week and the Universities & Colleges Employers Association (Ucea) offered a slightly improved headline pay offer of 1.8 % for UCU members. Employers also made a slightly improved offer on gender pay and precarious contracts but this fell well short of our claim.

UCU negotiators expressed disappointment with the offer and confirmed it will be considered by HE sector conference at the end of the month. Watch this space for updates.
In the news
All the latest UCU coverage in the news including college strikes, pay, anger at University of Edinburgh job advert, Stourbridge College sell off, and action needed on BAME attainment gap.
Read all about it here.
UCU general secretary election: don't forget to vote
Please remember to vote in the important election of UCU general secretary election. More information here and please share our short video to remind colleagues.
Demonstrate for Palestine, 11 May
Along with a host of UK trade unions, UCU is supporting the national demonstration for Palestine on Saturday 11 May in central London.
Manchester May Day festival 2019
UCU is once again sponsoring the festival on Sunday 5 May. Come along and visit the UCU stall.
UCU vacancies
Please check out the current job advertisements for vacancies with UCU.
Last updated: 3 May 2019