•
•
•

The Friday email: 28 June 2019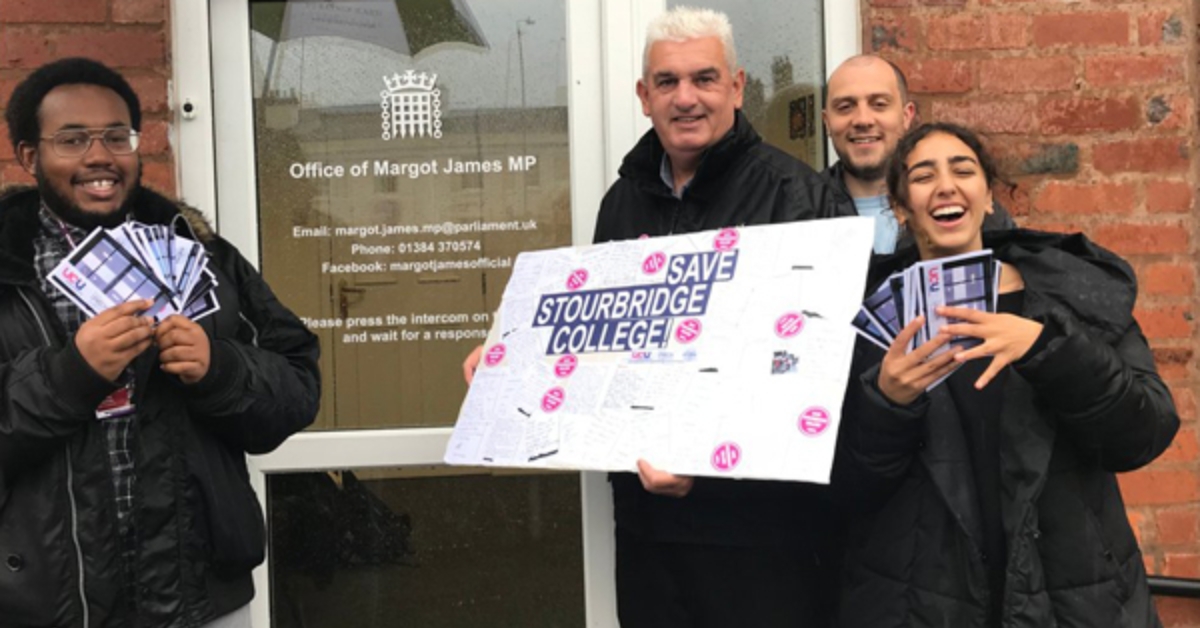 The Friday email: 28 June 2019
Join the march to save Stourbridge College tomorrow, 29 June
Please help save Stourbridge College which is facing closure and join the march and rally tomorrow Saturday 29 June assembling at 11.30am at Stourbridge College, Hagley Road, DY8 1QU (use the Heath Lane car park entrance). BBC will be there from 10:30am so please get down early if you can. Closure of the college would be a huge blow to the community and an end to vocational education in the town. You can also help by signing the petition here.
Climate emergency campaign: 30 minute solidarity stoppage
UCU has launched a campaign to show solidarity with the global student strike called for 20 September. We are building support for a TUC motion calling for a 30 minute workday solidarity stoppage on that day. Our school students are fighting for a better future for all of us. Let's make sure they are not fighting alone.
Fight for USS pension justice
Listen here to a BBC Radio Four interview with one of UCU's appointees to the USS trustee board, Professor Jane Hutton, outlining her concerns about governance failings at USS.

Earlier this week UCU general secretary elect Jo Grady updated members about the Universities Superannuation Scheme dispute and possible further industrial action.
Reinstate Dave Muritu: an injury to one, is an injury to all
Over 7250 people have signed the petition in defence of our rep Dave Muritu who was sacked by Sandwell College for writing 'racist' on a poster for the controversial Prevent programme. A ballot for strike action at the college is now underway and closes on 12 July. Please sign, share the petition and listen to Dave's BBC interview here. #ReinstateDaveMuritu
In the news
This week's news coverage includes casual contracts, another bad week for USS, Stourbridge protests, Nottingham strike and Sandwell sacking.
Read all about it here.
Counting the costs of casualisation: further, adult and prison education report
UCU has today published a report entitled 'Counting the Costs of Casualisation in Further, Adult and Prison Education' which is the result of a survey of nearly 800 staff on casualised contracts and gives an insight into the extent and impact of casualisation.
UCU branches will be using the report to highlight issues locally and involve staff on casualised contracts using their experiences to develop local anti-casualisation claims.
Nottingham College UCU fight back over contracts
Members at Nottingham College will strike next week on Monday 1 July over plans to impose new contracts which cut staff holiday and sick pay. Our reps Rob Peutrell and Kitty Howarth would appreciate messages of support.
End sexual harassment at work: #ThisIsNotWorking
UCU is supporting the #ThisIsNotWorking campaign calling on the government to introduce a legal duty for employers to take steps to prevent sexual harassment in the workplace and you can sign the petition here.
Last updated: 28 June 2019