•
•
•

The Friday email: 19 July 2019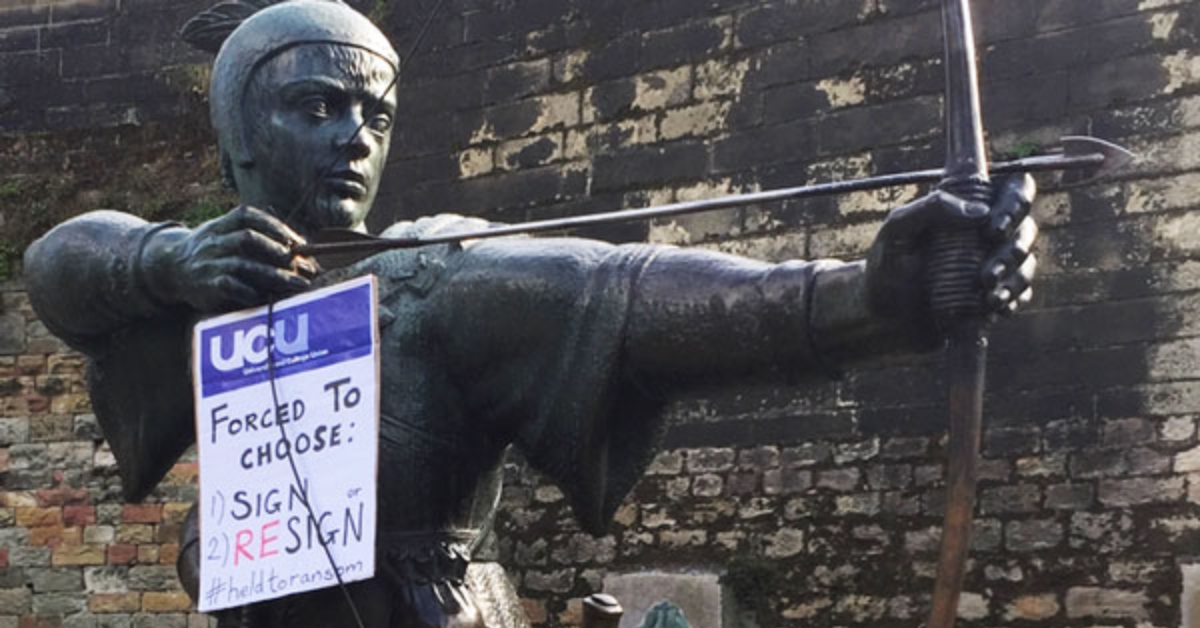 The Friday email: 19 July 2019
Nottingham College UCU fights back with 15 day strike
Nottingham College UCU members have announced 15 days action in September and October in a dispute over the college's threat to dismiss staff who refuse to sign up to new contracts that would leave over 80 more than £1,000 a year worse off, cut holiday entitlement, slash sick pay and protections against work overload. Campaigners plan to take personal accounts of the damage new contracts are causing them to a meeting of the board of governors on Monday.

Please send solidarity to the UCU reps Kitty Howarth and Rob Peutrell.
Demand USS pension justice
You can now download new leaflets and posters for the ballot on USS which opens on 9 September (to be run simultaneously with a sector wide industrial action ballot over equality, workload, pay and job security). Join the fight against plans to raise USS member contributions and help demand pension justice:
Save science at University of Portsmouth
The future of science at Portsmouth is currently under threat and the university plans to make academic staff in that faculty redundant. The decision to cut experienced staff will also hit students and risk damaging the university's reputation. If you believe that science is worth saving, please sign our petition and help stop these unnecessary job cuts at University of Portsmouth.
Trade union movement says: no to cuts and victimisation at Ruskin College
Ten trade union leaders have added their names to our campaign calling on Ruskin College to drop disciplinary action against UCU reps and withdraw threats of redundancy against staff. UCU rep Lee Humber was sacked last week having been suspended for spurious reasons. Please support the campaign:
Clean air now: our campaign on air pollution
UCU was the first UK trade union to campaign on air pollution and build alliances with other trade unions, environmental and community campaigns to address the public health emergency caused by toxic air. The Trade Union Clean Air Network (TUCAN) was launched by UCU, the Greener Jobs Alliance and the Hazards Campaign in 2019 to support air quality and clean air campaigns both inside and outside the workplace. A guide for UCU activists is available here.
Ask your MP to support disabled staff in education
UCU's Disabled Members' Standing Committee is working with other unions to campaign for equality for disabled staff in education. As part of this work we have secured an Early Day Motion in parliament, calling for the government to address key issues including time limits for reasonable adjustments, access to disability leave and campus accessibility. Please write to your MP and ask them to support it if they haven't already done so you can find a template email here.
Last updated: 6 September 2019