•
•
•

The Friday email: 11 September 2020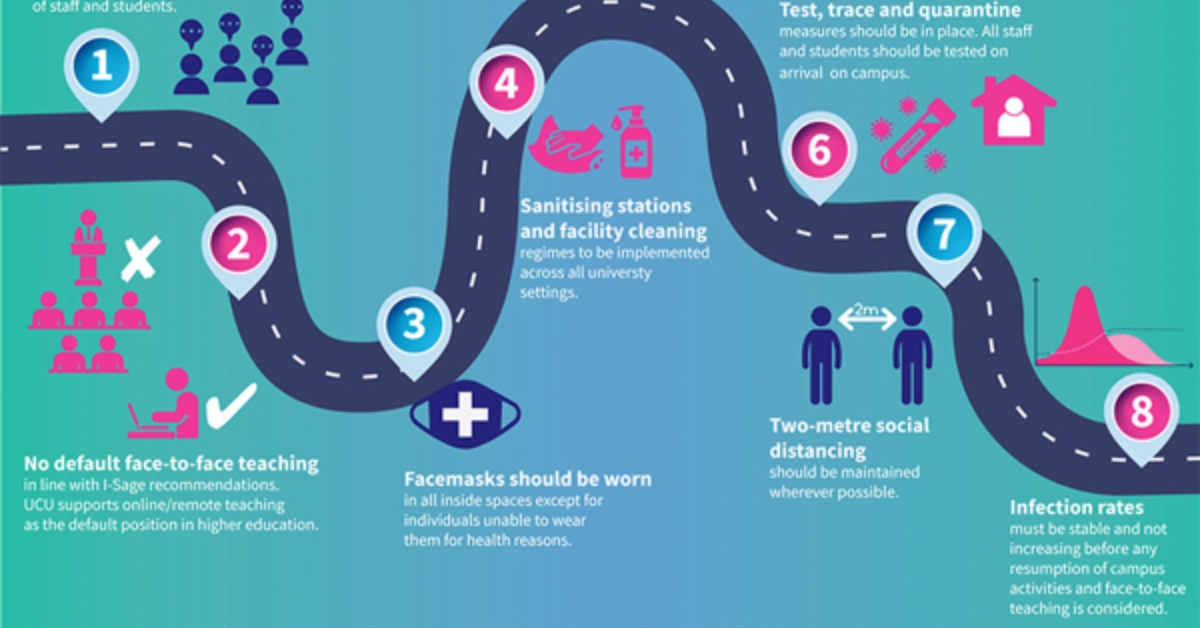 The Friday email: 11 September 2020
Latest government guidance proves case for online learning
The government's new university guidance and the rate of infection for young people backs up UCU's call to move learning online to combat the spread of Covid-19.
UCU general secretary, Jo Grady said: 'We are unimpressed with the latest government guidance for English universities which contains confusing, expensive and at time silly suggestions. Moving learning online would remove the need for universities to consider teaching outside or opening doors and windows in the winter months, as the guidance suggests.'
UCU guidance for education staff is here.
FE teachers don't feel safe: join our online discussion, 16 September, 4pm
A survey published in Tes this weekhas found that two-thirds of further education (FE) teachers don't feel safe returning to college workplaces and a quarter say their college has not taken sufficient steps for them to do so. Speaking in Tes UCU's head of further education Andrew Harden said that colleges have to recognise the "very real fear" staff have. He said: "The health of staff, students and their families has to remain the number one priority and colleges should not fully reopen until it is safe to do so."
Join our webinar to talk about safety in colleges on Wednesday 16 September at 4pm with Jo Grady, UCU general secretary, Janet Farrar, president elect, Alex Lancaster UCU national health and safety lead, Adam Lincoln, regional official, Maxine Looby FEC, and Lauren Mura FEC from Blackburn College which has now gone into partial lockdown. Live on YouTube, Facebook and Twitter.
See our detailed guidance on Covid-19 and return to college working for members in FE here.
TUC Congress 2020, 14-15 September
This year the TUC Congress is open to all union members as a virtual gathering. Please sign up here for full details. UCU will be hosting a fringe event on the Fund the Future campaign on Monday 14 September at 2:00pm.
Digital teaching and learning in English higher education during the coronavirus pandemic: call for evidence
The Office for Students has launched a call for evidence on digital teaching and learning in English higher education during the coronavirus pandemic. UCU is planning to respond to the call for evidence, especially on staff experiences of digital teaching and learning during the pandemic. If you have any comments on the successes and advantages of remote delivery, the challenges and limitations of digital delivery, 'digital poverty' and the possible future of digital learning in higher education, then please can you send them to Rob Copeland, UCU policy officer rcopeland@ucu.org.uk (by no later than Monday 5 October).
In the news
Read this week's round up of UCU news coverage here.
Vote from Abroad: absentee ballots for US citizen
If you are a US citizen living overseas you can still Vote from Abroad in 2020. Find out more here.
Last updated: 11 September 2020