•
•
•

The Friday email: 02 October 2020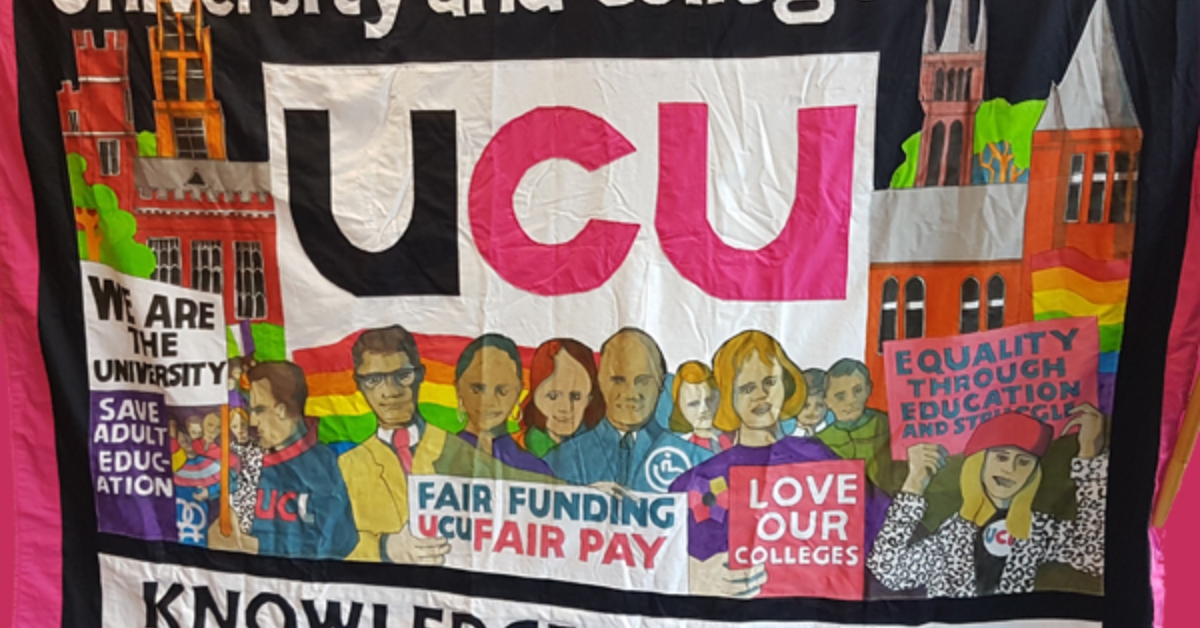 The Friday email: 02 October 2020
Covid crisis on campus
UCU and the National Union of Students have released a joint statement calling for action over the university Covid crisis. The statement calls for:
a national test and trace system for universities
a safe way for students to leave campus if they need or want to
no financial detriment to any student giving up accommodation, or choosing to defer or leave university
move to online learning wherever possible
guaranteed funding for universities to help them deal with any shortfall or additional expenses due to Covid-19.
We have created a new web page to bring together your reports about the risks you are facing at work. Please share your stories on social media using the #HygieneTheatre hashtag. We are also now seeking stories from members who would be prepared to go on record about experiences that will resonate with staff and students across our sectors. Read this recent Guardian article for an example of the type of coverage we can achieve when people are prepared to speak out. If you'd be prepared to have an initial conversation with us, please email here.
Read the latest update from Jo Grady here.
Colleges must deliver on pay promises
UCU and other unions representing staff in further education (FE) across England have launched a joint claim for a significant pay rise now the government has provided FE with an extra £400 million funding.
UCU's Jo Grady said: 'We have finally seen £400m in extra government funding so colleges must now deliver on their promise to staff that they would be first in line when the money arrives.
'Any national Covid recovery plan must have further education at its core. But unless colleges honour their promise to pay staff, it will be impossible to attract and retain the staff colleges need to be able to play their role in the national recovery effort.'

An online campaign launch event will take place at 4.30pm on Monday 12 October and you can register here.
UCU is proud to celebrate Black History Month
We will be hosting two webinars this month as part of our anti-racist work. The first will be on 'systemic racism and how to survive it' (14 October 5.00-6.30pm) and features contributors from sister unions the NASUWT and the NEU. The second is a follow-up to the webinar on decolonising and is entitled 'decolonising your workplace' (21 October 1.00-2.00pm). Registration details to be announced. More on Black History Month here.
UCU solidarity gig, 22 October
The NEC fundraising group is holding UCU's first ever solidarity gig on Thursday 22 October. This is to raise funds for the UCU fighting fund. Activist and singer songwriter Joe Solo will be headlining for us live online on Thursday 22 October and we're looking for a couple more acts for a mini membership open mic event! Can you play or sing, maybe even perform poetry? Get in touch with UCU president Vicky Blake.
Reflections on organising event: 'Organising to win!' 21 October
Second in the series of these great online trade union organising events from the Ella Baker School of Organising. With Professor Janice Fine, world expert on workers' centres, Dave Smith, key figure in the rank and file builders movement and the Blacklist Support Group, and Ravi Subramanian, West Midlands regional secretary Unison. Wednesday 21 October, 7-9pm, details and registration are here.
Stand Up To Racism
Stand Up To Racism will be holding their annual International Conference on 17 and 18 October. This year's theme is 'Black Lives Matter: No to Trump and Johnson's Racist Offensive', will be held online via Zoom and Facebook Live events over the two days. Book now to reserve your place.
NEC elections 2020-21
Nominations in this year's round of NEC elections are now open and the closing date is Tuesday 17 November 2020. More information here.
Teachers' Pension Scheme consultation
The government is consulting members of public sector pension schemes about the age discrimination that occurred in the schemes between 2015 to date. The remedy is to give everyone a choice about how they want their pension to be calculated for the period 2015 to 2022 either final salary or career average and when to make the choice now or at retirement.
For an explanation and discussion tune in to a webinar at 4pm on Wednesday 7 October.
Last updated: 8 October 2020