•
•
•
•

Black History Month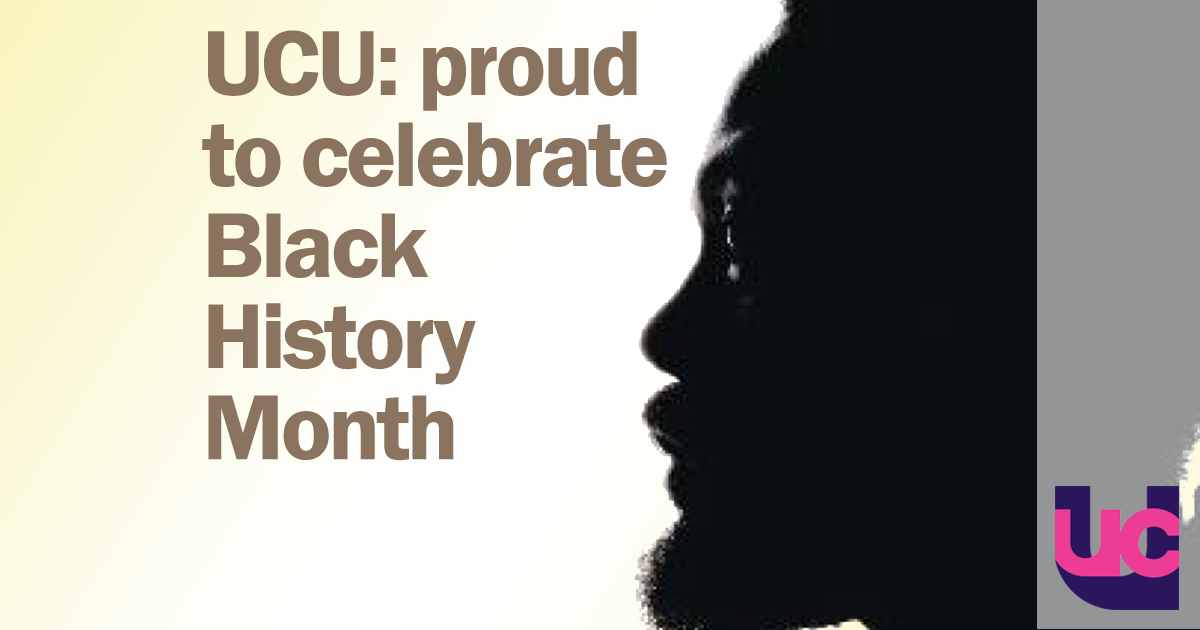 Black History Month
Black History Month is celebrated annually in the United Kingdom in October.
UCU is proud to support Black History Month
UCU is committed to highlight, challenge and oppose the discrimination and racism members can face in the post-16 education sector. UCU is committed to working with black members to progress equality in the workplace.
Black History Month...
honours historic black leaders
provides a better understanding of the struggles won, lost and gained
provides an opportunity to highlight black history and cultures
creates an awareness for all Black history is OUR history.
UCU wishes everyone a happy Black History Month!
Download our BHM 2017 poster:


Black History Month 2017 poster [483kb]


Black History Month 2017 poster [126kb]
UCU uses the term 'black' in a political sense to refer to people who are descended, through one or both parents, from Africa, the Caribbean, Asia (the middle-East to China) and Latin America. It refers to those from a visible minority who have a shared experience of oppression. The word is used to foster a sense of solidarity and empowerment.
---
UCU Black Member Networks
UCU has developed networks for black members to:
provide a supported route to enhanced activism within the branch
provide a space for UCU's black members who may have a shared experience of working in the FE and HE sectors
provide support and guidance for black members who wish to become more involved in UCU's equality networks and structures
We have developed networks for black members in the following regions:
West Midlands
London
Eastern
Yorkshire and Humberside
South West.
This year, we will be developing networks in Scotland, Wales and Southern region.
Come and meet other black members in your region, share your experiences, and discuss how we can increase black member representation in our branches and the UCU's democratic structures. These networks are open for all self-identifying black members.
Contact Chris Nicholas for further information on how you can join and/or set up a network in your region.
---
Black voices - a UCU blog
Black voices is the space for UCU's black members to talk about relevant workplace issues. To read and find out how you can make a contribution, visit https://www.ucu.org.uk/black-voices or contact Chris Nicholas.
---
Last updated: 24 January 2018