•
•
•

The Friday email: 30 October 2020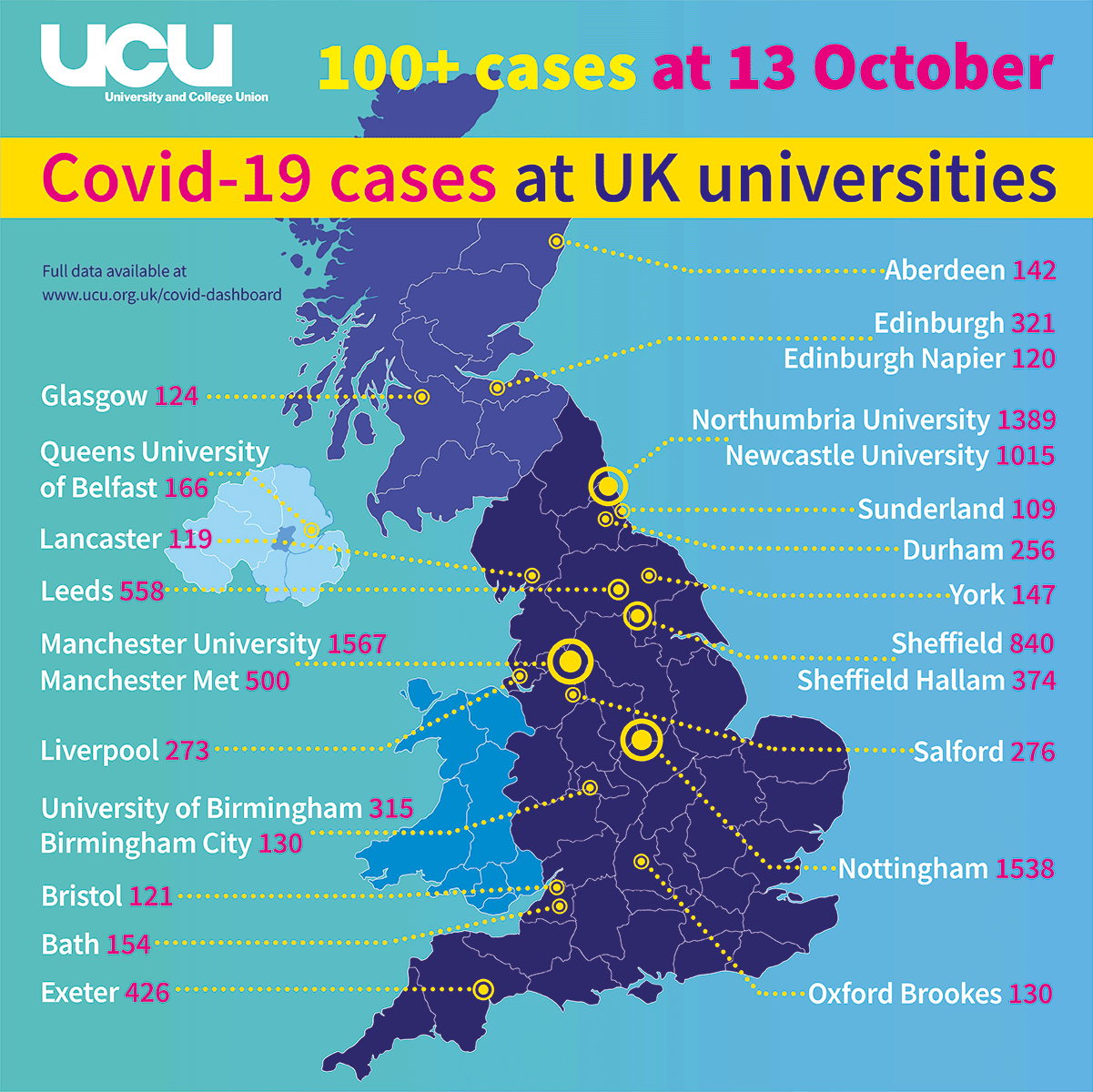 The Friday email: 30 October 2020
UCU challenge the Westminster government on Covid-19 response
UCU has launched a legal challenge against the Westminster government over its decision to ignore advice from its Scientific Advisory Group for Emergencies (SAGE), as reported last week in The Observer. The union is seeking an urgent review of Westminster's decision, and to be consulted before any new decision is made. We have also asked the government to explain why they did not follow SAGE's advice on 21 September. The government has until 6 November to respond. You can read the full story here.
See the latest updates on case numbers on our dashboard here. We will continue to monitor the Covid-19 crisis in universities and colleges as the situation develops. Don't forget - you can sign our petition calling for fair funding and online learning in higher education here.
College of the future report: UCU responds
Responding to the release of the 'College of the Future' report, UCU said staff pay must be increased if colleges are to provide excellent further education over the coming years. The full response is here.
Claim the future: online event
On Saturday 31 November a policy and campaign conference involving expert groups and campaigners on the left - activists, trade unions, academics, campaigners and think tanks - will come together to produce a wide-ranging body of work in a dynamic conversation to reset the political economy agenda. UCU general secretary Jo Grady is speaking as part of a panel discussion on the importance of post-16 education in rebuilding our political economy. If you are interested, you can register for the live streamed event by following this link.
PGRs as staff - not students: online event
This online event will run on Wednesday 25 November, from 12:00 to 1.30pm. UCU has adopted a policy to campaign for PGRs to be recognised as members of staff. We're keen to discuss this with our PGR members and hear your thoughts and ideas about the campaign. We will also hear from our sister union SULF (based in Sweden) who successfully campaigned for PGRs to be treated as employees. To register for the event, and to submit any questions you may have, please click here.
Ethical investment survey for USS members
USS is conducting a survey on sustainable and ethical investment. USS has (to date) held major investments in fossil fuels along with armaments and tobacco. USS have agreed to divest from tobacco, but members will need to speak up in support of divestment from fossil fuels and armaments through a good response to the survey. The survey was sent out in the latest members update and you can find that link here. Please complete the survey and encourage others to do so.
Anti-casualisation organising and training: online event
You're invited to our anti-casualisation organising and training event on Thursday 19 November 2-5pm and Saturday 21 November 10am-1pm. The event will be held online (on MS Teams) and is aimed at members on casualised contracts who want to get involved in their union and help to campaign against casualisation. However, it is also open to any UCU members who want to campaign against the endemic use of casualised contracts in higher, further, adult and prison education.
Last updated: 30 October 2020