•
•
•

The Friday email: 11 December 2020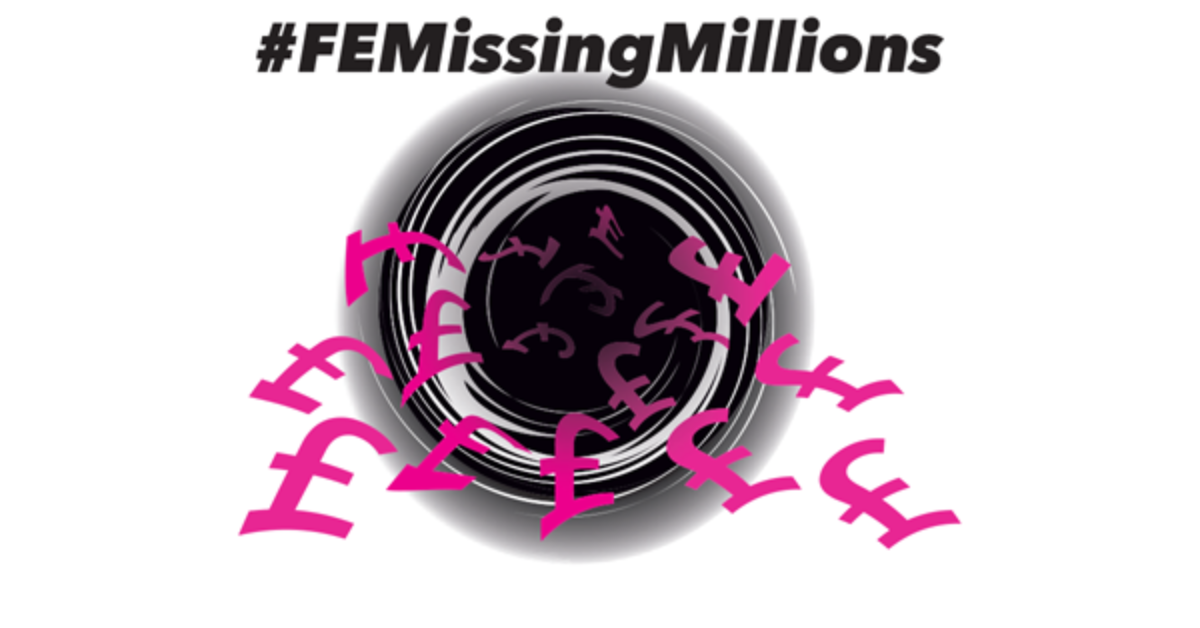 The Friday email: 11 December 2020
11 December 2020

Further education: find the missing millions!
After years of joint campaigning with college employers' representatives, the Association of Colleges (AoC) we won £400 million of increased government funding for FE, £224 million of which arrived in August 2020 in base rate funding that colleges could spend as they wished - staff pay was always supposed to be top of the list.
Following last week's paltry offer of 1% pay increase, we are demanding an explanation as to where are the #FEMissingMillions!
Please click here and use our online tool to see how much extra funding your college has received. We're encouraging UCU college branches to ask management where the money has gone if not on pay.
Brighton UCU strike against IT cuts
Members at University of Brighton took strike action this week against compulsory redundancy of IT staff and the campaign received huge support with an online rally and this message of support from John McDonnell MP. Please tweet your solidarity messages to #SaveBrightonITStaff @BrightonUCU
Reverse no-notice job cuts at Macclesfield College
We're campaigning against redundancies at Macclesfield College- redundancies that came without notice, or proper consultation. Macclesfield College UCU has found support with local councillors and has written to local MPs to fight back against dreadful management decisions that abandon UCU members to redundancy in the run-up to Christmas. Please take 2 minutes to sign the UCU petition to join the call to immediately reserve these dreadful job cuts.
Manchester Metropolitan University UCU gear up for action over safety and workload
Manchester Metropolitan University UCU have pulled off a fantastic consultative ballot result in a very short ballot period with a 86.1% yes vote for ASOS and 65.1% yes vote for strike on a 64.3% turnout. The branch are in dispute over the university's response to the coronavirus pandemic and workloads. A statutory ballot now opens on 18 December and messages support should be sent to the UCU branch secretary.
Brexit and immigration: webinar and resources
With the end of freedom of movement for EEA nationals fast approaching, join us on Wednesday 16 December at 1pm for a Q&A session with expert immigration lawyers from Bindmans LLP about the implications of the new post-Brexit immigration system. Please register here and you can also access a range of updated FAQs on our migrant members' advice page here.
University of East London fighting redundancies
UCU members at University of East London are currently being balloted for action over redundancies and campaigning against the targeting of our reps.
Equality impact survey
Please take a few minutes to complete our equality survey on the Covid-19 pandemic.Your input is important to ensure we can properly reflect the equality impacts of the pandemic in our bargaining and negotiating work. All responses will be anonymous and the deadline is 12 noon on Wednesday 16 December.
University of Roehampton UCU members back action over cuts
In a consultative ballot UCU members at University of Roehampton have voted overwhelmingly to support action over job cuts in arts and humanities. The branch delivered an amazing 70% turnout with 63.5% saying yes to strike action and 87.6% to action short of a strike.
Fobzu winter appeal 2020
UCU works closely with Friends of Birzeit University (Fobzu) to support the right to education in Palestine. Fobzu have launched their winter fundraising appeal to help support Palestinian students access higher education in the Occupied Palestinian Territories.
Last updated: 11 December 2020