•
•
•

The Friday email: 14 May 2021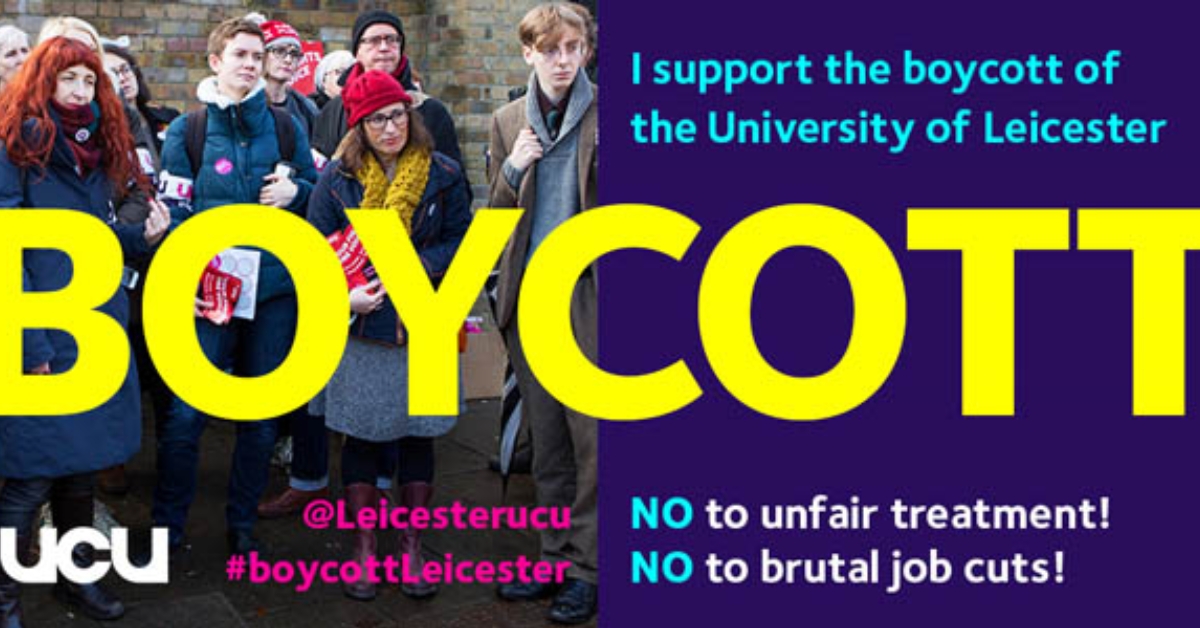 The Friday email: 14 May 2021
Boycott Leicester: stand together to defend jobs
Please support University of Leicester UCU who are fighting to defend jobs and stand up for staff, many of whom received notice of compulsory redundancy this week. We ask you to observe the academic boycott of the university and to encourage colleagues, professional networks and students to do the same.
There is a set of template letters here including messages for students, alumni, representatives from partner universities, and external examiners. Tweet your support tagging @UniofLeicester @NCanagarajah and @LeicesterUCU and using #BoycottLeicester and messages and photos will be displayed on our wall of support here.
Dozens of scholars have written to cancel speaking engagements, withdraw from events or resign as examiners; at least two conferences have been suspended or moved elsewhere and our members are currently working to contract and plan to take strike action if the dispute is not resolved. Please help keep up the pressure and keep an eye on your inboxes and social media as we escalate international support for #BoycottLeicester.
University of Liverpool to be hit with three weeks of strikes
Liverpool UCU are fighting plans to sack staff in the faculty of health and life sciences and will strike from 24 May to 11 June unless management drop the current redundancy proposals. This week also saw UCU members begin working to contracted hours and boycotting all voluntary activities. University of Liverpool UCU branch president Anthony O'Hanlon said: 'there is no economic or moral justification for these redundancies. To prevent a campaign of sustained industrial action, all the university has to do is withdraw them.'
Stand up for prison educators
For the first time prison education staff have been striking this week over Covid safety concerns. Please encourage your MP to support their fight by signing the parliamentary motion calling on the employer, Novus to enter proper negotiations. Novus has refused to drop complaints and investigations against staff who have raised safety concerns and UCU is calling for an end to this intimidation of committed educators who work in some of the most challenging and dangerous environments.
Follow our fantastic prison education members on Twitter @ucuprisoned and tweet support to #PrisonEdStrike or email solidarity selfie photos here.
UCU members fighting back
UCU branches across the UK are fighting to defend jobs and conditions and you can read our roundup of local disputes here including a disputes at University of Hull over cuts to language subjects and the sacking of our branch president.
Higher education free speech bill
UCU's Jo Grady spoke to BBC 5Live about the suppression of academic views and research after the government announced its higher education free speech bill. Jo said that if the government truly cared about freedom of speech it would do something about staff at Leicester being served redundancy notices because universities feel threatened by their research topics.
George Floyd memorial event
To mark the one year anniversary of the murder of George Floyd, UCU is hosting a memorial event on Tuesday 25th May at 5pm to discuss his legacy and the ways in which state oppression and police brutality continue to impact on black communities in the UK. To register visit here.
March for Palestine: Saturday 15 May, London
UCU is supporting this Saturday's emergency March for Palestine which is being organised by the Palestine Solidarity Campaign (PSC) in solidarity with the Palestinian people. You can also support PSC's work on Palestine by affiliating your local UCU branch or by supporting their fundraising appeal.
Minutes of the national executive committee (NEC) March 2021
Minutes of a meeting of the national executive committee held on 19 March 2021 can be found here.
Last updated: 14 May 2021