•
•
•
•

Ten day strike begins at University of Liverpool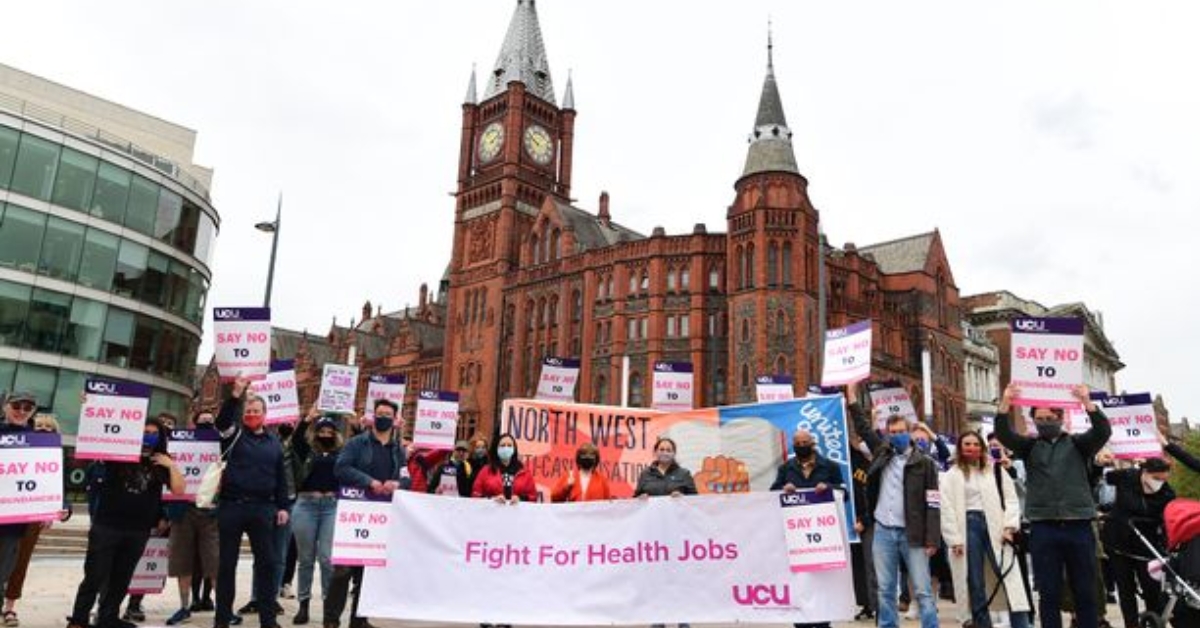 Ten day strike begins at University of Liverpool
3 August 2021

University rejecting 'golden opportunity' to resolve dispute
Staff at the University of Liverpool are to go on strike tomorrow, after university management squandered a golden opportunity to resolve the long running dispute over cuts to the faculty of health and life sciences.
The full strike days are:
week 1: Wednesday 4 to Saturday 7 August
week 2: Monday 9 to Saturday 14 August.
Work begins on processing of A-level results tomorrow - before they are released publicly on Tuesday 10 August - meaning the university's confirmation and clearing processes will be disrupted.
In a ballot earlier this year, 84% of UCU members who voted backed strike action to fight the university's plans to slash 47 teaching and research jobs in the faculty of health and life sciences. This has now fallen to two compulsory redundancies after sustained industrial action from UCU and late-stage talks with management. Liverpool UCU met today, and an overwhelming 97% of attendees voted to continue with the planned strike action to support the two colleagues still facing the threat of compulsory redundancy.
Previous industrial action taken during the dispute has included a three-week strike beginning in May, which was immediately followed by an ongoing marking and assessment boycott. UCU has also hit the university with the ultimate sanction of a global academic boycott after the university withheld 100% of pay and locked out staff taking part in the lawful assessment boycott.
Last month, after the global boycott began, management entered into discussions with UCU and suspended deductions to pay, having originally refused to meet with the union. UCU had hoped negotiations would resolve the dispute but management is insistent that two staff remain at risk of redundancy, even though the 'rank and yank' criteria used to justify the redundancies has been widely attacked by experts.
The University of Liverpool's student body, represented by the Guild of Students, has slammed the university for making the cuts and called for it to halt the compulsory redundancies.
Staff have organised Covid-safe events for the upcoming strike. These include an online rally Friday with UCU general secretary Jo Grady and a socially distanced on-campus rally at University Square next Monday at 12pm.
UCU general secretary Jo Grady said: 'Managers at the University of Liverpool have it in their gift to resolve this dispute and avoid further industrial action by removing the threat of redundancy to the final two health and life sciences academics.
'Students and staff alike have rallied around the campaign to protect these jobs and good progress has been made in negotiations, moving compulsory redundancies from 47 down to two. We are so close to putting this dispute behind us, but management need to do what is right and protect these final two jobs, resolve the dispute and avoid any further disruption.'
University of Liverpool UCU branch president and academic-related staff member Anthony O'Hanlon said: 'Staff have taken sustained industrial action since May in defence of jobs. Management are now facing the prospect of widespread disruption during one of the most crucial periods of the academic year - confirmation and clearing. We have made it abundantly clear we are prepared to take sustained industrial action whenever we are faced with the threat of compulsory redundancies. The ball is firmly in the employer's court and it can very easily avert any further disruption and reputational damage by simply withdrawing the threat of two remaining compulsory redundancies.'
Last updated: 4 August 2021