•
•
•
•

University of Liverpool slammed for failing to give almost 1,500 students their degrees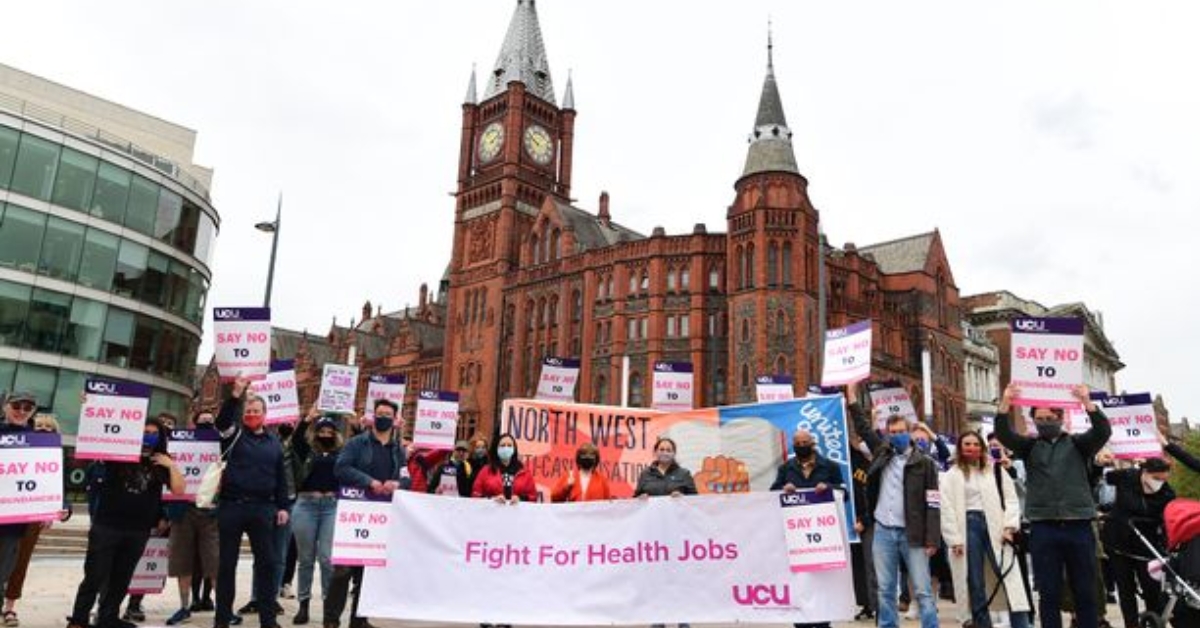 University of Liverpool slammed for failing to give almost 1,500 students their degrees
5 July 2021

Situation 'entirely avoidable' say staff and students
Management at the University of Liverpool should be 'ashamed', students and staff said today after it became clear that entire courses would not receive their results for this academic year until next week at the earliest.
Students should have received moderated, externally examined, results this morning. However many have taken to social media to complain, as the university has said graduates in at least four subject areas will not receive their full results today. UCU estimates around 1,500 final year students have not been given their degree classification.
Pro-Vice Chancellor for education professor Gavin Brown emailed students to warn those studying life sciences, maths, modern languages and psychology will not receive their results for at least a week. He also explained that many students on other courses may also be told they have failed some modules on the university's results portal.
The university has been unable to award students their results because it has refused to resolve a dispute with UCU over the planned sacking of 21 staff in the faculty of health and life sciences. UCU members began a marking boycott on 18 June to pressure the university to halt the compulsory redundancies. The university responded by refusing to meet with UCU to resolve the dispute, or to allow ACAS to mediate between UCU and management, and withholding 100% of pay, locking out staff taking part in the lawful marking boycott. Staff previously took three weeks of strike action, from Monday 24 May to Friday 11 June.
External examiners, 62 Professors in the faculty of health and life sciences, and the Liverpool Guild of Students, which speaks for the student body, all wrote to the university to warn that proceeding with awarding degrees during the boycott is likely to imperil academic standards at the university and have called on management to end the dispute. Complaints include the impact incomplete grades will have on student progression onto postgraduate courses and graduate training schemes.
The university says the cuts are needed to "create headroom within budgets in order to re-invest". The latest financial breakdown shows the university spent under £12m on staff in the faculty of health and life sciences in 2019/20. Whereas the university's total income was over £583m, £324m of which was from tuition fees.
UCU general secretary Jo Grady said: 'Today should have been a moment of great joy for students and staff, but the University of Liverpool has taken that away, letting everyone down - this situation was entirely avoidable and the university should be ashamed.
'Managers have repeatedly tried to pit staff and students against each other with mendacious claim after mendacious claim. But neither have been fooled and they stand united together. This dispute is easy for managers to resolve - meet with UCU and stop the redundancies that both students and staff oppose.'
Liverpool Guild of Students' vice-president Chloe Field said: 'University managers have treated students with disdain and have caused them a great deal of stress on what should be a happy and exciting day for them. Students will not be fooled by claims from the university that staff are to blame, and we stand in complete solidarity with our teachers whose are trying to stop the 21 compulsory redundancies. The university needs to halt its plans to sack staff and meet with UCU to resolve the dispute so students get the results they deserve.'
University of Liverpool branch president Anthony O'Hanlon said: 'It is an indication of the sheer mayhem at the University of Liverpool that the senior leadership team is prepared to put staff and students through a chaotic results day to defend the indefensible. Management's responsibility to its staff and students cannot be ignored any more. Its attempts to set staff and students up against one another have failed spectacularly. It is time to end this chaos, restore the jobs of our colleagues and restore the integrity of our degrees.'
Last updated: 6 July 2021