•
•
•
•

Victory for staff at five London colleges over pay and conditions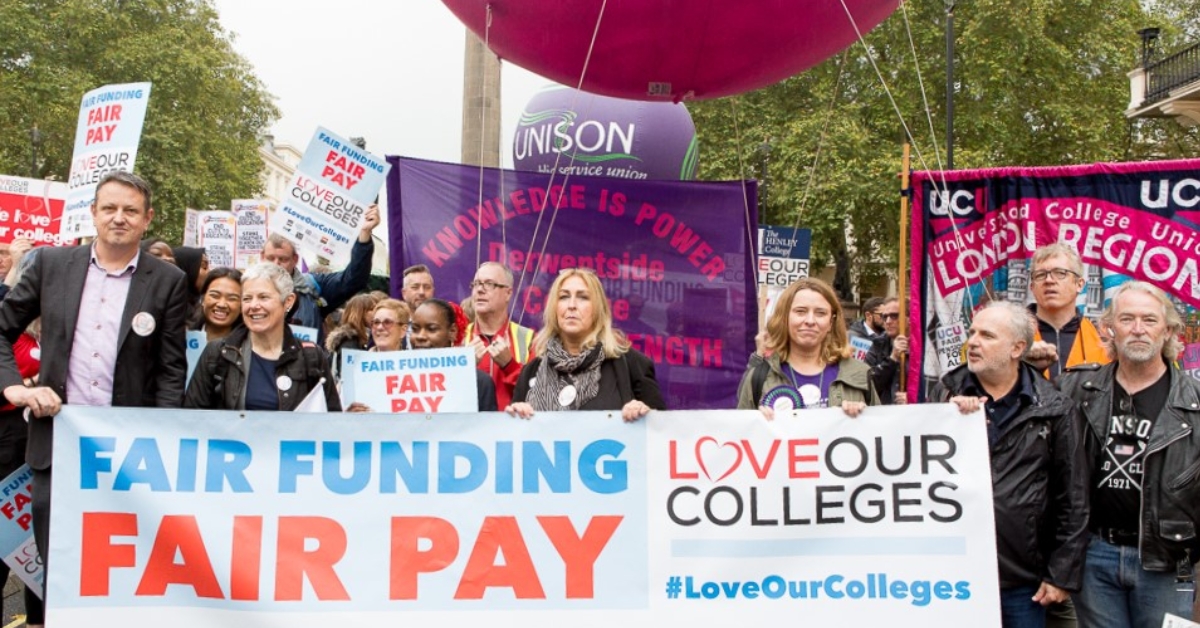 Victory for staff at five London colleges over pay and conditions
3 November 2021

Staff at five London colleges have won improved pay offers from employers after taking strike action.
UCU members at Croydon College overwhelmingly voted to accept a deal on pay and conditions. Members had previously taken seven days of strike action.
The deal includes a backdated 2% pay increase for all staff and 5% for lower-paid members in learning support roles and a minimum salary for qualified teachers of around £30k. There are additional commitments around workload protection, a four week summer leave period and simplified pay progression.
South Thames Colleges Group, which includes South Thames, Merton, Kingston and Carshalton colleges, has offered a pay rise for all staff, which for staff on under £23k includes an increase of over 2.25%. The offer also includes a commitment to review and level up terms & conditions across the group including lecturers' contact hours and holiday arrangements, as well as a new pay and grading structure. UCU members in the colleges are voting on whether to accept the offer in a ballot that closes on Monday 8 November. Members had previously taken a day of strike action.
In July, fifteen colleges had voted for strike action over pay demands. The latest offers mean ten of the colleges have now received improved pay offers, as staff at City College Plymouth, New College Swindon, City of Bristol, Sheffield and Weymouth colleges had previously reached deals with employers since voting to strike, but without needing to take action.
The dispute with Capital City College Group remains unresolved. The employer has seen ten days of strike action and facing a further ballot as members of the National Education Union at the college vote on whether to join UCU members in taking industrial action.
UCU general secretary Jo Grady said: 'This is a fantastic win for all our members at Croydon, Carshalton, Kingston, Merton, and South Thames colleges. By taking industrial action they have won long overdue improvements to their pay and terms and conditions, which will particularly benefit lower paid staff.
'Employers that are refusing to negotiate on pay, such as Capital City College Group, need to follow the example of Croydon College and South Thames Colleges Group and agree to improvements in staff wages, otherwise they risk further disruption.'
Last updated: 4 November 2021