•
•
•
•

USS trustee confirms UCU proposals can be implemented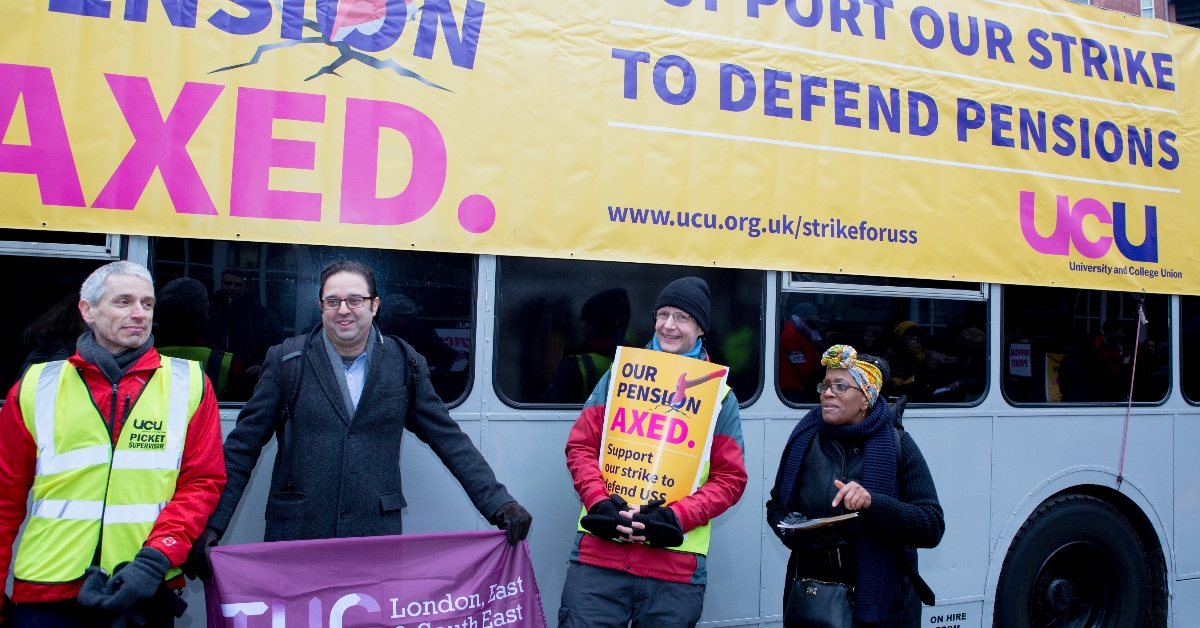 USS trustee confirms UCU proposals can be implemented
10 February 2022

Vice-chancellors have been gifted a 'golden opportunity' to resolve the USS pensions dispute after the trustee that manages the fund confirmed there was 'no impediment to implementation' of alternative compromise proposals put forward by UCU.
UCU submitted alternative USS proposals to employers on Wednesday 26 January in a bid to protect pension benefits and avert industrial action which is due to begin at 44 universities on Monday 14 February.
The dispute is over cuts to the pension scheme put forward by employer body Universities UK (UUK) which would see 35% cut from the guaranteed retirement income of scheme members.
Employers initially described UCU's proposals as not being a 'serious attempt to reach agreement', but later UUK's chief executive Alistair Jarvis, in a letter to UCU general secretary Jo Grady, said: 'should the USS trustee validate your proposal as an implementable solution to the 2020 valuation, we will formally consult employers on it.'
Today, with the trustee confirming there was no impediment to implementation of the UCU Proposal, Jo Grady has written to Alistair Jarvis urging him to carry out an urgent consultation of vice chancellors ahead of a crunch meeting of the Joint Negotiating Committee (JNC) on Friday 11 February. If agreement can be reached over UCU's proposals between staff and employer representatives at the JNC, the union says industrial action over pensions can be called off.
UCU's proposals would see retirement benefits protected in return for a small short-term increase in contributions for both members and employers ahead of a new 'evidence-based valuation of the scheme'. The cuts being put forward by UUK are based on a valuation of the USS pension scheme which was conducted in March 2020, as the markets were crashing due to the pandemic. Since then assets have reached £92bn, an unprecedented level.
If UCU's proposals were accepted, industrial action over pensions could be called off and new talks could begin immediately on the future sustainability and design of the scheme. This would include progressing a new sensible and evidence based valuation that would avoid the need for draconian cuts. UCU is committed to keeping the cost of the scheme as low as possible and is keen to explore scheme design and governance arrangements that would ensure that can happen. Since submitting its proposals last month, UCU has been meeting with USS to ensure that they are implementable and viable. This has now been confirmed by the trustee.
A USS consultation of scheme members concluded on Monday 17 January. UCU understands a significant majority voted in favour of increasing contributions of members and employers in order to protect benefits. UCU has separately written to USS chief executive Bill Galvin calling for the full results of the consultation to be made public as a matter of urgency.
UCU general secretary Jo Grady said: 'The USS pension trustee has now confirmed that UCU's proposals are both viable and implementable. As it pledged last week, Universities UK must now urgently consult employers and seek their agreement.
'Time is running out to protect pension benefits and avert widespread industrial action which is due to start on Monday. Vice chancellors must not waste this golden opportunity.
'UCU's proposals reflect the views of a majority scheme members who responded to the USS consultation and will prevent devastating cuts whilst providing room for a new evidence-based valuation.
'The excessive prudence of the 2020 valuation has already shown itself to be wrong and any changes to the scheme need to be based on a more realistic view. UCU members know that when employers say they can't afford pension contributions, what they are really saying is that they don't value their staff.
'The ball remains firmly in the court of Universities UK and vice chancellors. They must do the right thing.'
Last updated: 10 February 2022