•
•
•

The Friday email: 01 April 2022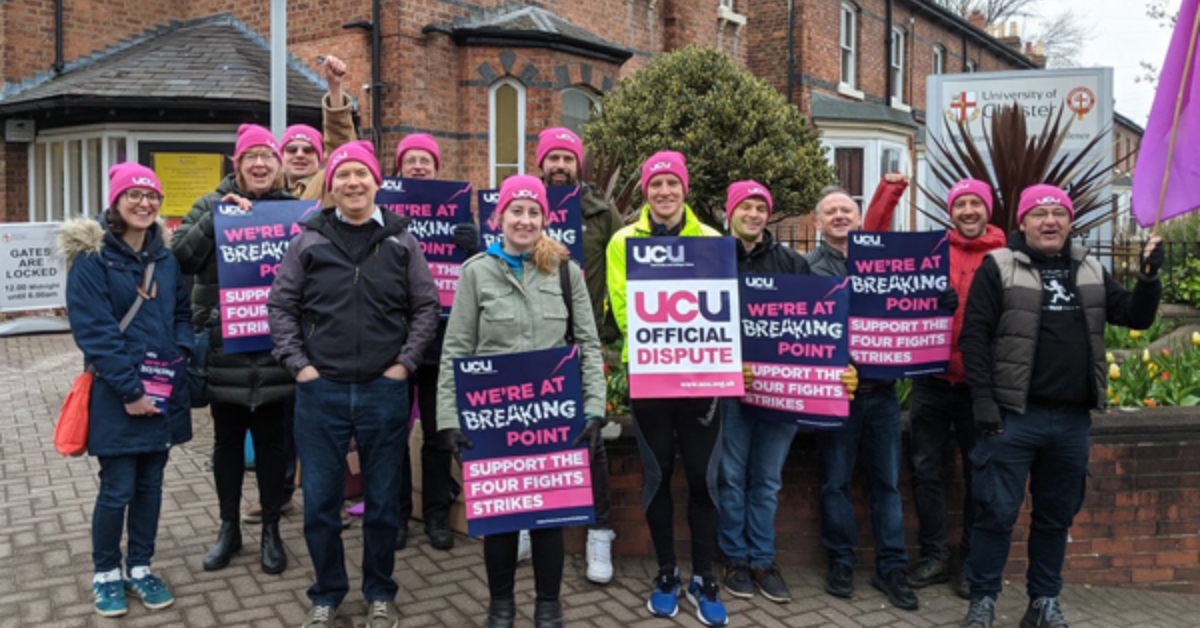 The Friday email: 01 April 2022
1 April 2022

Seize the moment: strike, vote, sign the petition!
This week saw 'group two' branches end the latest wave of university strike action with a show of strength and well supported picket lines and you can get a flavour of the action on our online campaign wall here. Meanwhile reballoting to renew our mandate for action is taking place at 149 universities so if you haven't already, please complete your ballot paper and return in the envelope provided. The ballot closes at 5pm on Friday 8 April so the last safe date to post is Wednesday 6 April.

Also this week a new report by the USS pension trustee showed assets of over £88bn meaning growth has outstripped liabilities, and highlighting the lack of justification for the employers' cuts. Please urgently join our call for UUK to revoke the cuts by:
Respect FE: sign the charter for professional respect
Voting in the consultative ballot at many UCU college branches has now closed but our campaign continues. UCU's further education committee and officers will now meet to discuss next steps. We're calling on college employers to sign up to a five-point charter for professional respect in further education and you can add your own name to it here. The union is campaigning on workload, pay, professional respect, national bargaining and partnership working with trade unions in FE.
Climate and environment spring update
Get all the latest news on UCU's climate and environment campaigning here including how to become a UCU 'green rep', organising towards a Green New Deal for education, and new CPD opportunities.
New City College UCU vote for action
Members at New City College have voted overwhelmingly for strike action in support of their local campaign on pay, workload, levelling up and professional respect. On a strong turnout of 73%, 86% of members voted YES for strike action with all five colleges in NCC group exceeding the 50% threshold. Further negotiations are now planned with the employer and congratulations to all members at NCC for their continuing support for the campaign.
Fighting back: local campaigns update
Catch up on all the local UCU campaigns including our members at Furness College who are fighting for a pay rise and currently voting on whether to take industrial action and a win at University of Sheffield International College on pay and holiday.
Academic freedom allegation lodged with international committee
The joint ILO-UNESCO Committee of Experts (CEART) recently published a report in response to UCU's allegations concerning academic freedom and the 1997 UNESCO recommendation. A new UCU briefing paper summarises the report's main findings and recommendations, including in relation to job security, university governance and quality assurance.
Richmond upon Thames College: fire and rehire plans to cut holidays
UCU is in dispute with Richmond upon Thames College over plans to dismiss its entire teaching workforce of 127 lecturers and offer re-engagement on inferior contractual terms. The college wants to force through cuts to holidays which would see lecturers lose 13 days holiday leave entitlement. The use of fire and rehire tactics is unwelcome and unacceptable in the FE sector. UCU members at Richard upon Thames College have unanimously backed moving to an industrial action ballot and strike action to resist the employer plans. The ballot opened on 31 March and will close on Friday 6 May.
Last updated: 20 April 2022