•
•
•
•

University of Roehampton pushing ahead with mass fire & rehire in arts and the humanities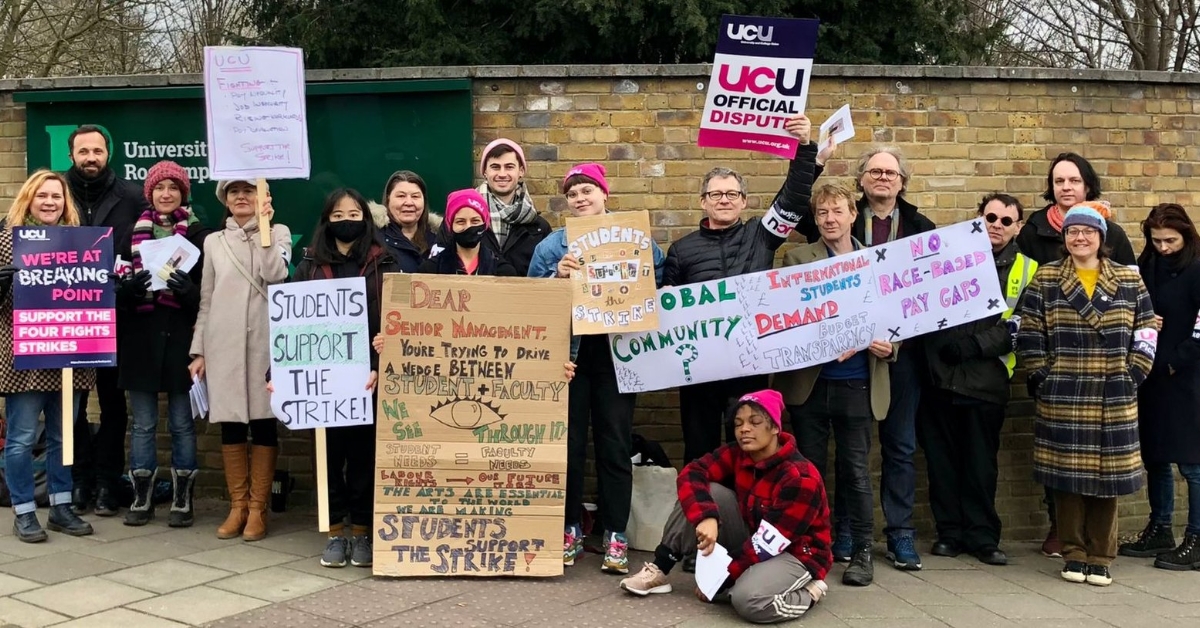 University of Roehampton pushing ahead with mass fire & rehire in arts and the humanities
25 July 2022

The University of Roehampton has confirmed it will fire and rehire over 100 staff next month as part of its plan to shut down a number of courses, the majority of which are in the arts and humanities, UCU said today.
Management told UCU the university is going ahead with plans to fire and rehire half its academic workforce, at a meeting on Wednesday (20 July). In May the university had said there could be up to 226 jobs lost but only envisaged around 65 (64-66) staff would be made permanently redundant. It opened up a voluntary redundancy scheme with an enhanced redundancy pay offer, receiving well over the 65 applications needed to meet management's arbitrary financial targets. Yet the university is still intent on firing a total of 226 staff and forcing those who want to stay to reapply for fewer jobs.
Many of the new roles appear almost identical to the ones being lost. But in meetings with UCU the university said staff need to reapply and that the new jobs will be focused around generating income for the university, course development and employability.
Management has admitted to UCU it is also possible that staff who applied but were not accepted for voluntary redundancy will be sacked without any enhanced pay off. There is also a strong risk the cuts mean there will not be enough staff to teach students come September.
The university is legally required to consult on cuts of this size with UCU, however to get an enhanced pay out staff had to agree to take redundancy before the consultation had closed. UCU said this pressured staff into taking voluntary redundancy. UCU warned Roehampton that it is leaving itself open to legal action as getting staff to agree to leave during the consultancy period in effect means the university was pushing through the cuts during the period is was obliged to consult on them.
The cuts mean subjects including classics, anthropology, creative writing and photography will no longer be taught at Roehampton. The university claims the cuts will allow it to focus more on 'skills led' learning with 'greater levels of engagement with employers'. Roehampton already meets government metrics on employment but there have been a number of interventions nationally from the Westminster government, which says universities should focus on preparing students for the job market and move away from what it describes as 'low value' courses. Roehampton markets itself as 'the best modern university in the country for research, and the highest-ranked modern university in London and the courses being cut are highly regarded. For example, Roehampton says classics 'is ranked top in London and 5th in the UK'.
Roehampton takes a higher proportion of black and working class students than many other universities - with over 97% coming from state schools, these groups are traditionally underrepresented in higher education. The Institute for Fiscal Studies has ranked it as one of the 25 top universities for social mobility. Students and staff have staged a number of demonstrations over the cuts.
UCU said the cuts will restrict access to the arts and humanities subjects, making the subjects a preserve of those from wealthier backgrounds.
The University of Wolverhampton and the University of Huddersfield have also recently announced major cuts to arts and humanities.
UCU general secretary Jo Grady said: 'Unsatisfied with cutting dozens of jobs and forcing staff to leave, management at Roehampton are now threatening more of their workforce with redundancy. This is devastating for teaching and learning, particularly in the arts and humanities, and may well leave the university without enough staff to teach students when they return in September.
'The university has embarked upon a sham of a consultation, pretending it is listening to the concerns of staff whilst simultaneously asking them to sign redundancy agreements. It is deplorable behaviour and our union is now considering a legal challenge.'
'The Conservative government has a clear agenda to restrict access to the arts and humanities - subjects that are well known for encouraging critical thinking. But rather than protecting these vital subjects, management at Roehampton are implementing unprecedented cuts. It is disgraceful.'
Last updated: 25 July 2022