•
•
•
•

Date set for strike ballots at UK universities over pay, conditions & pensions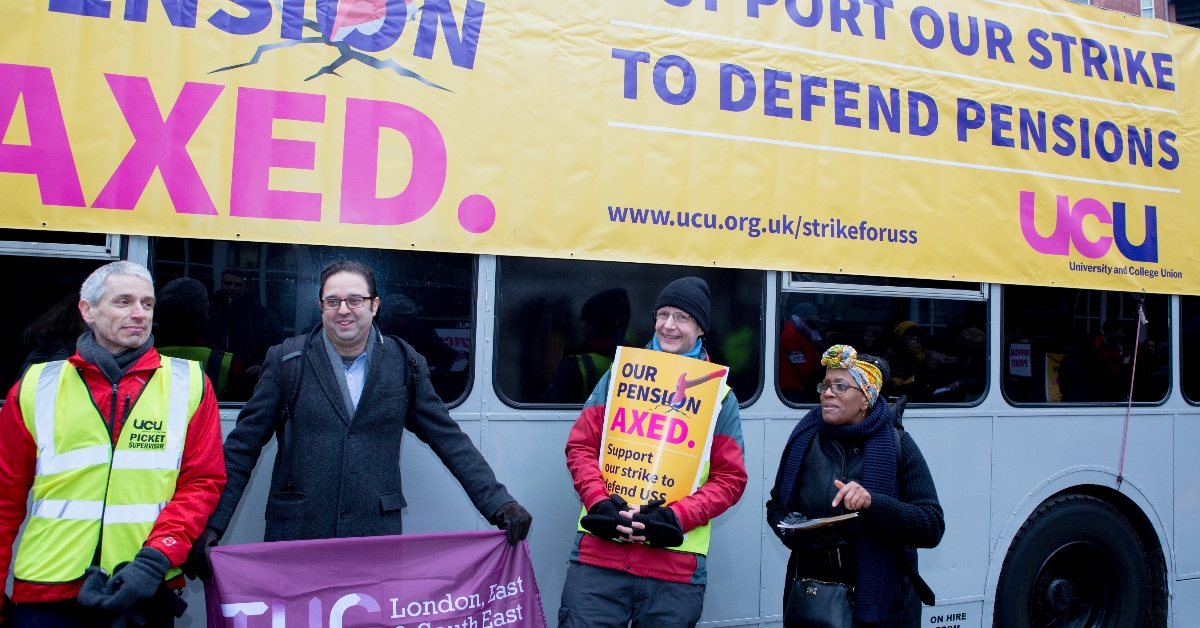 Date set for strike ballots at UK universities over pay, conditions & pensions
22 August 2022

Strike ballots will open at UK universities on Tuesday 6 September. UCU will run two ballots: one over pay and working conditions and the second over pension cuts.
In total 150 universities will be balloted. The ballots will run until Friday 21 October and are aggregated. This means that for the first time in these disputes, if UCU achieves an overall turnout of 50% or above and a majority YES vote in a ballot, all universities in that ballot will be hit by strike action. This would represent unprecedented action in the sector.
In the pay and working conditions ballot, UCU's demands include a pay uplift of 12% or Retail Price Index (RPI) plus 2%, an agreed framework to eliminate insecure work practices such as zero hours contracts, and action to address dangerously high workloads.
UK universities made a pay offer of just 3% this year, representing another real-terms pay cut as RPI inflation hits 12.3%, and as experts warn gas and electricity costs could rise past £6k for the average household by April 2023. The 3% pay offer follows over a decade of low pay awards which puts staff pay 25% behind inflation. On average university staff work an additional two days per week unpaid due to excessive workloads. A third of academic staff are on some form of insecure contract.
In the pension ballot, UCU's demands include that universities in the Universities Superannuation Scheme (USS) withdraw their benefit cuts and pressure the scheme's managers to restore benefits to 2021 levels. Earlier this year employer representative Universities UK (UUK) pushed through cuts that will see a typical member lose 35% of their guaranteed retirement income. The cuts were made after a valuation of the scheme in March 2020 reported a deficit of £14bn. However, the latest monitoring report from USS shows the scheme now has a surplus of £1.8bn. UCU said this means that the cuts were not necessary and can now be revoked.
Earlier today, UCU revealed that the sector generated record income of over £41bn in 2020/21 and that universities are planning to increase capital spending by £4.6bn (36%) this year. However, employers' 3% offer amounts to merely an additional £600 million in staff costs.
UCU wrote to university representative bodies the Universities and Colleges Employers Association and UUK two weeks ago, giving them the chance to address staff concerns and avoid the strike ballots. But the union did not receive any improved offers.
UCU general secretary Jo Grady said: 'University vice-chancellors are deliberately choosing to make their staff poorer with vicious cuts to pensions and an insulting pay offer of just 3% whilst inflation continues to soar. University finances are in rude health and there is no doubt the sector can afford to do much better.
'We warned employers that unless they begin to address staff demands we would be forced to ballot for strike action. Despite being given numerous chances to use the sector's record income and its spare billions to properly raise pay, restore pensions and address rampant job insecurity, vice-chancellors have chosen to bury their heads in the sand.
'We urge vice-chancellors to put the sector first by addressing staff concerns and helping us to avoid industrial action.'
Last updated: 2 September 2022