•
•
•
•

Dispute 'far from over' says UCU as employers force through pension cuts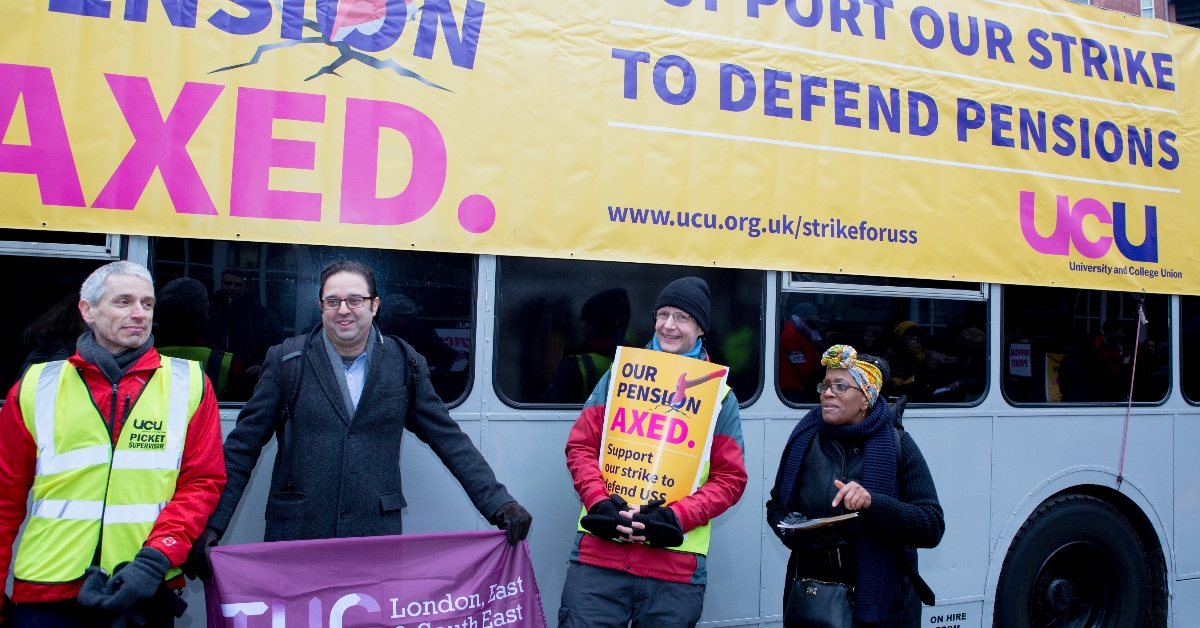 Dispute 'far from over' says UCU as employers force through pension cuts
22 February 2022

UCU has told university employers to expect more industrial action, including a marking and assessment boycott, as UUK's proposals that would lead to devastating cuts to USS pensions were ratified at a meeting of the JNC today.
In the meeting of the Joint Negotiating Committee (JNC), where staff and employer representatives negotiate USS pensions, employers formally voted in favour of their package of cuts.
UCU's compromise proposals, which would have replaced UUK's cuts, were rejected by both UUK and JNC chair Judith Fish, who had the casting vote in a tie.
UUK representatives refused an offer from UCU to consider further compromise proposals, including those presented in August 2021. UUK confirmed on record that it would not guarantee covenant support for any proposals brought forward by UCU unless they met employer requirements.
UUK's pension cuts, which would come into force in April 2022, will see a typical lecturer lose at least 35% from their guaranteed retirement income, which for some will rise as high as 41%. Staff will see their retirement benefits cut across the board. Protection against inflation will be capped at 2.5% from 2025, meaning that pensions will be eroded even further as inflation continues to rise.
Under UUK's USS pension cuts:
employers will pay 21.6%
USS members will pay 9.8%
accrual will be reduced from 1/75 to 1/85
the salary threshold up to which defined benefits are accrued will be lowered to £40,000 (from £60,000)
benefits will only be protected against inflation up to 2.5% in the future (currently benefits receive full protection up to 5% and half protection against inflation between 5% and 15%).
There will be no flexible option for members who wish to join USS and earn a guaranteed pension.
The cuts to USS pensions are premised on a valuation of the scheme which was conducted in March 2020 as markets were crashing due to the pandemic. Since, scheme assets have rebounded, growing to £89.3bn, an increase of £22.5bn since the valuation. Last week, USS confirmed that its deficit had shrunk by 80% since that valuation.
UCU's compromise proposals would have resulted in a small, time-limited increase in contributions for both members and employers in order to protect benefits whilst a new evidence-based valuation of the scheme was completed, allowing for a long-term negotiated settlement to be reached. The USS trustee, which manages the scheme, confirmed on 10 February that UCU's proposals were implementable and viable.
UUK rejected UCU's counter-proposals and now the USS trustee will be able to press ahead with slashing benefits for tens of thousands of university staff. UCU said this represents an 'attack' on the entire pre-92 higher education sector and will cause staff to leave or not join academia in the first place.
44 universities are currently in their seventh day of strike action this year over UUK's cuts to USS pensions. UCU is hosting a meeting of its higher education committee on Friday 25 February. The union said employers should expect more industrial action including a marking and assessment boycott.
The cuts to pensions come alongside falling pay in the sector. UCU estimates that staff pay has now fallen by 25.5% after a series of below inflation pay offers since 2009.
University finance figures show total annual income across the sector is now around £41.9bn with institutions holding reserves of £46.8bn.
UCU general secretary Jo Grady said: 'University vice chancellors have today chosen to steal tens of thousands from the retirement income of staff. This is a deplorable attack which our members won't take lying down. If these so-called leaders of higher education thought this was the end of this dispute, they have another thing coming.
'UCU tried repeatedly to reach a compromise in negotiations, but employers refused even the most modest increases in contributions, instead opting to slash the benefits of staff whilst hoarding billions in reserves. UCU's compromise proposals, which represented the best route out of this dispute, were rejected by employers and the JNC chair.
'These cuts aren't just an attack on our members' retirement but also on higher education more widely. Staff know they deserve better than falling pay and massive pension cuts and many will sadly choose to leave the sector. Those considering academia as a career will think again.
'On Friday our union will discuss and decide the next steps in this dispute and that will include reballoting and escalation towards a marking and assessment boycott.'
Last updated: 23 February 2022