•
•
•
•

Staff at Truro & Penwith College begin six days of strike action today in pay dispute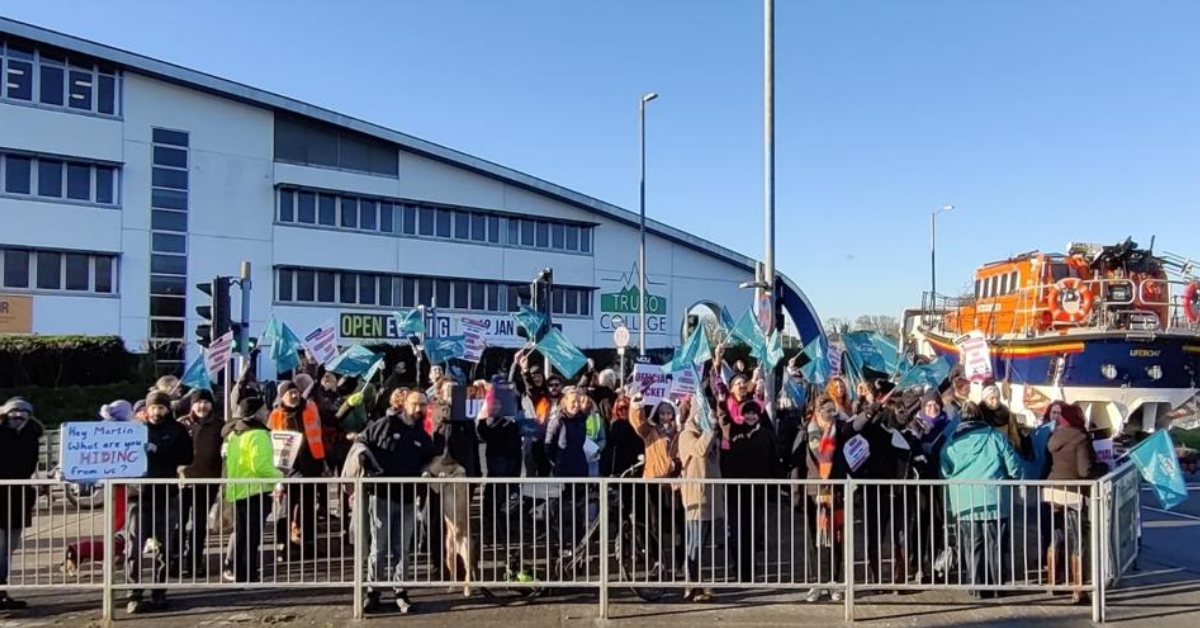 Staff at Truro & Penwith College begin six days of strike action today in pay dispute
1 December 2022

Staff at Truro & Penwith College were on picket lines today pressuring management to begin meaningful negotiations in a long running dispute over low pay.
Today's strike is the first of six extra days of action being taken because management is refusing to negotiate with UCU officials.
The full strike dates are:
Thursday 1 December
Thursday 8 December
Friday 9 December
Tuesday 10 January 2023
Wednesday 11 January 2023
Thursday 12 January 2023.
Prior to today, UCU members at the college had already taken 10 days of strike action this year in the long running pay dispute. National Education Union (NEU) members also joined today's action, after recently winning their ballot for strike action, and will join all further strike days unless college bosses meaningfully raise pay.
Staff are demanding a pay rise that helps them meet the cost of living crisis. RPI inflation is currently 14.2%, but the college has only raised pay by a paltry 2.5% alongside a one off payment of just £750. Shamefully, the college has also presented the government's 1.25% reduction in national insurance contributions as a benefit that it has passed on to staff.
UCU says the college can easily afford to meet staff demands but is instead pushing them into poverty. The most recent college accounts show it has reserves of over £38m, no debts whatsoever and is running a surplus.
The college is refusing to allow negotiators from either the UCU or NEU to take part in pay negotiation meetings.

This summer, UCU produced a report that shows the vast majority of college staff are financially insecure, impacting the mental health of more than eight in 10 with many being forced to skip meals and restrict hot water use to save money. Seven in 10 said they will leave the sector unless pay and working conditions improve.
UCU regional support official Alison Chapman said: 'Staff are on picket lines because they are furious at senior leadership, who have refused to enter into proper pay negotiations with union officials. This is the bare minimum senior leadership should be doing to help staff meet the cost of living crisis. Instead they have imposed a pay award of just 2.5%.
'Inflation is 14.2% and our members are being pushed into poverty. We have already taken 10 days of action, and our union membership and picket lines are swelling in size. The college urgently needs to begin negotiating seriously or this dispute will escalate even further.'
Last updated: 2 December 2022