•
•
•
•

Strike ballot opens at Bradford College over 'huge real-terms pay cut'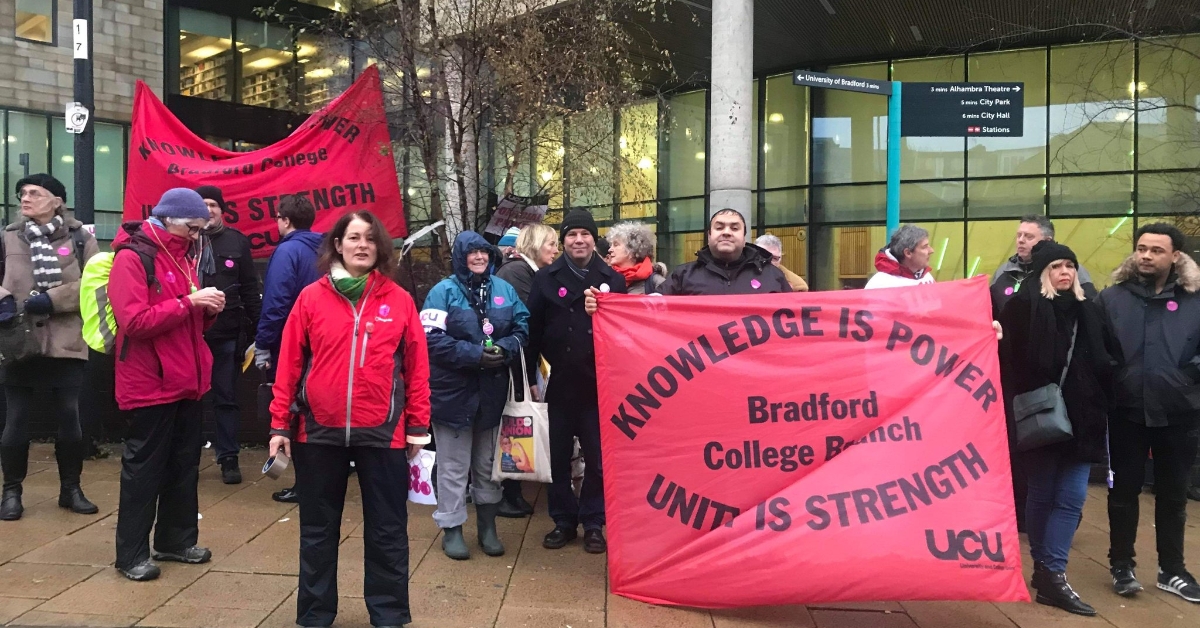 Strike ballot opens at Bradford College over 'huge real-terms pay cut'
20 February 2023

Staff at Bradford College are being balloted to strike after college management recommended a pay award worth only 2.2% to 2.5% for most lecturers.
The ballot will open on Thursday (23 February) and will run until Monday 27 March. The dispute centres on a pay award for 2022/23 of only £800, which is worth between just 2.2-2.5% for most UCU members. Inflation is currently 13.4% and UCU is demanding a pay award that meaningfully addresses the cost-of-living crisis its members are facing.
The college claims it wants to "attract and retain knowledgeable, passionate and focused" staff. College accounts show it has over £9m in the bank. Meanwhile UCU has heard reports from some members who say they can no longer afford to drive to work and others who are skipping meals to make ends meet. This is at a time when the CEO Chris Webb's total remuneration is five times the median salary of college staff.
Over the summer, UCU produced a report that shows the vast majority of college staff are financially insecure, impacting the mental health of more than eight in 10 with many being forced to skip meals and restrict hot water use to save money. Seven in 10 said they will leave the sector unless pay and working conditions improve.
UCU regional official Julie Kelley said: 'It is shameful that Bradford College wants to impose a huge real-terms pay cut on its staff in the midst of the cost-of-living crisis. It has over £9m sitting in cash yet some of our members can no longer afford to fill up the tank to get into work.
'College management needs to take a long hard look at itself, stop hoarding millions of pounds in the bank and instead use that money to protect staff from being pushed into poverty. Our members are furious that management thinks it can get away with treating them like this, and unless the college gets serious, they will be voting in huge numbers to take strike action.'
Last updated: 22 February 2023