•
•
•
•

UCU welcomes end of zero-hour contracts for associate lecturers at Sheffield Hallam University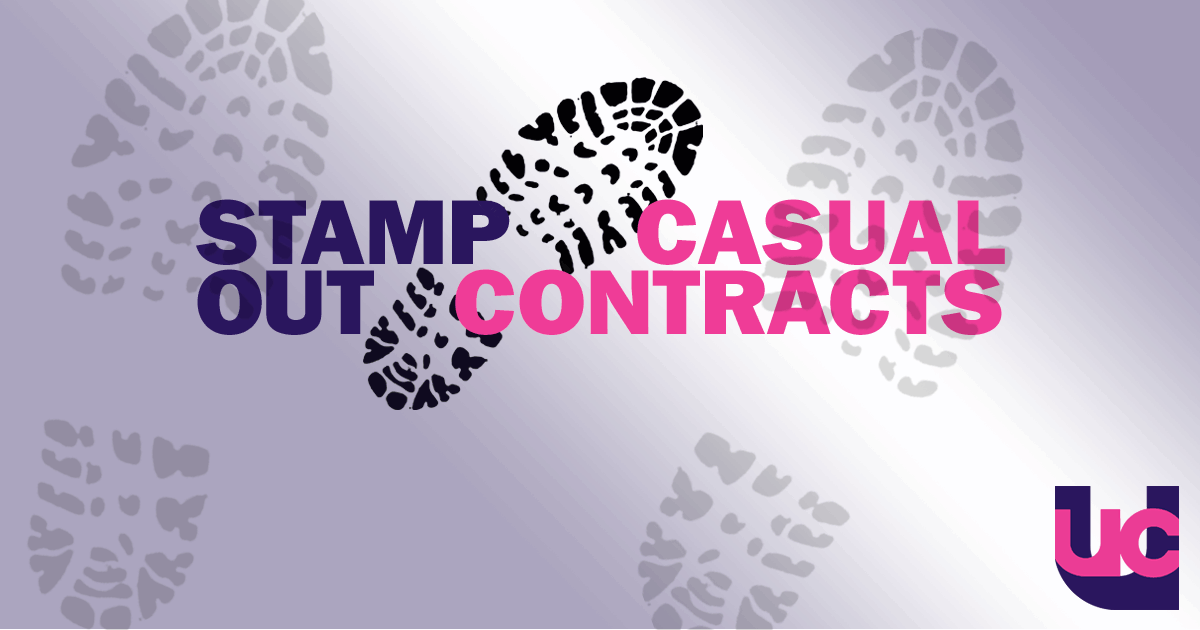 UCU welcomes end of zero-hour contracts for associate lecturers at Sheffield Hallam University
10 March 2023

UCU has today declared a significant win against casualisation after Sheffield Hallam University agreed to move associate lecturers off zero-hour contracts.
An overwhelming 96% of members polled have endorsed a negotiated settlement that will see all associate lecturers moved off of zero-hour contracts, with those who are employed for more than 8 consecutive weeks moved onto fixed-term contracts. Associate lectures are staff specifically employed either to cover the short term absences of other colleagues or to cover unforeseen or urgent short-term additional teaching needs.
The union said that although this does not end casualisation at the university, it goes a long way to addressing the insecurity of zero-hour contracts and inequalities between associate lecturers and other members of academic staff. Specifically:
the new fixed-term contracts offer a route to permanent position for those who achieve four years continuous service.
associate lecturers will be hired through a structured recruitment process and therefore will not be reliant on a single individual for their livelihood.
associate lecturers have access to a 'guaranteed interview' for any Lecturer or Senior Lecturer vacancy at the University.
In addition, the branch was able to secure commitments that the employer does not seek to expand the amount of teaching currently covered by associate lecturers, that no existing academic staff would be downgraded, and to ensure they are given the appropriate fixed-term contracts (in terms of length and number of hours). In order to hold the employer to these commitments, robust data will be shared with UCU on an annual basis.
The victory for the UCU branch at Sheffield Hallam (and previous) follows a decade of campaigning, coupled with a preparedness to pursue industrial action, and positive engagement with the employer. That campaigning work began when a Freedom of Information request by UCU HQ in 2013 revealed high levels of zero hour contracts at Sheffield Hallam, which was followed up with a 2014 survey by the branch that evidenced many of the problems workers on these kinds of contracts faced. The branch has also demonstrated a preparedness to bring Employment Tribunal cases under the Part Time Workers Regulations (Prevention of Less Favourable Treatment) 2000, particularly in light of the key Roddis vs Sheffield Hallam University Employment Appeals Tribunal ruling in 2018.
UCU is currently in a UK-wide dispute with 150 universities over the issue of casualisation. Over 90,000 university staff and one third of academics are on some form of casualised contract. The union has secured commitments from the Universities and Colleges Employers Association to end the use of zero hours contracts in universities and is currently in negotiations to tackle other forms of precarious employment.
Bob Jeffery, Anti-Casualisation Officer at Sheffield Hallam UCU branch said: 'I'm delighted to see the employer move away from zero-hours, which are the most insecure type of employment contracts. We expect several hundred workers will benefit from the enhanced terms and conditions on offer. This is a big step forward in the fight against casualisation'.
Ben Abell, Branch Secretary at Sheffield Hallam UCU branch, said: 'These contracts represent an improvement for our most casualised members on a number of fronts. This positive outcome is a testament to the campaigning work of our membership and is just one example of what being in the union can achieve'.
UCU general secretary, Jo Grady, said: 'This win is historic for our union, university staff and workers across the UK. Our members are turning the tide in a sector that has seen casualisation run rife.

'This win is a marker for all university employers, and we are urging all members to vote YES in the industrial reballot to end zero hours contracts and all other forms of casualised employment, a goal we are closer than ever to achieving.'
Last updated: 10 March 2023