•
•
•
•

New analysis reveals record university income as employers refuse to negotiate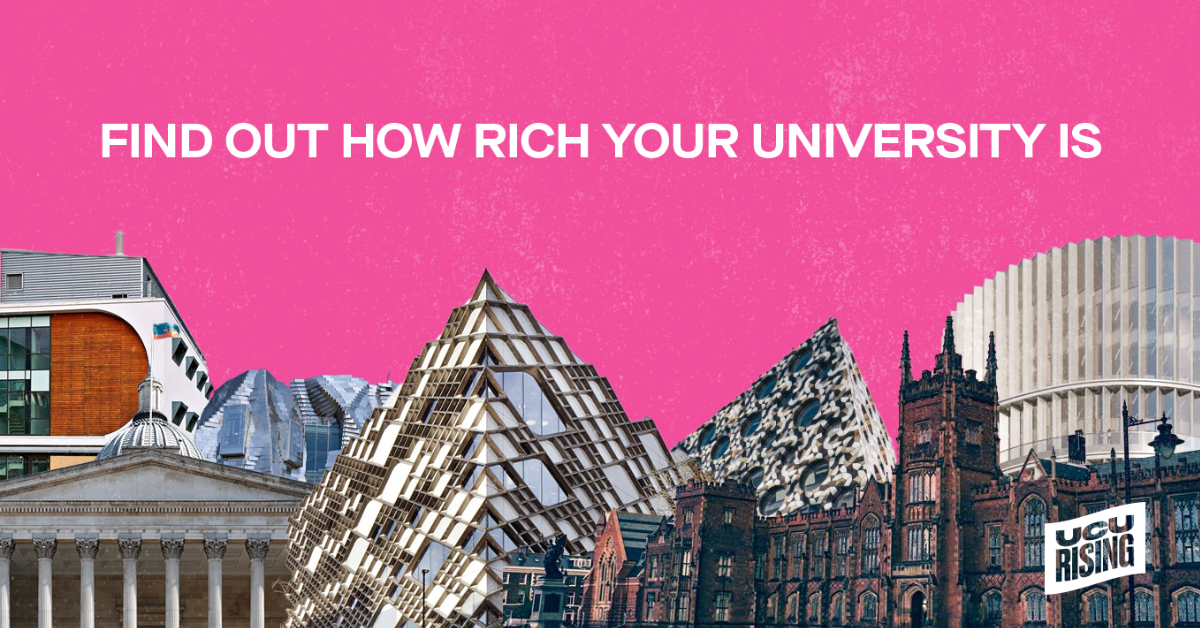 New analysis reveals record university income as employers refuse to negotiate
17 May 2023

UCU slammed employers for formally refusing to negotiate in an ongoing pay and conditions dispute after new analysis showed employers can easily afford to make an improved pay offer.
UK Universities generated more money than ever last year, yet staff expenditure has hit rock bottom, reveals new analysis from UCU. It shows the surplus universities generated could have raised staff pay by 10% with hundreds of millions to spare.
UCU has examined the latest data from 147 universities and found the extent to which the sector is not only bringing in record income but hoarding billions of pounds more in cash.
UCU's detailed analysis of university finances found:
the total income of UK universities is £44.6bn, £3.5bn more than last year, the biggest year on year increase in at least five years
the total surplus is £2.6bn, the highest it has been for at least four years
cash and current investment holdings have reached £19.6bn, £1.3bn more than last year
staff expenditure is just 51% of income, a record low.
The analysis pulls apart employer body the Universities and Colleges Employers Association's (UCEA) incorrect claims that the sector is unable to pay staff more. The employer body released its flawed analysis earlier this month, which wrongly said financial pressures meant universities could not pay staff properly. UCU also slammed UCEA for only raising financial pressures as a pretext for refusing to pay staff their fair share, whilst failing to lobby government for a better funding model.
Russell Group, other pre-92 universities and post-92 universities all spent less on staff as a proportion of their income than the previous year. For Russell Group universities, which have the most wealth, the percentage spent on staff is even lower than average, with just 49.8% of income going to staff.
The financial data covers the 2021/22 financial year, when RPI reached 12.3% and UCEA imposed a pay award of only 1.5%. Since 2009, a series of low pay awards have seen staff wages fall 25% behind inflation and UCEA has now also begun imposing a sub-inflation award worth just 5% for 2022/23. UCU is demanding a better pay offer that helps its members meet the cost-of-living crisis.
UCEA wrote to UCU last week to say it will not negotiate unless UCU calls off a marking and assessment boycott at 145 universities in the ongoing pay and conditions dispute. UCEA's failure to negotiate threatens to disrupt millions of exam results as well as the graduations of well over half a million students. Rather than use their wealth to pay staff fairly and settle the dispute, universities are threatening punitive pay deductions of up to 100% and trying to circumvent academic processes designed to uphold degree standards. Hundreds of academics have responded by raising concerns that degrees risk being devalued.
MPs and Lords from across the political spectrum have written to UCEA and signed a Westminster parliamentary motion to tell the employer body to withdraw the pay deductions and settle the dispute.
UCU general secretary Jo Grady said: 'A national scandal is brewing that will see hundreds of thousands of students graduate with degrees not worth the paper they are written on, unless universities make staff a fair pay offer. With the employer body now refusing to negotiate students and their parents will rightly be furious.'
'Our analysis shows the university sector is richer than ever, generating tens of billions of pounds in income and hoarding billions more in cash deposits. Yet universities are waging a war on staff and students by withholding the pay of staff engaged in the marking boycott and devaluing degrees.'
'Meanwhile, the employer body UCEA is playing fast and loose with university balance sheets, and focusing on a small number of institutions to pretend it cannot afford to produce a fair pay offer whilst refusing to address the marketised system that creates winners and losers.
'If vice-chancellors cared about staff and students, they would use the sector's vast wealth to end this dispute tomorrow.'
Last updated: 17 May 2023