•
•
•
Staff at Liverpool Community College strike in pay row
3 June 2009
| last updated: 11 December 2015
Liverpool Community College will be brought to a standstill today as staff walk out in a row over pay cuts and longer, and more anti-social, working hours.
Members of UCU are striking following management plans to change the college's existing wage structures and their working hours.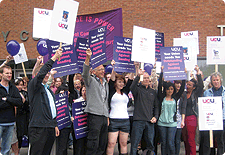 UCU members joint Unison colleagues and students at protest rally
Under the proposals all lecturers joining the college will be subject to a wage cap and be forced to work more hours including evenings, weekends, and bank holidays, without management seeking their agreement. Staff will be on picket lines from 6.30am at the college's Vauxhall Road, Clarence Street and Banksfield Street campuses. There will then be a rally outside its
Arts Centre in Myrtle Street
at 11am.
UCU branch chair at Liverpool Community College, Alison McDowell, said: 'None of our members want to see industrial action but the staff are effectively being asked to work longer, for less money, and to accept anti-social hours without any kind of mutual agreement. It's a real kick in the teeth for all of us here. We have been considered outstanding in our last two OFSTED inspections and deserve to be paid fair wage.'
UCU head of further education, Barry Lovejoy, said: 'UCU members at Liverpool College are being told to take second-class pay and conditions for first-class teaching. They are not being greedy, all they want is a fair deal. These plans will stop the best teachers and staff coming to the college and put an end to career progression. They work with some of the most underprivileged communities in the city, who deserve to learn from the best.'